Economy
19 years of domestic Internet advertising, video is 57%more social is a 26% increase Dentsu, such as all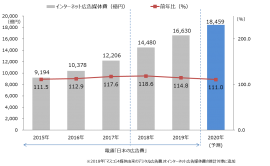 Dentsu as of 2019 in the domestic Internet advertising costs analysis of the results, the growth rate is somewhat dull to 2020 and also 2-digit growth and expects it.
【Here】In 2019, domestic Internet advertising,the first of the 2 trillion yen
■Internet ad spending year-on-year to 2-digit increase
17, the D2C,cyber communications[CCI], Dentsu,Dentsu digital"in 2019 Japan's advertising expenses Internet advertising expenses detailed analysis"was announced.
In 2019, total national advertising spending is 6 trillion 9,381 billion. This Internet ad spending year-on-year 19. 7%, an increase of 2 trillion and 1,048 billion, and spend the whole 30. 3% accounted for. Also the Internet advertising of Internet advertising media costs are the same 14. 8%, an increase of 1 trillion 6,630 billion yen.
■Video [YouTube]ads 5 premium
Internet advertising spending [1 trillion 6,630 billion] out of the most of search-linked advertising of 6,683 billion yen in the total of 40. 2%accounted for. Some display advertising is 5,544 billion yen, or video [YouTube]ads 3,184 billion yen, and result reward type advertisement 1,049 billion other ¥ 17.0 billion.
Your search-linked advertising, video [YouTube]advertising, incentive advertising is 18 years extending from on the other hand, Display Advertising year-on-year has been negative. Especially the growth of the video ads in the year-on-year 57. 1%increase as well.
■Operation type of the ad is approximately 8 crack
Internet Advertising Media cost to a trading technique in another, and the highest number of performance-based advertising [search advertising,digital platforms, and ad networks through bidding system to be traded in] is the year-on-year 15. 2%to 1 trillion 3,26.7 billion yen, the entire 79. 8%accounted for.
About book advertising[advertising on a reservation basis and tie-UPS as advertising agencies・media, via or directly sold to advertisers, but also the digital platform and network through a fixed price trading] and the same 17. An increase of 4% 2,31.4 billion yen. Result-reward type of advertising[Internet ads to users who viewed a preconfigured action if the media and viewed users to get paid advertising] is the same 5. 9 percent to 1,049 billion was.
■SNS to expand social advertising is a 26%increase
Various social networking services, blogging services,video sharing sites,digital signage to expand social advertising is 4,899 billion yen,18 years of 3,890 billion yen from 26. 0%increase for Internet advertising media spending accounted for 18 year 26. From 9% to 29. To 5% increase. Social advertising[4,899 million yen]breakdown of, the SNS system is 2,280 billion yen in the whole of 46. 5%,Video Sharing System 1,139 billion yen in the 23. 2%, other 1,480 billion yen 30. 2 percent.
■The 2020 forecast is 1.8 trillion 459 billion
In 2020, Internet Advertising Media, total expenses for the prediction of 19 years compared to 11. 0%to 1.8 trillion 459 billion yen expects. The growth rate in the 18 years of 18. 6%in the apex of the slight decline of the trend, the market scale is 15 years 9,194 billion yen from 6 years to double your prospects. This video advertising market size is the 13. 0%to 3,597 billion yen expects. [Article: Township, Changhua County momentum・The article list to look at]
Source link