iPhone
5th anniversary of Apple Watch's birth, so now let's look back at "value" instead of function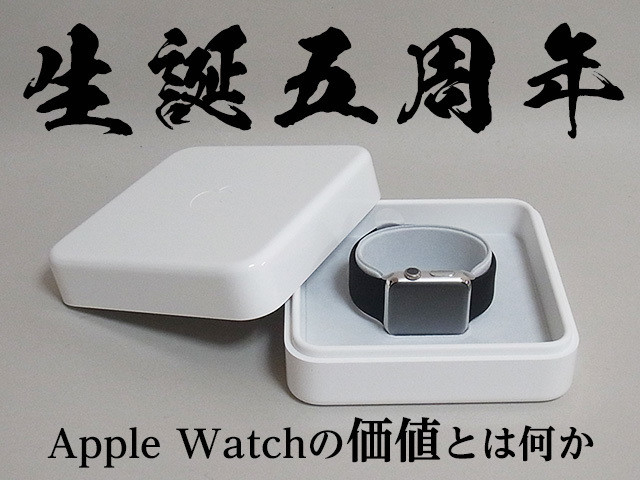 April 24th is the release date of the new iPhone SE. But it's also the 5th anniversary of the release of the first Apple Watch. I was surprised to see it as a new product for five years, but at the same time, it's strange that I'm already too familiar with everyday life and feel like I've been dating for a long time.
I think that I'm a relatively active person who uses the Apple Watch. However, perhaps the existence of the Apple Watch may help us in our daily life.
The power of routine
With the increasing number of companies adopting remote work these days, many will probably have "home as their workplace" for the first time. Various how-tos and advice are provided for beginners of remote work on SNS and personal media sites. According to remote work veterans, many people think that the point of working from home is to have their own routine.
As a freelance writer, I have lived in a situation where "home is work" for more than 10 years, but I always wondered if I could establish a routine for myself.
First of all, the amount of work tends to fluctuate and working hours are not stable. Also, the time it takes to do one job is quite different, and most of it can be work time or worry time. As I live alone, I can't maintain a healthy and cultural life unless I cover things other than work such as housework such as cleaning, laundry, shopping and self-catering, insurance, pensions, taxes and other financial related procedures. Incidentally, there are many hobbies, and they take some time and effort.
Five years ago, I joined the mission of "Using Apple Watch."
The number of devices has increased
Since I wrote a lot of articles about iPhone, there is no reason to avoid it, so I made a reservation purchase when the first Apple Watch was released. I started using it to write articles on how-tos and how-tos.
That's why we needed data on "activity" and "workouts." Even if you make a picture explaining the operation method, it will not be explained if the data is empty. I decided to start walking as a test of usability.
Workout is an app that measures the duration, speed, heart rate, calories burned, etc. by exercising by selecting an item such as running or walking. Activity is an application that measures the overall amount of activity from wearing to removing it. About three items [calorie consumption / exercise time of intensity higher than fast walking / number of times walking for 1 minute or more per hour] against the target value The degree of achievement is displayed in the form of a three-color ring.
Before that, I used motion measurement apps for iPhone such as "Nike Run Club" and continued to use it for some time, but as the size of the iPhone increased, it became difficult to work out in my pocket. It was For the iPhone, which has no choice but to move toward larger size and higher functionality in the future, the Apple Watch will become a "contact point" to easily access information on the iPhone. I thought it was probably a product in that position.
Making activities "means"
The prediction was half and half wrong. The cooperation between iPhone and Apple Watch has made use of various applications such as calendar and reminders in a more practical way, and at the same time, has created an environment where unnecessary notifications are distracted. It may be more correct that it has become a new route that brings Apple's services to life more across devices than it is for iPhone.
What wasn't foreseen was the long-term effects on lifestyle habits. As I mentioned earlier, in a life where I couldn't easily establish a routine because I was swayed by the amount of work, my hobbies, and chores, it became a fixed daily goal to complete the activity ring.
Whether the day you slept until noon or the day you worked for 14 hours a day, you'll know that the ring was complete and active to a certain extent. On the contrary, today there is always a visualization of how much more activity to do. When you can't see how much you should do, no matter how hard you try, you are worried. However, if we know what to do and how much it has been achieved, people can take action.
In the case of the author, I found that it was easy to complete the ring when I walked in the morning, and I began to do it continuously. At the same time, I had the side effect of improving my work efficiency in the morning. Gradually, the completion of the activity became not the "purpose" but the "means" for keeping the condition and spending every day.
From means to routine
The fact that we were able to maintain the foundation of our lifestyle even when there were large fluctuations in our work brought us mental stability. Of course, there are days when you can't complete the ring, but it's also important to know how much you haven't. However, if you just feel like "I feel lazy every day", my thoughts tend to run wild in the negative direction, such as "I can't live a correct life" or "I'm a bad guy." By recognizing what was missing and to what extent, you can avoid denying everything else and restart if the date changes without dragging the past.
In fact, I still don't live a very regular life. However, I think that I have come to be able to maintain my condition to the extent that I can protect my work and life. And over the past month, I have come to realize it.
Since the end of mid-March, there are no jobs to move around, and from the beginning of April, when the emergency was announced, I started to spend my time at home without going out for private use. "Outdoor exercise / walking" is not included in the self-restraint request, so barely continue walking in the morning. If I don't have enough, I do muscle training and stretching indoors, and I go on foot for shopping about twice a week to supplement my activity. Thanks to this, I am able to maintain a certain "everyday life" by waking up in the morning, walking, and working from the morning. Unexpectedly, I noticed that I had some routine.
There are many days when I can't complete the ring, but I think that it isn't bad if I can see that I have achieved 70 to 80% every day. I feel once again that I was fortunate to have been able to lay the foundation for my lifestyle with numbers.
Function / convenience and "value"
The Apple Watch has many features that are useful for work and life. For example, if you use "Notification" and "Complication" well, you can check important information without taking your iPhone, you can reply to "LINE" and "Message" on the spot, Apple Pay even with your mask on You can pay. I have introduced various things in past articles.
However, this time, it was difficult to explain in the function introduction, and I looked back on five years about changing life in a part different from "convenience". Tools have the power to change people's lives, as do cars and home appliances. It is called the "value" of the tool. It's a little late to notice, but the Apple Watch was one of the tools that definitely changed my life. The change is gradual and is ongoing.
Source link