Headline
AI collects latest information on new corona-JX News Agency, special page on " FASTALERT ''
On February 26, the news venture JX News Agency provided a special page on the emergency information service " FASTALERT '' to collect the breaking news of domestic and overseas cases of new coronavirus infection and trends in corporate measures using AI, etc. Announced that it has started.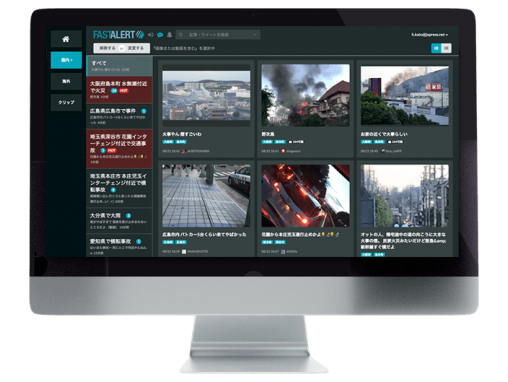 FASTALERT is an emergency information service in which AI collects and distributes risk information such as disasters, accidents, and incidents from SNS. Seven months after its release in September 2016, adopted by all Civil Code Key Authorities and NHK. It is currently used by most television stations nationwide, and is widely deployed by newspapers, police, fire departments, municipalities, and the general public. This special page is provided for FASTALERT users.
新型 The "New Pneumonia" special tab is linked with the company's news breaking application "NewsDigest" to provide information on the latest number of infected people in Japan and overseas as a real-time graph of the number of infected people. Information such as government and intellectuals on SNS can be collected and classified by AI, and information that can be used as a reference for measures and decisions can be checked in real time.
In addition, the latest information on measures against new types of coronavirus infections by companies, such as the cancellation of events and seminars and the start of remote work, can be checked, as well as the latest information on the incidence of infected people in each country and entry restrictions from Japan. According to the company, information that affects the entire chain and business activities can be checked at the same speed as local bulletins.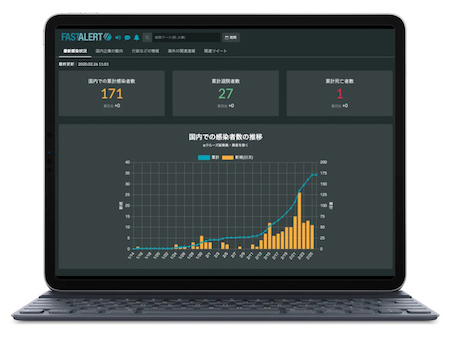 As the impact of the new coronavirus grows, the company decides whether to hold meetings, events, seminars, interviews, etc., decides to conduct remote work to protect employees, and avoids impacts on the supply chain. It is said that quick information gathering and judgment are required. Therefore, a special tab has been newly established at FASTALERT to collect only information related to the new coronavirus.
Source link