Amazon.com will introduce 100,000 electric vehicles [EVs] for delivery as one way to achieve its goal of zero carbon dioxide [CO2] emissionsAnnouncementdid. The company plans to start operation gradually from the beginning of 2021, and is working on development with Rivian.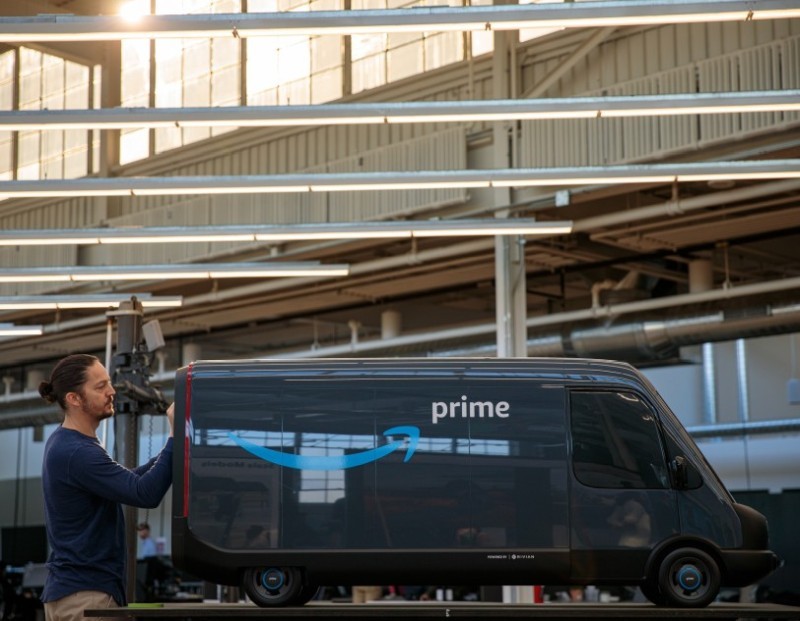 Developed EV for delivery with Rivian [Source: Amazon.com]
The Paris Agreement set a target of zero real CO2 emissions by 2050. Amazon.com, on the other hand, aims to achieve its goal 10 years earlier in 2040.Climate Pledgey"Has been declared. As part of that, evaluating various EVs over 18 months to reduce the CO2 footprint, it was concluded that developing a dedicated EV required by Amazon.com was a shortcut to prompt planning. It was said.
So Amazon.com,FundingThe company is working on joint development of EV for delivery with EV startup Rivian, which is engaged in the production of models based on the opinions of drivers in charge of delivery.

Considered by clay model etc. [Source: Amazon.com]
で Not only a complete EV that runs on an electric motor alone, but also a function to support delivery work. For example, it is equipped with a display that displays information in conjunction with Amazon.com's delivery management system, so that it can focus on driving by navigating delivery routes. It also supports the voice assistant "Amazon Alexa", so you can work without having to manually operate a management handheld device.
In addition, it also has an advanced driver assistance system [ADAS], such as automatic emergency braking, lane keeping assistance, and pedestrian warning.
The new delivery EV will be used for delivery from the beginning of 2021 and plans to operate 10,000 vehicles as early as 2022. The company says that it will operate all 100,000 vehicles by 2030, which will reduce millions of tons of CO2 emissions per year.
https://www.youtube.com/watch?v=lKpOE8eulXM [/ embed]
Introduction video of EV development [Source: Amazon.com/YouTube]