Headline
ANA to demonstrate "large" self-driving bus at Haneda Airport-aiming for pilot operation within 2020
ANA will conduct a demonstration test equivalent to level 3 of automatic driving in the restricted area of ​​Haneda Airport toward "practical use of large-scale automatic driving bus". The implementation period is from January 22 to 31, 2020. On the first day, the company held a ceremony and test-ride event to showcase self-driving buses, and announced that it aims to test and operate Haneda Airport passengers and employees within the airport by 2020.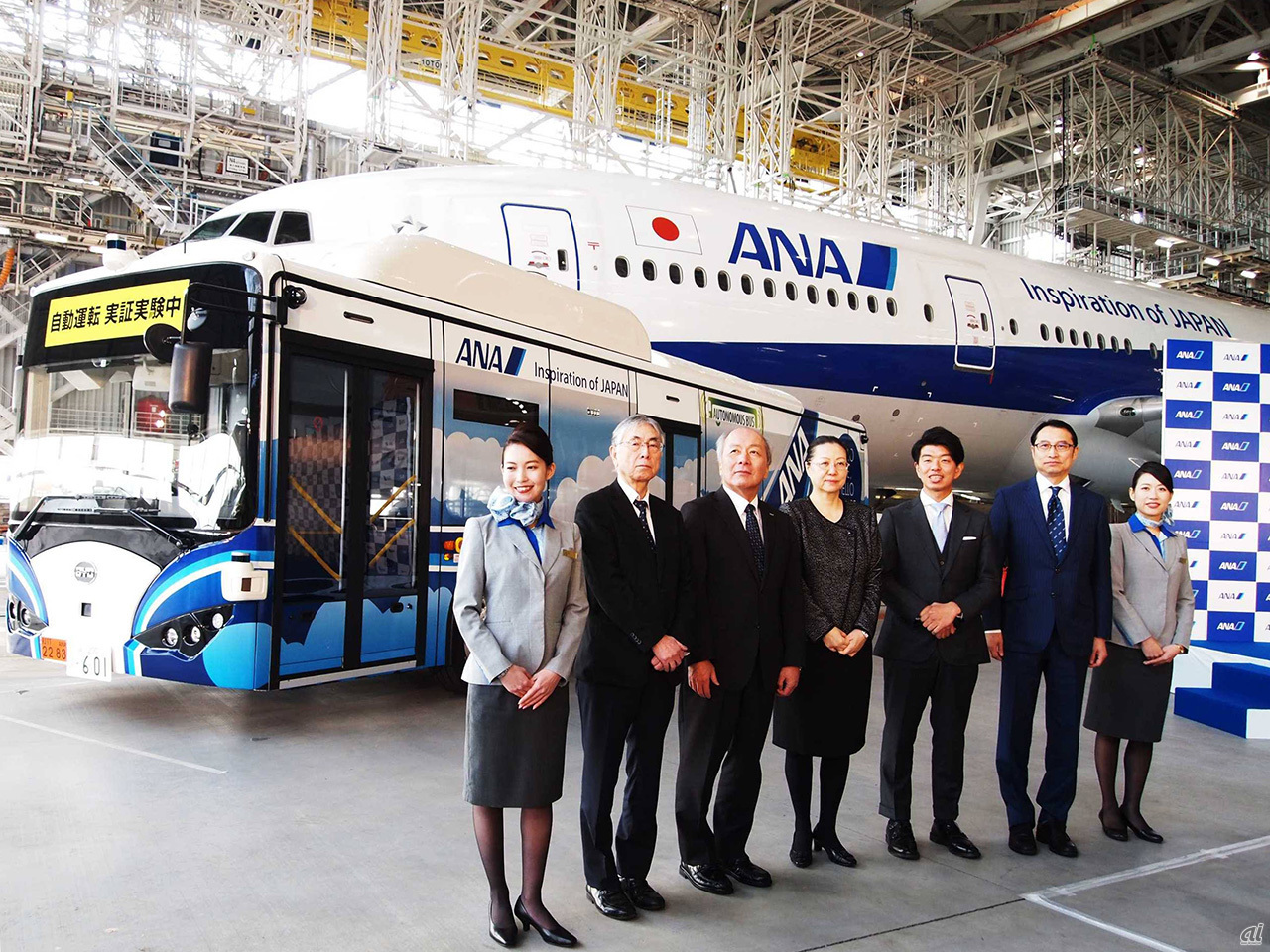 From left, Keiji Aoki, President and CEO of Advanced Mobility, Shinzo Shimizu, Senior Managing Executive Officer of All Nippon Airways, Mr. Guo Yan, Minister of the Embassy of Japan in the People's Republic of China, and Tomoki Saji, President and CEO of SB Drive Gakuryo Liu, President, BYD Asia Pacific Automobile Sales Division and President, BB Japan
Uses a large EV bus made by BYD in China, anticipating practical use
ANA has been actively using autonomous driving technology in recent years. In February 2018, the company verified basic autonomous driving technologies such as running, stopping, and turning, and in January 2019, conducted level 3 demonstration tests in an environment where aircraft and special vehicles also run.
Finally, in 2020, we will aim for trial operation of automatic driving at Haneda Airport with a view to "practical use." There are three points this time. Travel along the route between fixed points along the building. Use of large bus size with high transportation capacity. And the contribution to reducing CO2 emissions through the use of electric buses.
車 両 The last vehicle used was a slightly smaller Hino poncho [diesel] with a capacity of 28 people. The electric bus "K9RA" made by BYD in China adopted this time has a capacity of 57 people and has twice the transportation capacity. The battery is a lithium iron phosphate battery with a capacity of 324kWh and a cruising range of over 250km.
信 Shinzo Shimizu, Senior Managing Executive Officer of All Nippon Airways Co., Ltd., who spoke at the ceremony, explained that BYD has a track record of operating large electric buses globally. According to BW Japan President and CEO Gakuryu Liu, "BYD vehicles run in 50 countries and regions and 300 cities, and are contributing to smart city development in Kyoto, Okinawa, Fukushima, etc. in Japan. There are plans to sell buses to Japan, "he said.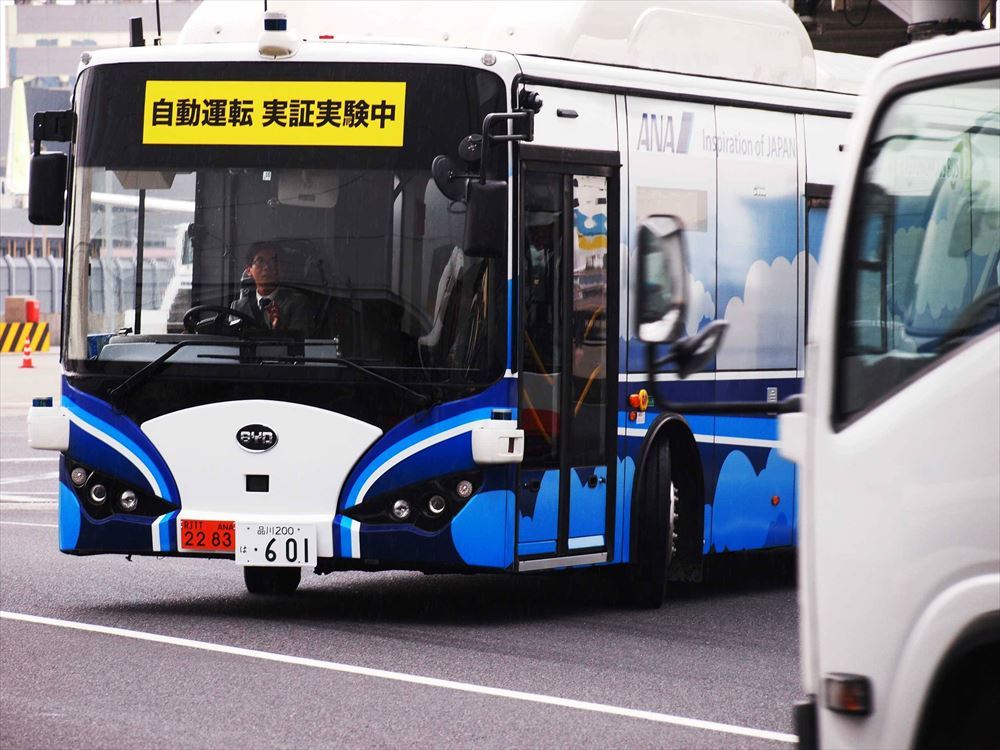 ANA's large self-driving bus that runs in airport restricted areas
SLAM is adopted for the elemental technology of autonomous driving
先進 Based on the K9RA, it was advanced mobility that was responsible for conversion to an autonomous vehicle. In the previous demonstration experiment, magnetic markers were used for automatic driving technology, but this time SLAM [Simultaneous Localization and Mapping] was adopted.
SLAM is a technology that simultaneously performs self-location estimation and surrounding environment mapping, and prepares for driving along buildings where GPS reception becomes unstable. Before starting the demonstration experiment, we repeatedly ran the planned route for less than one month to create a reference map. Along with that, SLAM is utilized to realize automatic driving.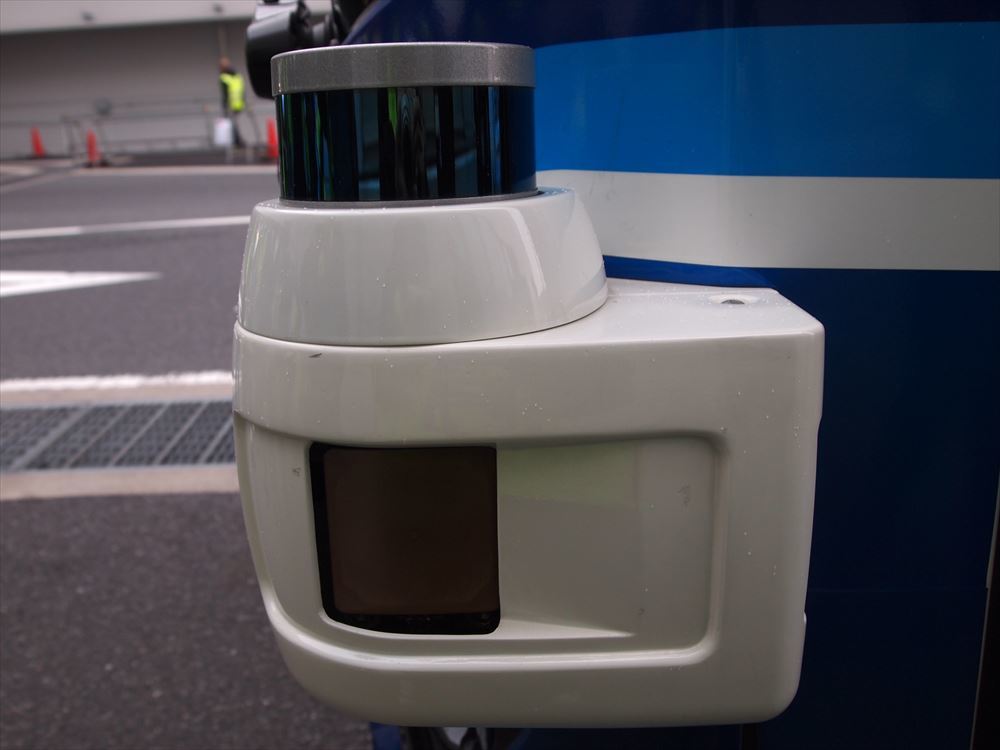 A sensor equipped with a laser radar [LiDAR]. The distance and direction to the object is measured by irradiating 40 laser beams and measuring the time until it hits and bounces off the object
" SLAM eliminates the need for infrastructure work such as installing markers on roads and reduces costs when looking at overall capital investment, but at the same time there are no places in dark places or surrounding areas, '' said Keiji Aoki, President of Advanced Mobility. Then, there is a problem with reliability. In the future, we would like to improve reliability by combining multiple technologies such as GPS, magnetic markers, and SLAM. "
Differences from Japanese manufacturers–BYD disclosed a lot of control information
SBThe SB drive was responsible for remote monitoring of the autonomous driving bus, as in the previous demonstration experiment. The self-driving vehicle operation platform "Dispatcher" was linked to the bus to monitor the inside of the vehicle and the running conditions, alert passengers in danger, and open and close doors.
Source link