IT Lifehack
Ano programs in the future! ? HTB (Hokkaido Television Broadcasting) started demonstration test of simultaneous distribution of weather corner of popular program "Ichimoni!"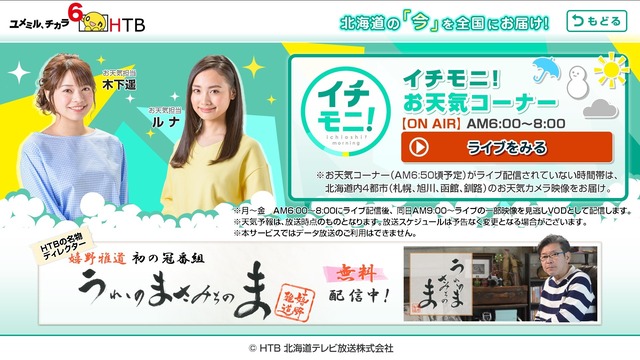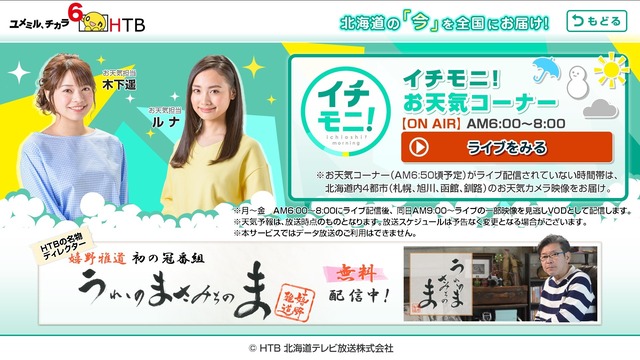 Hokkaido Television Broadcasting (hereinafter referred to as HTB) and AcTVila are the popular information programs of the HTB morning from April 13, 2020 (Monday) to the end of March 2020, within the 4K VOD service "4K ActVilla" for ActVilla TV. We will conduct a demonstration experiment in which the weather corner of "Ichimoni!" Will be simultaneously distributed to televisions nationwide via the Internet, and after the broadcast, some of the weather corner will be overlooked and distributed.

This demonstration experiment is a local station, HTB, which is positioned as a full-fledged distribution initiative for the upcoming broadcasting and telecommunications convergence.Actvila, which has a distribution portal for TV, and NTT, which provides an Internet video distribution platform service -Implement in cooperation with T-Smart Connect.
■ Overview of "Ichimoni!"
Distribution period: Monday, January 13, 2020, from 6:00 to the end of March 2020
Watching time schedule:
From 6:00 to 8:00 "Watch live"
From 9:00 to the next day at 6:00 "See overlooked delivery"
* Simultaneous Internet distribution is only on weekdays.
* From 8:00 to 9:00, "AM 9:00 to be overlooked" is displayed and cannot be viewed.

■About demonstration experiment
■Articles related to cultureI Read
・Experience "cutting with a smartphone"! Kaiji, a "cutting" specialist, commemorates the 111th anniversary of Kaiji's founding.
・"The Legend of Galactic Heroes Die Neue These" The long-awaited second season, "Seiran," will be aired for the first time at Family Theater
・The 4th new Tokyo Metro "Find my Tokyo." CM featuring Satomi Ishihara will be released in advance with the title "Kinshicho-a city where the world and Nippon can be more connected"!
・I shouldn't have watched it … I'm sorry to release the movie "Looking for Yutaka Ozaki" If you are an au Smart Pass Premium member, you can listen to Yutaka Ozaki Playlist, where you can listen to songs in the movie
・Create art using aibo! "Aibo x graphic art competition" held at Sony Square Shibuya Project


Hiroshi Oizumi
HTB Hokkaido TV
2011-10-05
Hiroshi Oizumi
Htb
2013-10-30
Hiroshi Oizumi
(unknown)
2016-02-22