Headline
Apple Controls Smartwatch with Tilt Arm, Goo, and Par
ス マ ー ト Smart watches such as the "Apple Watch" are convenient because you can check information such as notifications and incoming calls in a hands-free manner if you look at your wrist. However, in order to perform detailed operations or reply to a message, it is necessary to manually operate a touch panel, buttons, dials, and the like, which detracts from the benefits of hands-free operation.
Therefore, Apple devised a technology for electronic devices that can be operated by tilting the arm or holding the hand. After filing this technology with the United States Patent and Trademark Office [USPTO],INTERACTING WITH AN ELECTRONIC DEVICE THROUGH PHYSICAL MOVEMENT[Patent No. "US 10,558,278 B2"]. The filing date is March 27, 2018, and the publication date is January 17, 2019 [publication patent number "US 2019/0018506 A1"].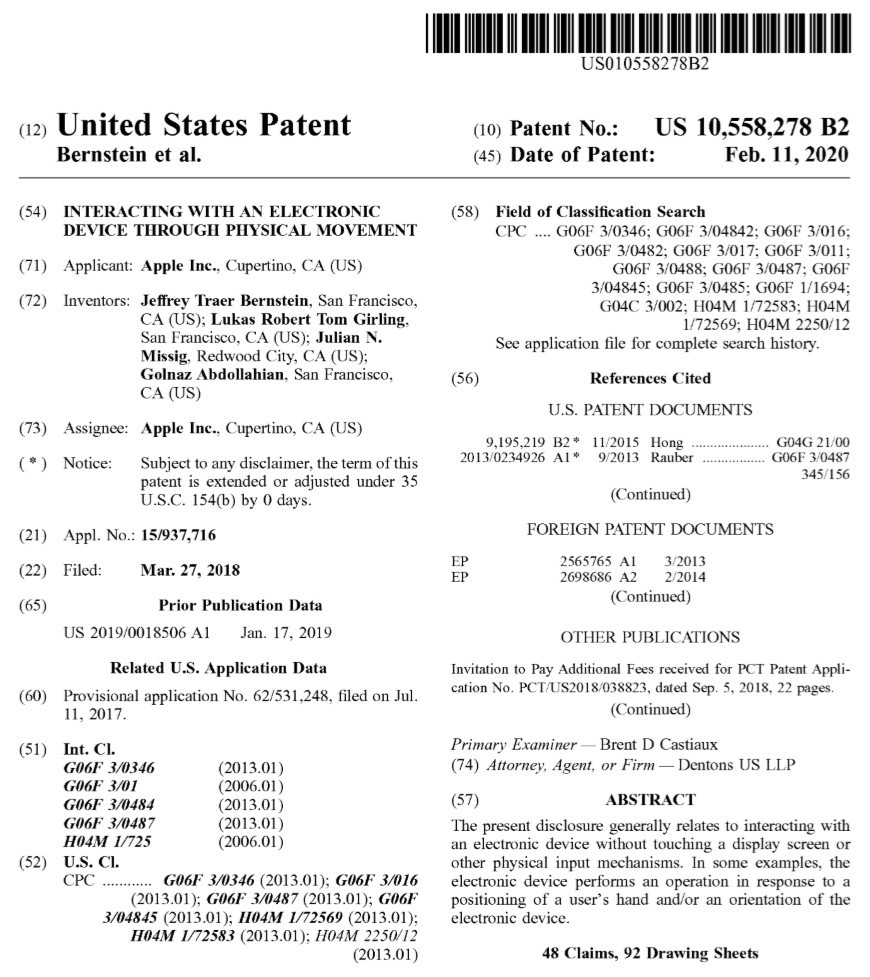 Registered Apple Patents [Source: USPTO]
特許 This patent describes the technology required to realize an electronic device that can be tilted and operated without touching the screen or buttons. Although the first claim [claim] simply refers to "electronic device", the second claim refers to wrist rotation, and the embodiment uses a wearable device that is worn on the wrist, It is expected to be applied to smart watches.
The device is equipped with a screen for displaying information and a sensor to detect tilt. An object such as a mouse pointer displayed on the screen is controlled to move according to the inclination. By using this mechanism, operations such as selecting a button for receiving or rejecting an incoming call can be executed with the arm tilted.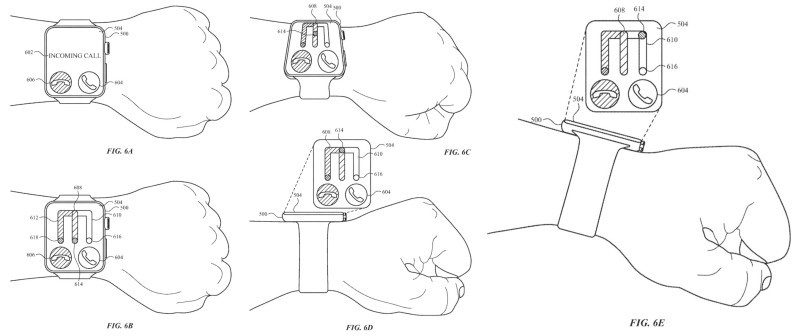 Move the pointer by changing the tilt of the arm [Source: USPTO]

Applicable to message composition [Source: USPTO]
Furthermore, if a mechanism for distinguishing whether the hand is held or open is provided by measuring the blood flow pattern of the wrist, an operation in combination with the tilt of the arm can be realized.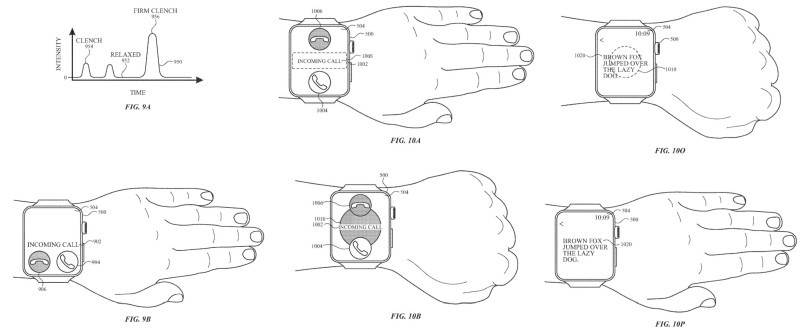 Combination with holding and opening hand [Source: USPTO]
特許 A patent is a public document intended to protect the rights of technical ideas. Even if it is registered and established, it is not necessarily used for actual products and services. Further, there are many applications that are filed for the purpose of making the existence of an idea known to the public, and are not published without registration.
Source link