Technology
Apple sold about 60 million AirPods in 2019, accounting for more than 70% of total revenue in wireless earphone market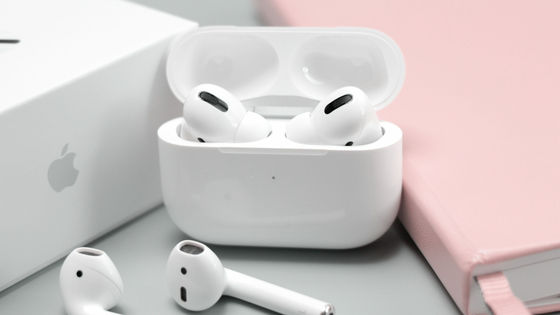 Apple sold about 60 million AirPods in 2019, accounting for more than 70% of total revenue in wireless earphone market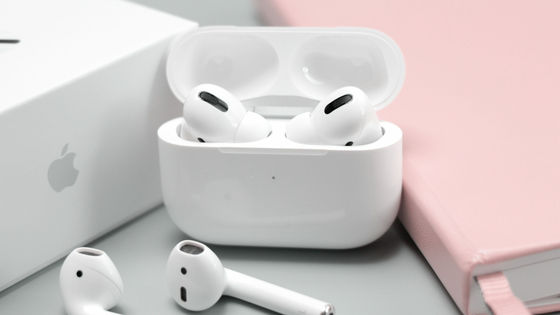 Apple hasn't released any information about AirPods sales, but the marketing companyStrategy AnalyticsHas released sales data in the wireless earphone market, which has been growing in recent years. According to the report, AirPods sold about 60 million units in 2019, accounting for more than 70% of the total revenue of the wireless earphone market.
AirPods and Totally Wireless Bluetooth Headset Sales Volumes Soaring
https://www.strategyanalytics.com/strategy-analytics/blogs/devices/emerging-devices/emerging-devices/2020/01/09/apple-airpods-and-totally-wireless-bluetooth-headset-sales-volumes- soaring
Report: Apple sold nearly 60 million AirPods in 2019, grabbing 71% of totally wireless headphone revenue-9to5Mac
https://ww.9to5mac.com/2020/01/15/60-million-airpods-sold-in-2019/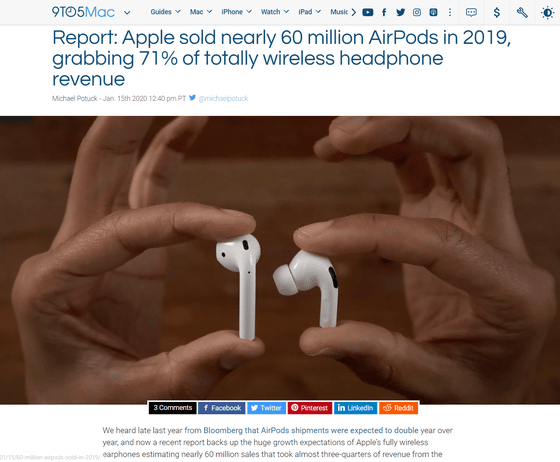 According to a report by Strategy Analytics, the market for wireless earphones that use wireless connection via Bluetooth continues to expand, and total revenue has tripled compared to the previous year. Among them, Apple's AirPods is the fastest growing. It is estimated that AirPods has achieved double sales compared to the previous year, with about 60 million units sold. Below is a pie chart showing the ratio of wireless earphones sold in 2019. You can see at a glance that more than 50% of the total sales are AirPods. Even the second-largest Samsung product has less than 10% of total sales, indicating how Apple is building a monopoly in the wireless earphone market.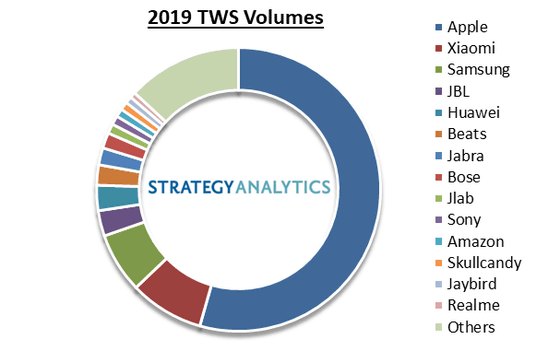 The pie chart below shows the revenue ratio by manufacturer in the wireless earphone market in 2019. AirPods account for 71% of total revenue and are overwhelming.
Strategy Analytics estimates that the wireless earphone market will continue to expand beyond 2020, and predicts that "by 2024, revenue will exceed $ 100 billion (about 11 trillion yen)." Apple in particular is expected to continue to lead the industry, and Strategy Analytics wrote, "Apple will continue to dominate over the next five years."
Copy the title and URL of this article
Source link