iPhone
Apple Watch Pride Edition band new product, Nike Sports also appeared this year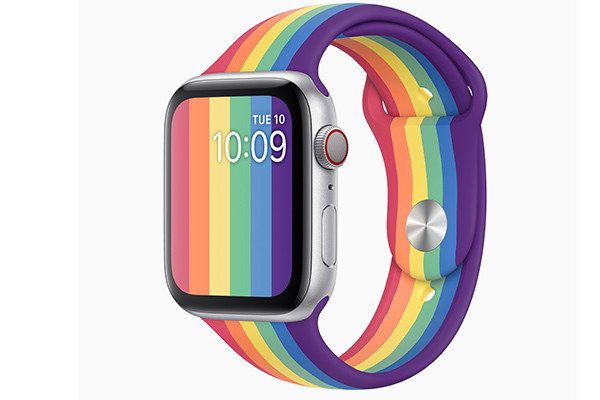 Apple announced the 2020 Apple Watch Pride Edition band on May 18 (US time). This year, in addition to the "Pride Edition Sports Band" based on the sports band, we also prepared the "Pride Edition Nike Sports Band", which is an arrangement of the Apple Watch Nike Sports Band in rainbow colors. Both are for 40mm / 38mm Apple Watch and 44mm / 42mm Apple Watch, and the price is 4,800 yen (excluding tax). It can be purchased from Apple's online store.
June is the "Pride Month" to deepen your understanding of LGBTQ rights, culture, diversity and inclusion. Apple has been involved in pride for more than 30 years, and in recent years its employees, including CEO Tim Cook, participated in the pride parade, and through the provision of a rainbow-colored Apple Watch pride edition band, Supports LGBTQ support groups.
GLSEN, PFLAG, The Trevor Project, Gender Spectrum, The National Center for Transgender Equality, Encircle, SMYAL (US), ILGA World (an international organization that brings together more than 1,500 member organizations in over 150 countries and regions)
The "Pride Edition Sport Band" uses fluoroelastomer, which has excellent heat resistance, water resistance, and durability. Each rainbow colored stripe is assembled by hand, punched and machined, and then compression molded. There is. As a result, the ripples of the rainbow-colored stripes differ slightly for each band. The band is unique and suitable for a pride edition.
The "Pride Edition Nike Sports Band" also uses fluoroelastomer as the material, and the edges of the ventilation holes in the entire band are colorfully colored and compression molded. The band has a rainbow-colored circle on a white background.
Apple has also prepared a 2020 pride dial that matches the design of the 2020 pride edition band. It will be available soon through "watchOS 6.2.5", which started update distribution on the 18th (US time).
Source link