Headline
Artificial synthetic spider silk " Spiber '' becomes seventh unicorn-financing and market capitalization ranking in January 2020
Four Startups is an information platform specializing in growth industriesSTARTUP DB, Announced the "Domestic Startup Financing Amount Ranking" for January 2020. 2019 rankingHere.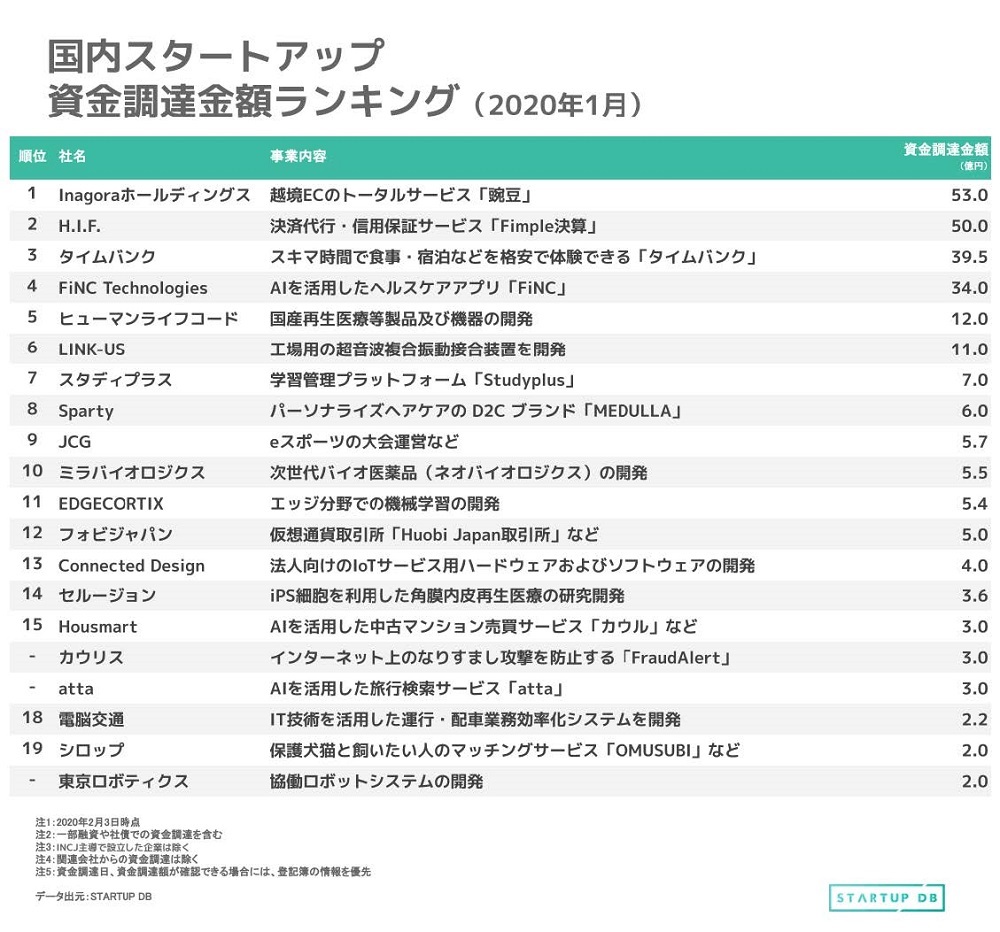 According to the report, Inagora Holdings, a provider of cross-border e-commerce services for China, which can purchase Japanese products, succeeded in raising a total of 5.3 billion yen and became the leader. At the same time as funding, the company announced a business alliance with CITIC Group, a Hong Kong-based conglomerate. The company aims to acquire new Chinese customers and expand sales channels. In addition, a business alliance with Sugi Pharmacy has been implemented. The company plans to expand its BtoBtoC cross-border e-commerce platform that connects Japanese companies and Chinese consumers.
Time Bank, led by Metaps founder Koyo Sato, also raised a large amount of 3.95 billion yen. This is the company's first external financing to operate a marketplace that provides free time and excess inventory at a low price. In the future, it is expected to promote advertising and business development for the purpose of further raising awareness.
NCFiNC Technologies, a mobile health care company, ranked fourth in this ranking. The company has raised JPY3.4bn in funding, with a cumulative total of over JPY15bn. The company plans to develop AI, expand new businesses, and further strengthen marketing.
Looking at the rankings by area, four companies in the medical field, such as FiNC Technologies, Human Life Code, Mira Biologics, and Cellulion, ranked in. E-commerce companies continue, with three companies including Inagora Holdings, Time Bank, and Sparty.
Artificial synthetic spider silk "Spiber" contains unicorn
The company also announced the "Market Capitalization Ranking for Domestic Startups" as of February 3, 2020.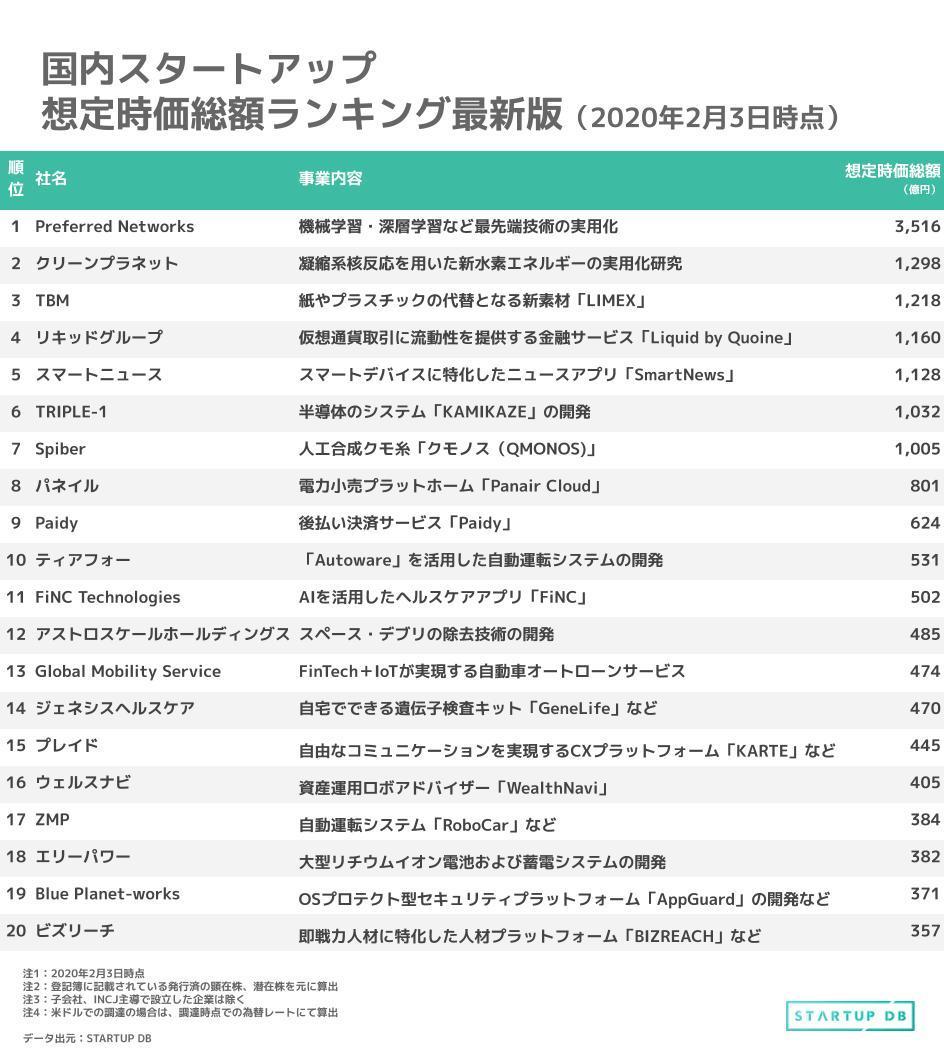 IberSpiber, a manufacturer of artificial synthetic spider yarns ranked # 7, announced on January 16 that it had a business alliance and investment with EBARA CORPORATION. EBARA invested in Spiber for about 1 billion yen. With this procurement, Spiber's estimated market capitalization was approximately 100.5 billion yen, making it the seventh unicorn company in Japan at this time. In addition, it was confirmed from registry information that large-scale financing of a total of 5.38 billion yen was carried out in December 2019.
With this business alliance, EBARA CORPORATION and Spiber will collaborate to improve the manufacturing process efficiency of technology in the development and production of Spiber structural protein materials. The company is challenging the transformation of the materials industry, pursuing breakthrough functional improvements and expanding applications for products in the industrial machinery field.
後 In addition, Paidy, a postpayment payment service operator, has been newly ranked ninth. In November 2019, Paidy announced a total of 15.6 billion yen in financing. In the domestic startup financing ranking in 2019, it was the second largest after EPARK, which operates a website for accepting reservations for popular facilities, at ¥ 20.06 billion.
But in January they abused PaidyFraudIs a problem that occurs with the flea market app "Mercari". The use on some EC sites was suspended.
Source link