Technology
At " Ramen EXPO 2019 '' where famous ramen nationwide meet together, I have eaten a full cup of individuality, such as superb urchin ramen and pork bones, but simple Mohikan ramen
At " Ramen EXPO 2019 '' where famous ramen nationwide meet together, I have eaten a full cup of individuality, such as superb urchin ramen and pork bones, but simple Mohikan ramen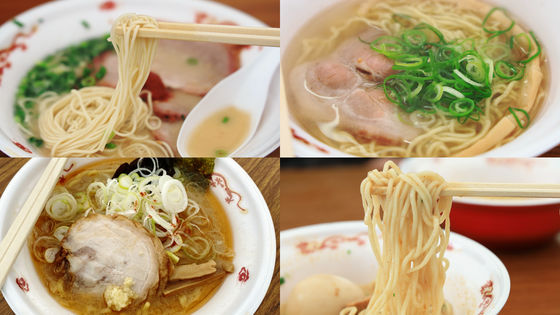 From December 6, 2019, you can enjoy famous ramen nationwide.Ramen EXPO 2019Is held at the Expo Memorial Park. Ramen EXPO 2019Act 1(December 6-8),Act 2(December 13-15),Act 3(December 20-22),Act 4(December 24th to 29th) The event will be held 4 times, and the ramen offered for each act will be different. I tried to go and eat about the abilities of famous ramen nationwide and how.
West Japan's largest ramen event " Ramen EXPO 2019 ''
http://ramen-expo.com/
7th Ramen EXPO 2019 in Expo Park | Expo Memorial Park
https://www.expo70-park.jp/event/34734/
That's why I came to the Expo Memorial Park, the venue for the Ramen EXPO 2019.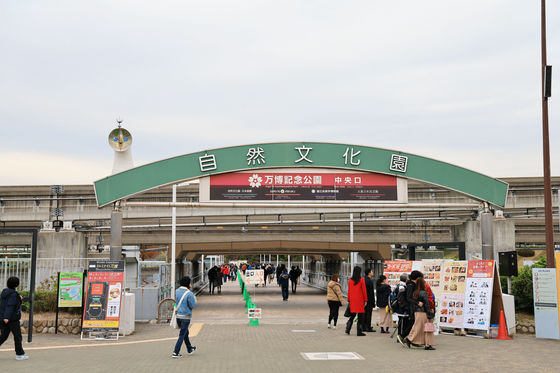 FirstTower of the sunWalk towards …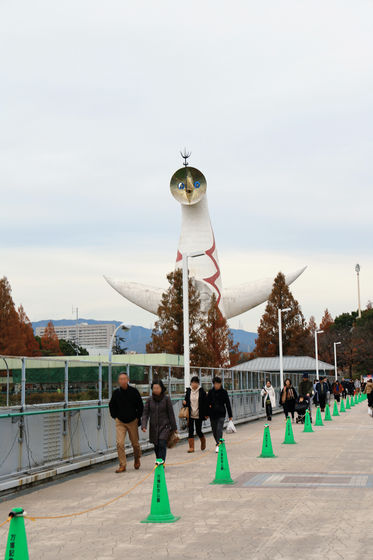 Purchase an admission ticket to the Natural Culture Garden / Japanese Garden.
Admission ticket is 260 yen per adult.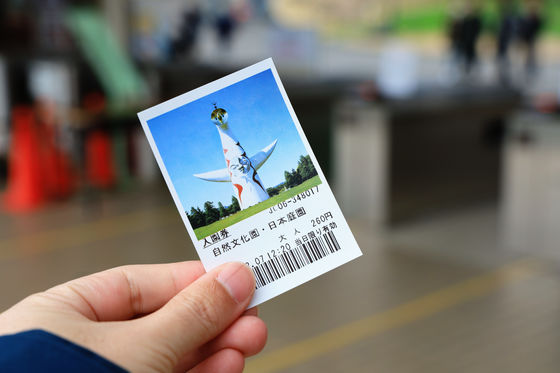 When I entered, I found a banner called "Venue is here", so when I walked in the direction of the arrow …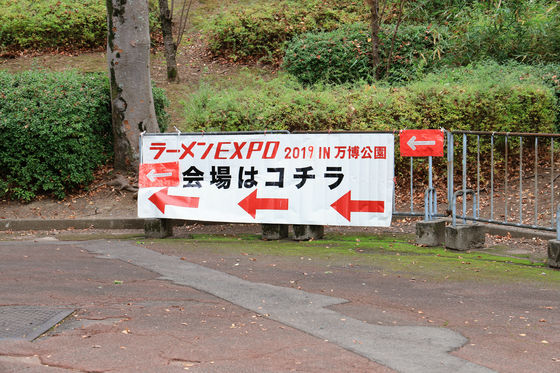 Discover Ramen EXPO 2019. The venue is the "Festival Square" just behind the Sun Tower.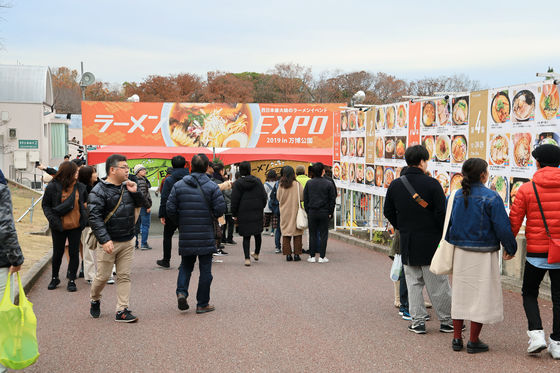 In addition to introducing 40 types of ramen from Act 1 to Act 4, …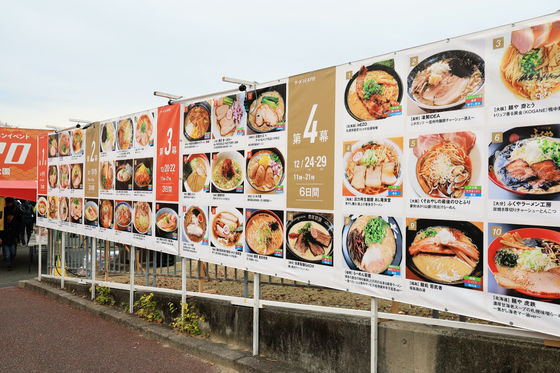 The shops and menus that open at Gyoza EXPO and Saba EXPO are also introduced.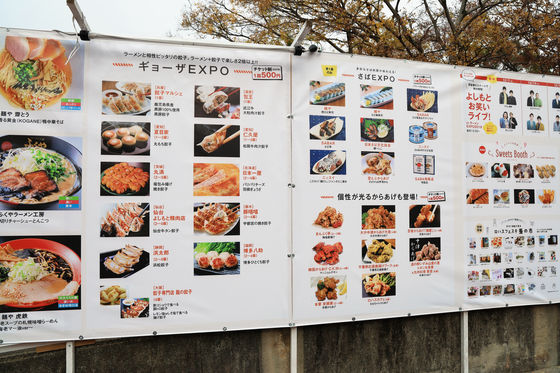 At the entrance, there is a Ramen EXPO 2019 brochure that you can pick up freely. Since the characteristics of each ramen are written, if you have not decided which ramen to eat, we recommend that you take one copy.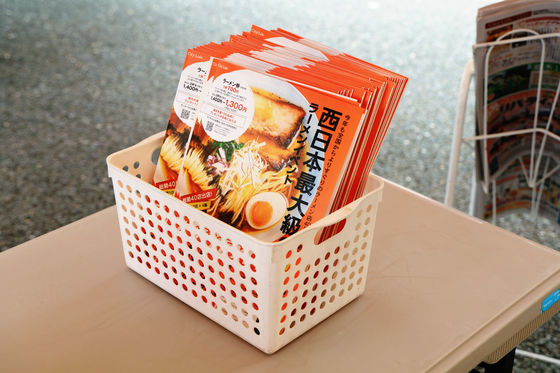 Once inside, there is a ticket office. In Ramen EXPO 2019, the ramen, gyoza, mackerel, and deep-fried menus cannot be purchased in cash and can be exchanged for tickets. Please note that tickets can only be purchased at the ticket office at the entrance.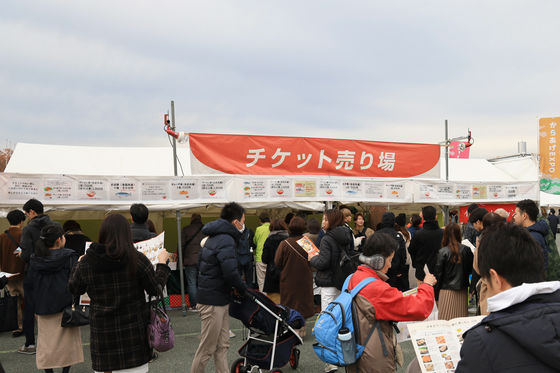 So I bought a ticket right away. Ramen is 700 yen per cup, but 2 cups (2 tickets) can be purchased for a slightly profitable 1300 yen. In addition, mackerel, gyoza and fried chicken are all 500 yen, but only mackerel sushi will be offered for 1000 yen.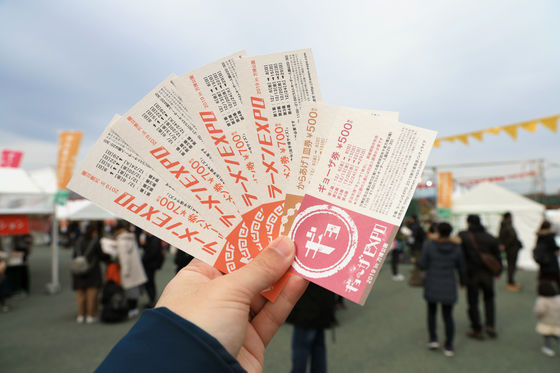 There are mackerel, gyoza, and deep-fried stores right next to the ticket office …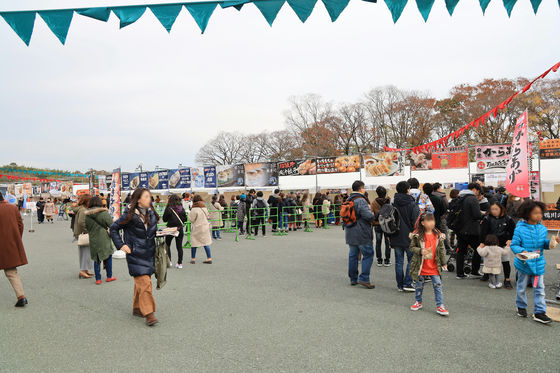 There are many sweet shops that can be purchased in cash.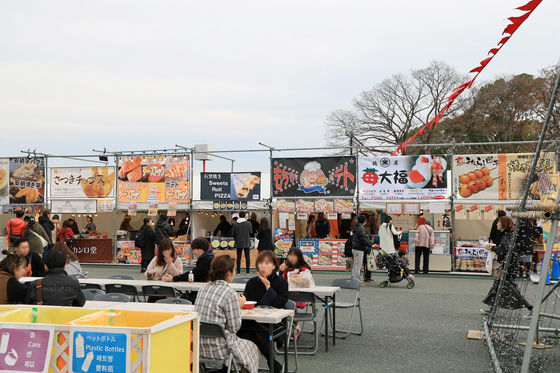 On the other side is a ramen shop for business trips.
When we arrived at the venue, it was just during the lunch time, but at that time, the most lined up was the "Rich Unsoba" of "Katsuryu" from Ibaraki.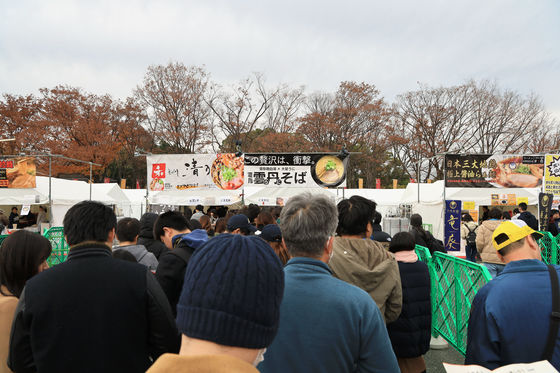 Some stores offer original topping menus. At "Katsuryu", there was a topping menu with a special taste ball (100 yen), two pot-fried char siu (300 yen), and a whole set (400 yen). Additional ramen toppings must be paid in cash.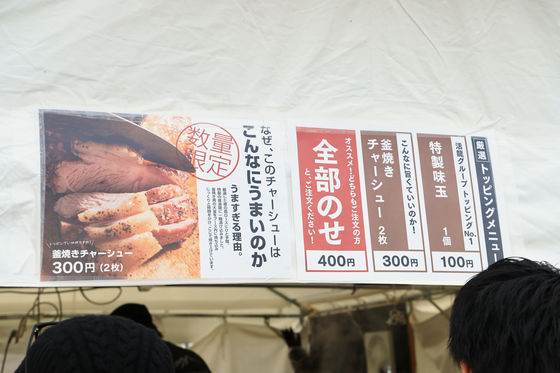 Because the noodles are constantly boiled in the tent, it was quite a line, but in about 15 minutes …
Get the "rich noodles" you want.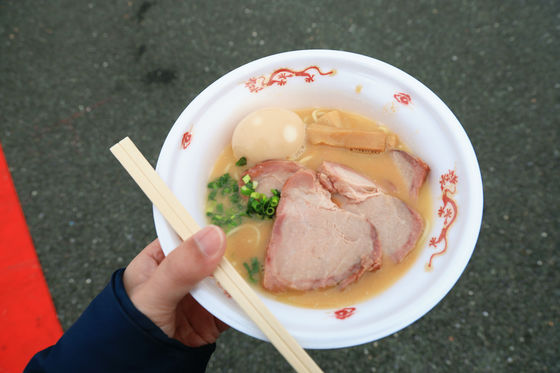 There are plenty of table seats in the venue, so you won't have a hard time finding space for dining. Some people were eating ramen on the stairs directly behind the Sun Tower …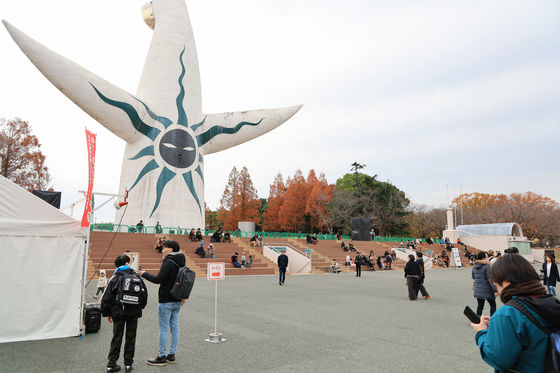 Since it is held in December, there is a dining space inside the tent.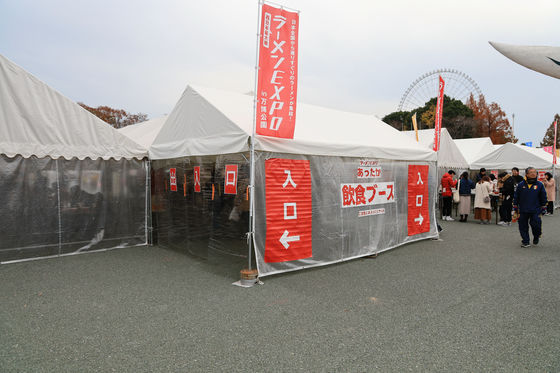 The inside of the tent looks like this. The table seats are lined up and the stove is fully equipped. In addition, the stove was not in operation during the daytime, but it was much warmer than the outdoors and was the perfect temperature for eating warm ramen.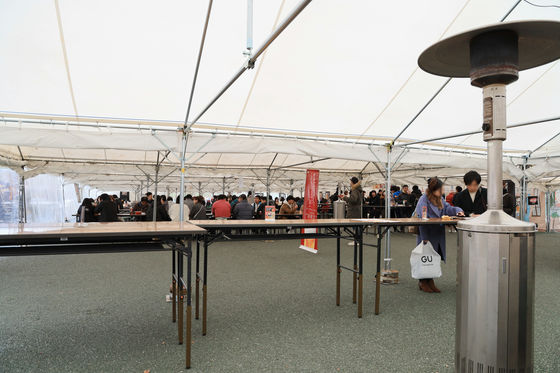 The ramen provided at Ramen EXPO 2019 is all served in the same size vessel and is slightly smaller than regular ramen. For iPhone XSGenuine caseCompared to this size.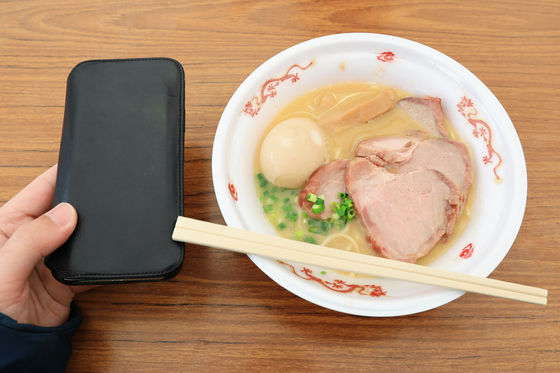 "Thick sea urchin soba" is a ramen that has a large amount of sea urchin dissolved in a thick chicken soup. The combination of sea urchin and ramen that I haven't heard so much at first was, "Is it possible to understand the taste of sea urchin in ramen …?", But the scent of sea urchin drifted from the soup before eating. The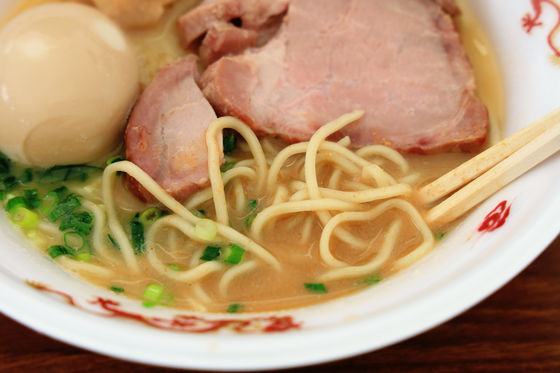 Flat noodles are used for the noodles. If you look closely, you can see that the noodles that are melted into the soup are entangled in the noodles. When you actually eat it, you can feel the flavor of sea urchin quite firmly, and at the same time, the rich and savory taste of chicken white hot water blends wonderfully. The flavor of sea urchin is so strong that you can't help but think of how much sea urchin should be used to bring out such a rich sea urchin flavor. It is well harmonized with chicken white water and noodles and must be said to be a very complete cup.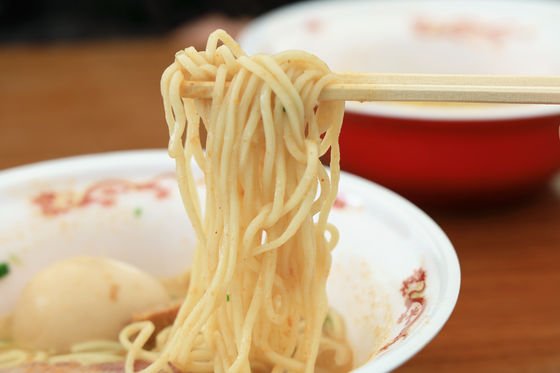 The topped pork fillet is thick and responsive. It is not a pork soup that old-fashioned meat collapses and melts fat, but it is a soft soup made by low-temperature cooking.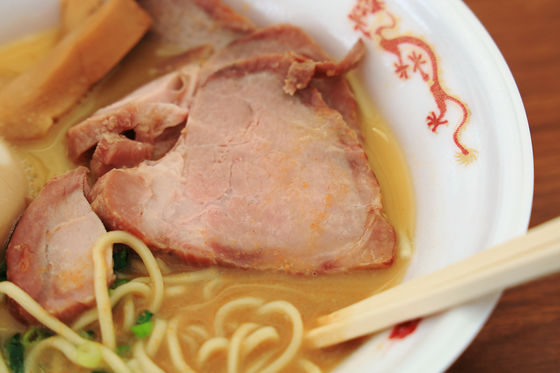 The boiled eggs were soaked in the taste.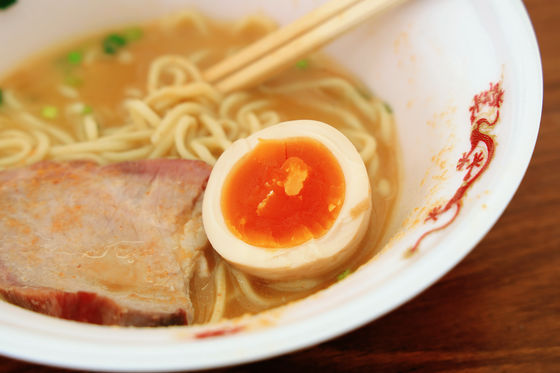 That's why I finished my first cup. You can see that a lot of sea urchin is used just by looking at this picture.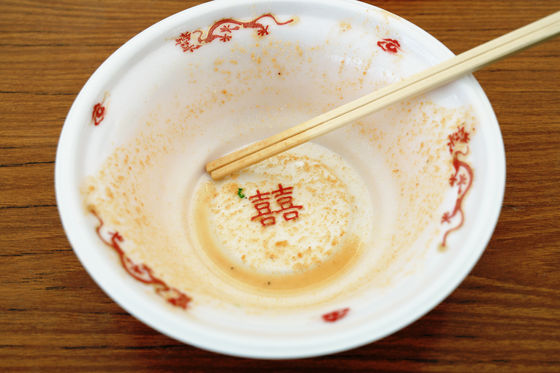 Next, let's eat "rich thick miso ramen" from the famous Hokkaido store "Sapporo Miso".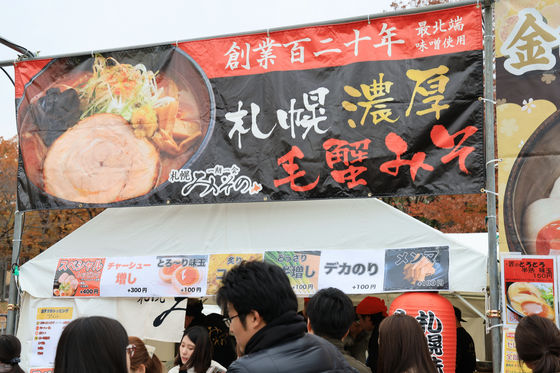 It looks like this. The topping is char siu, leeks, nori and menma. The ginger is on the pork.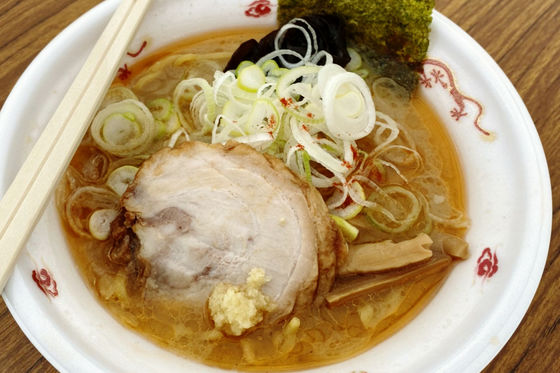 The soup has a unique flavor like crab miso in the first bite. Not only the salty taste of miso but also the umami taste of crab melts firmly, so that it feels very mellow and sweet. Medium thick noodles are used, and it is also good that the thick soup is entangled firmly.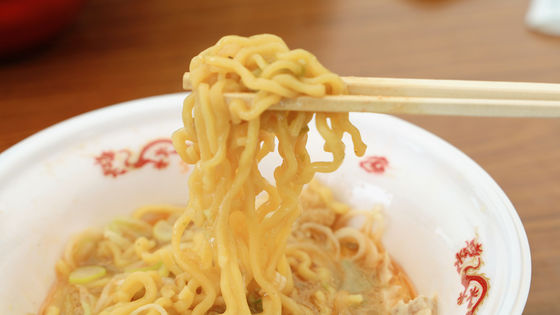 Next, I changed my taste and tried to eat gyoza and fried chicken. Several gyozas are offered, but this time, I decided to eat "Marumochi Gyoza" from "Natsumeya".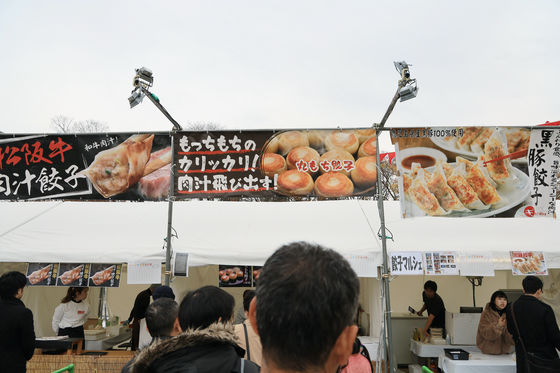 It was baked in the tent …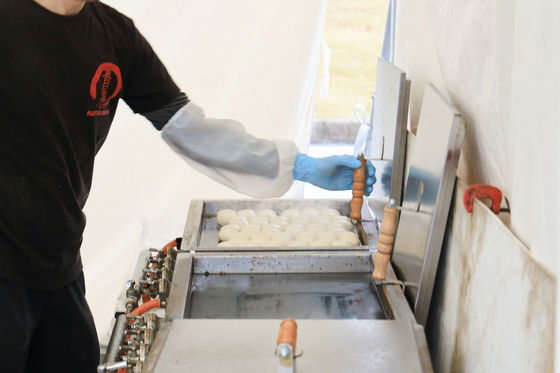 Get round rice cake dumplings.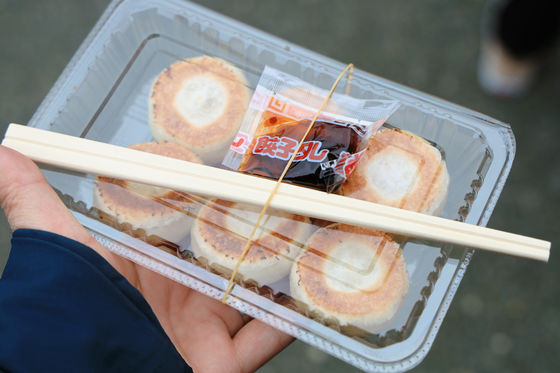 Fried chickenRaised from NakatsuChoice of "Kyushu Cuisine Yukichi", which is a famous restaurant in Tokyo.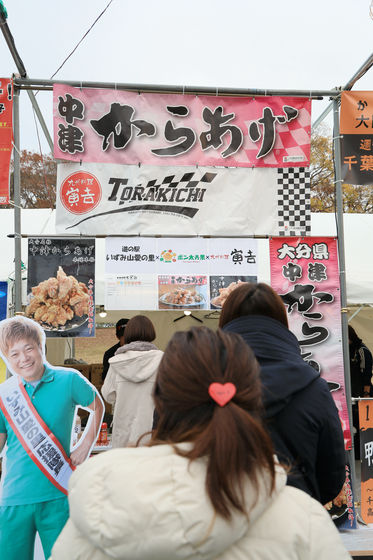 This is also served freshly fried.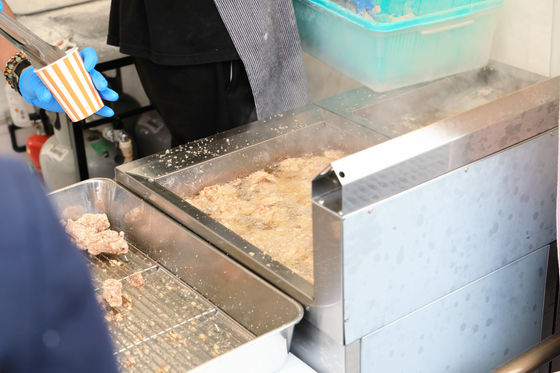 The fried chicken looks like this.
The round rice cake dumplings are 6 pieces, and the brown baked goods will stimulate your appetite.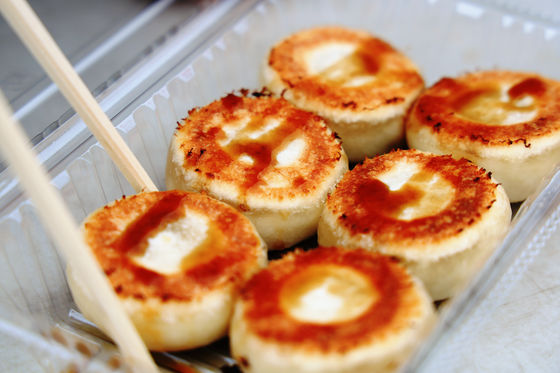 There are only "Marumochi" dumplings and the skin is very tight. Since the skin wraps a large amount of gravy together with the strawberry, it overflows as soon as it is made. The appearance and overflowing of the meat juice seems to be a small bun, but it feels like it has a completely different taste due to the mochi-mochi.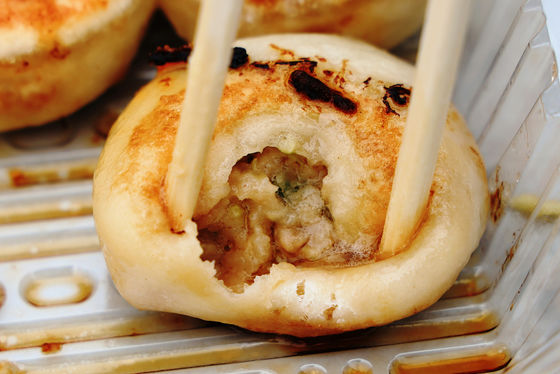 The deep-fried chicken has a fluffy texture that uses potato starch like fried Tatsuta and is perfect for ramen.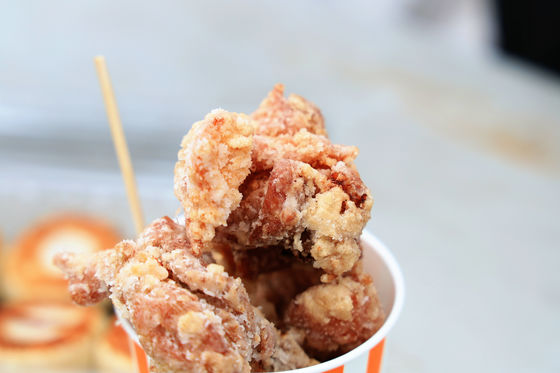 Next, I decided to try the "Golden Flavored Salt Ramen" from the famous Tokyo restaurant "Nenya Sou", which also made a long line. This store seems to be a popular store that has changed many records at national events.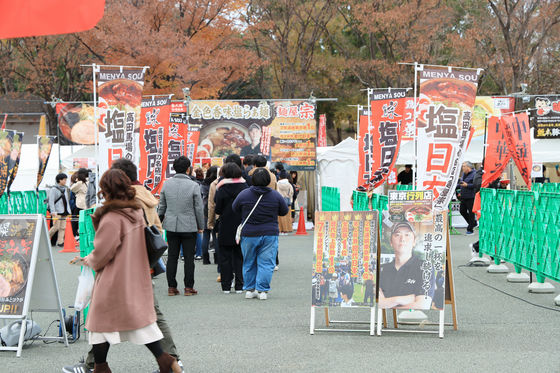 In the tent, char siu is beaten with Bincho charcoal.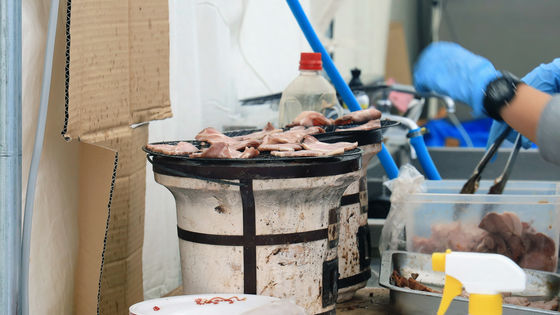 "Golden flavored ramen noodles" is a salt ramen made with chicken and seafood dashi, and has been the best in Japan.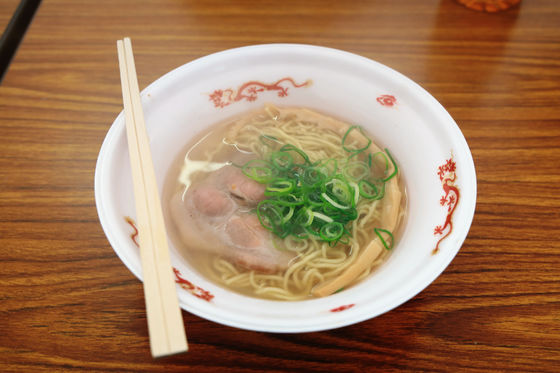 It is a simple look with a clear soup that is topped with medium-thick noodles, leeks, menma, and roasted pork.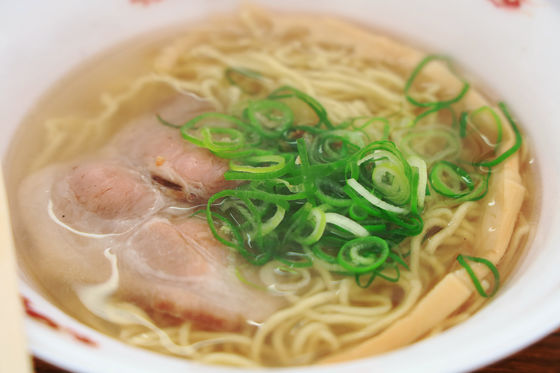 The soup is the lightest and lightest taste of ramen in the past, but it has a very delicate taste with a strong scent of seafood. To be honest, there was a lot of rich flavor that other ramen has a strong impact, so I wanted to eat first …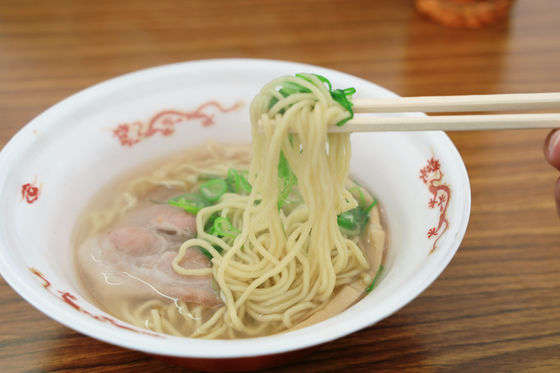 The roasted char siu is characterized by a firm texture, and I felt a unique character not found in other ramen char siu.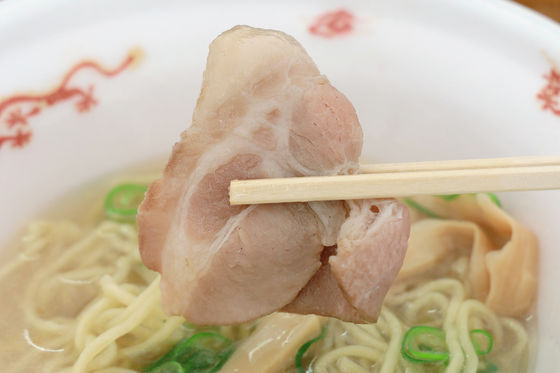 The last thing I ate was "Serious Kama-yaki Char-shu Noodles" at the Fukuoka ramen shop "Mohikan Ramen".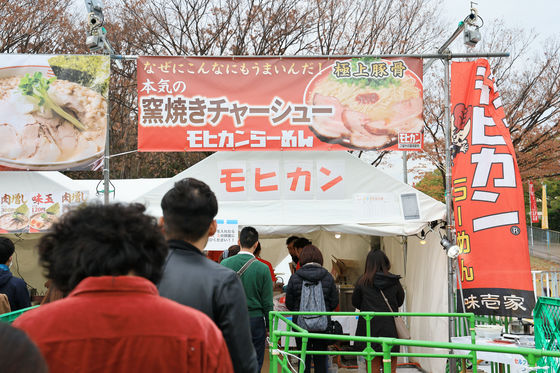 The person who boiled the noodles in the tent was just like a mohawk, so when I turned the camera, he posed with a nori nori.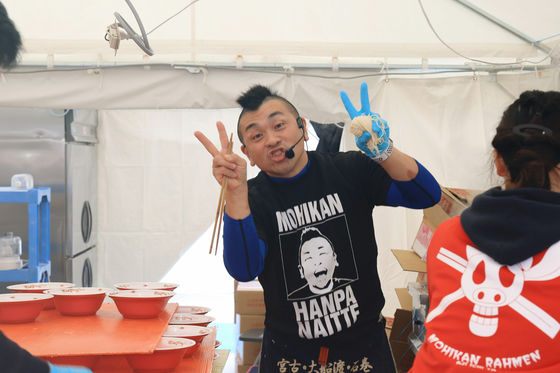 That's why this is "a serious kama-yaki char siu noodle". Pork bone soup and extra-fine noodles are topped with green onions, soy sauce bowl, baked pork pork, and deep red sauce.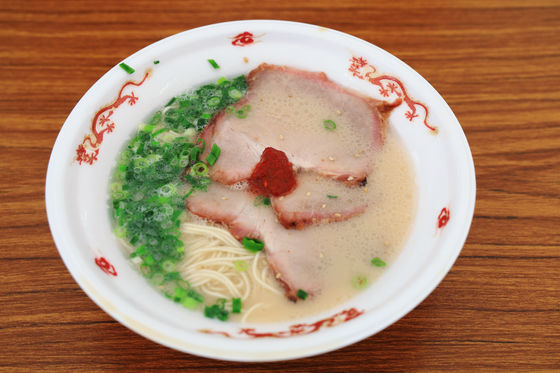 The soup is indeed pork bone, but it is surprisingly refreshing whether the fat content is low, yet the deep taste of pork can be felt. Although it is a pork bone ramen, it is a refreshing ramen that doesn't stop the lotus that drinks soup. Super fine noodles and soup that are typical of pork bone ramen are also excellent.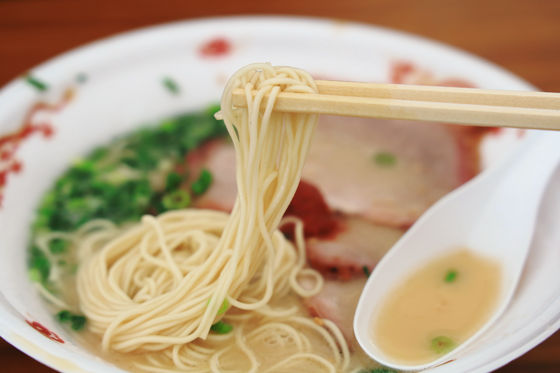 Three pieces of pork soup that are soaked in the taste of soy sauce are topped, making it very easy to eat.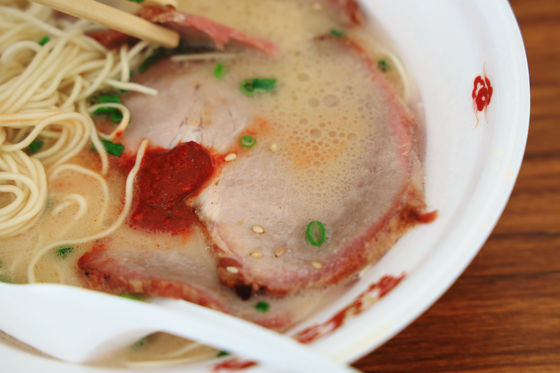 The point is that you can change the taste by dissolving the condiment in the soup from the middle.
In Act 1, there will also be " Chinese Soba Kyubey x Noodle Shop TRY '' and " Wa dining Seino '' and " Men Chicken Dogan '' from Osaka, " Ajisen Ramen '' from Kumamoto, and " Homemade Noodle Ryu '' from Tokyo And "Edo-mae Niboshi Chuka-soba Kimihan produced by Tsukemen TETSU" had a ramen shop.
Ramen EXPO 2019 is not only a place where you can enjoy a cup of famous Japanese ramen shops every weekend, but usually you can easily make difficult ramen shops, so if you are a ramen enthusiast, please join us and find the perfect cup. I want to get it.
Copy the title and URL of this article
Source link