Headline
Average daily usage time of 132 minutes–Spotify aims for voice ads and re-focused podcasts in the US now
Although it is a voice advertisement centered on radio, the way it is used is changing due to changes in the surrounding environment such as online distribution and listening on smartphones. Spotify, a streaming music distribution service, opened a talk session "#loveAudio" on December 4th to talk about the current status and possibilities of voice advertising, and "podcasts" that are attracting attention overseas.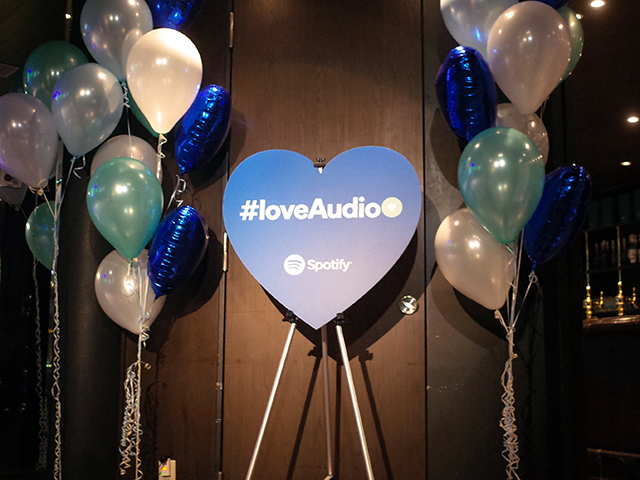 Spotify opened a talk session " #loveAudio '' that talks about the current status and possibilities of voice advertising and " podcasts '' that are attracting attention overseas
The music industry is gaining popularity in streaming
Spotify was established in Sweden in 2008. The illegal music distribution that was in circulation at the time was born to improve this situation, without paying a fair price to the artist. Landed in Japan in 2016. The company currently has services in 79 countries and has 248 million active users worldwide [135 million free users]. We offer "Spotify Free Plan", which pays royalties to artists from advertising revenue, and "Spotify Premium Plan" from 980 yen per month [Student Discount plan is 480 yen per month]. Full-length playback of all songs is possible.
Spotify Japan Business Marketing Manager Keiko Ishii said, "Spotify was the first listening style to listen to music in playlists. There are about 80 editors in the world who create playlists in Japan. There are three people, people who have been involved in the music industry are making playlists from their own perspective. On the other hand, we also provide playlists created by AI, which provide playlists optimized for taste by learning listening tendency. "The more you listen, the more the playlist is optimized. It suggests not only songs you know but also" I like these songs. "[Ishii] Introduced.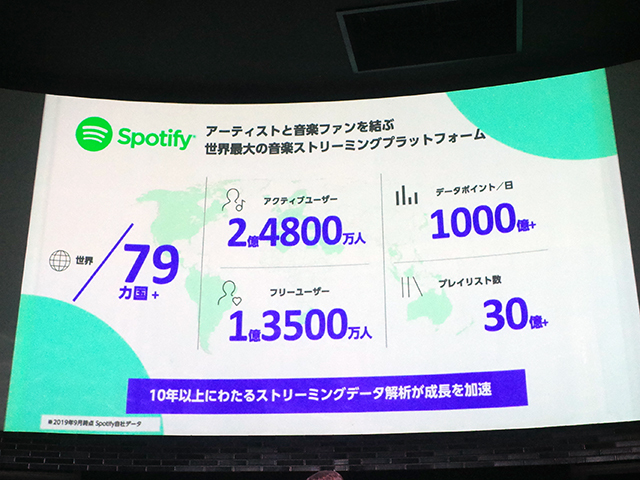 Active Spotify user etc.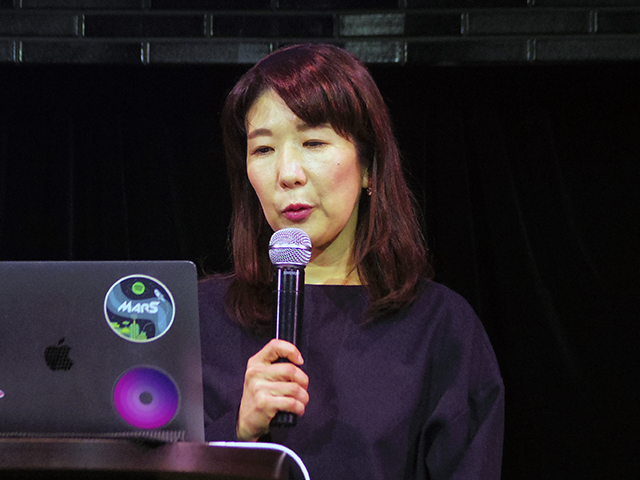 Spotify Japan Business Marketing Manager Keiko Ishii
Japanese users account for more than half of 56.5% under the age of 35, and 55% are female users in November. Viewing devices are overwhelming with 92% of smartphones, and recently the use of smart speakers is also increasing. "I had many users in their twenties at the beginning of the service, but now I've been listening to each age group. The gender ratio fluctuates depending on the time of acquisition," analyzed the user group.
The average daily usage time is 132 minutes, which is actually over 2 hours. The usage scenes are 56% for "Relaxing", 40% for "Commuting to school" and 38% for "Driving". Other than that, "In preparation", "Bathing", "Before going to bed", "Study / work" Various such as "medium". It is characterized by "I have heard at every moment in my life" [Mr. Ishii].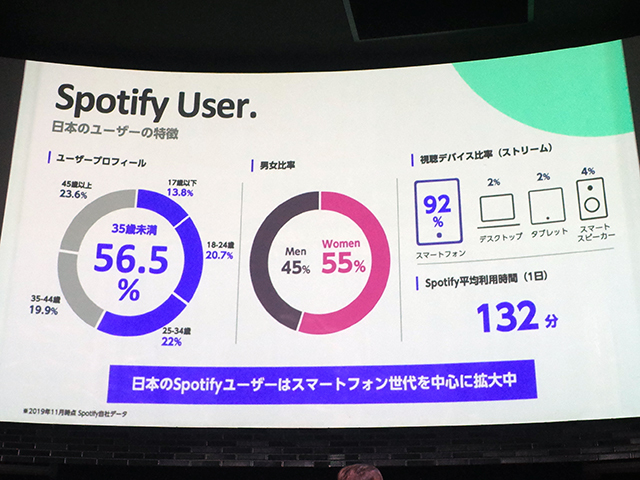 Characteristics of Japanese Spotify users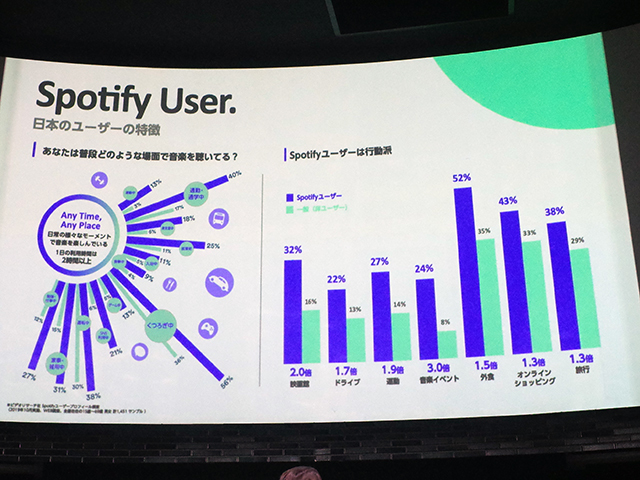 Usage scene
The global music market has grown for four consecutive years since 2015, and subscription services support growth. Streaming sales now account for 75% of total music revenue, and it can be seen that streaming distribution is boosting the music industry as a whole. This trend is similar in Japan, with streaming sales of 142 billion yen, 142% of the previous year. Voice advertising sales are also growing.
According to Mr. Ishii, "85% of users listen to music through headphones when they listen to music, and they enjoy music when they like it in their personal space. "Personal contacts" "Creatives that capture life contexts" "Insights based on abundant data" "Induction of actions and creation of experiences with 3D sound" explains that the media is easy to target and reach at any time did.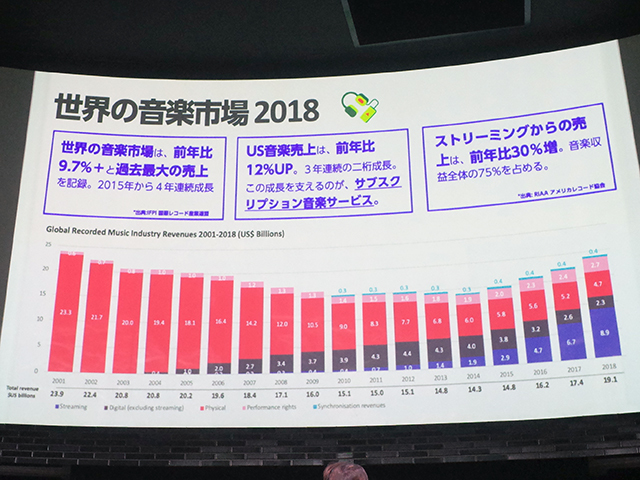 World music market 2018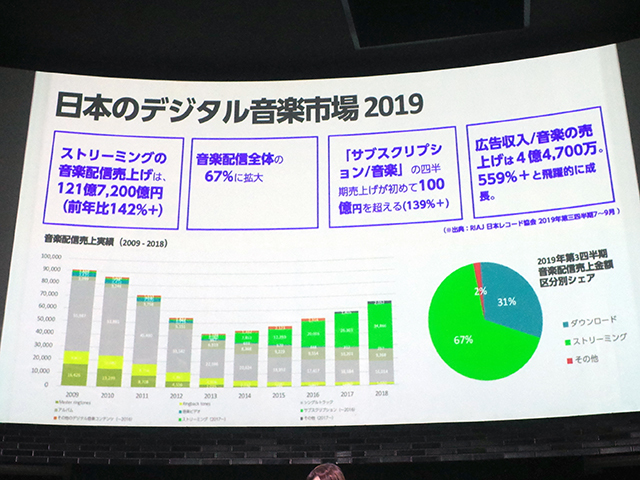 Japan digital music market 2019
In Spotify, voice advertisements are developed in a free plan for 30 seconds between songs. "It is possible to experience information while maintaining a connection with the music experience. If you are looking at the screen when listening on a smartphone, you can also lead to the site with a clickable companion banner. Yes, we know recently that adding a click to the action banner to the message will definitely increase the number of clicks. "
At the venue, examples of Kao's "Curel UV" will also be introduced. It was a brand message with an original song, and provided its own brand playlist. "It was implemented as a campaign to provide brand experience with sound. The target was a young woman. I found out that the brand's recognition increased greatly through the experience," Mr. Fujii said.
"The past 10 years are the screen era. We have optimized visual arousal. The next 10 years will be the screenless era. I think it will be the optimization of listening awakening," Mr. Ishii said.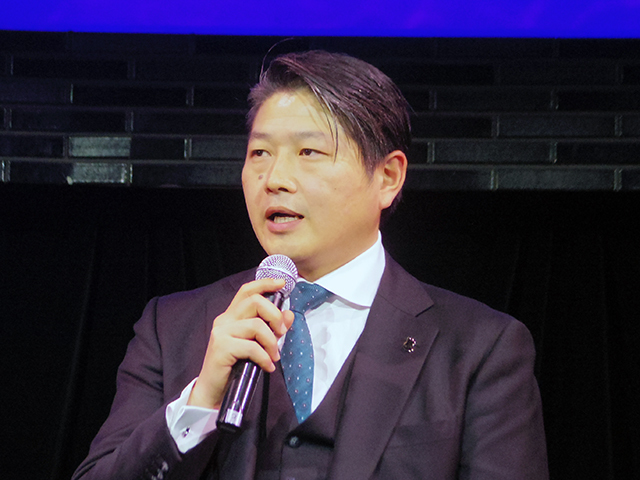 Mr. Tetsuhisa Fujii, general manager of Spotify Japan
What's popular in the US
On the other hand, "podcast" is introduced as the next audio. Spotify, as a premium audio company, has the concept of putting the world's audio in one place, and plans to focus on podcast distribution as well as music.
"In the United States, about 1 in 3 people are listening to podcasts in the United States. The number of podcasts exceeds 700,000 and the number of episodes exceeds 29 million. Expected listeners are 90 million. Advertising revenue is also 2021. "It 's expected to surpass $ 1 billion by the year," he stresses. Listeners are 57% male and 42% female, and many are high-income people. The age range is 35 to 44 years old.
・ Spotify has over 500,000 podcasts, with over 140,000 creators. The listening time for podcasts is 39% higher than the previous period. Entertainment is most popular for content, and sports and crime are popular by listening time. "I listen to podcasts tend to listen to music, and I listen to Spotify for a longer time than music listeners, and that time is about twice as long," Ishii said.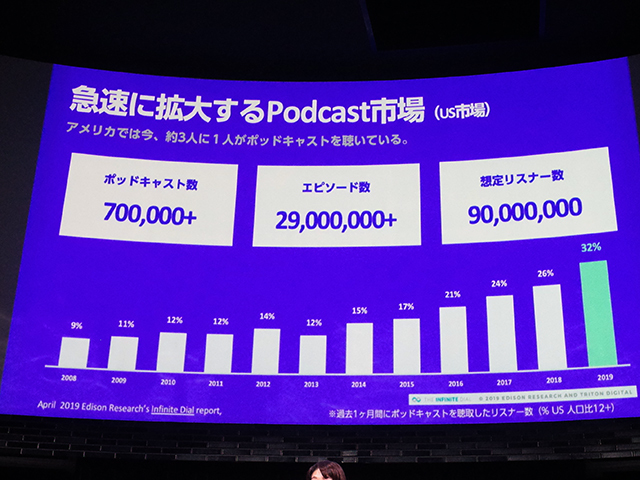 US podcast market
In the United States, it is becoming established as a culture, and the content handled by criminal journalists was a big hit. "Creating a video is costly and time consuming, but podcasts are audio only. To help podcast creators, we acquired Anchor, a production tool. Downloading the app makes it easy to create podcasts." [Mr. Ishii] and creator support.
The popularity of podcasts is increasing in Japan, and the number of Japanese podcasts has increased 50 times compared to February. Global content such as "Hypnosis RADIO Spotify Edition" has come into the top rankings globally. Mr. Ishii explained that "interest is growing from media and influencers who want to approach young people".
#LoveAudio is an event that talks about the effects and effects of digital audio advertising. Already in London and other places, this is the first time it has been held in Japan.
Source link