Headline
Blindness causing gene and normal gene replacement to restore sight, Tohoku Univ. research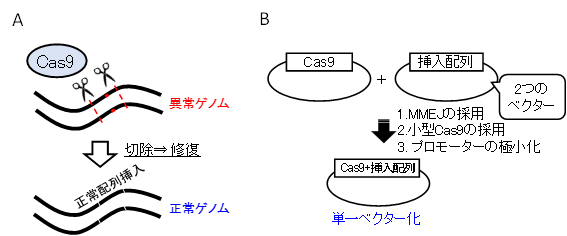 Retinitis pigmentosa is about 3000 people on 1 person is the onset of blindness as a cause Japan is the 3rd lot, the country of the specified intractable disease become. The cause of this disease is a mutation of a gene, is involved in gene about going.
【Here】Japan, the United States and Europe, gene therapy drugs market,by 2020 738 billion yen surged to
Tohoku University Research Group,the blind mouse,the genes that cause a normal gene to replace with a new gene therapy method developed. This way the mouse's eyesight is 6 percent recovered. The status quo is an effective treatment of retinitis pigmentosa containing the gene that caused the disease as a cure for the future have been put into practical use that can be expected.
From the eyes came into the light of the information of the retina and photoreceptors in the electrical signal is converted into an electrical signal the nerve through to the brain to convey a vision to be recognized as. Retinitis pigmentosa is a mutation of a gene, by the retina to the photoreceptors is impaired, the progress and the vision is lost as well. Cell disorders from the gene is different,each gene revealing about becoming.
In this study,a severe form of retinitis pigmentosa for the normal gene to replenish the"gene replacement therapy"and the effect this can have. But once introduced to Gene size because of the limitations,all of retinitis pigmentosa patients treatment was not possible.
On the other hand, the study of the gene abnormality is only the part of the switch to"genome editing gene therapy"was performed. This treatment is first, you want to insert normal genes, which carry that virus gene [vector]to incorporate. The abnormality of the part to cut out the normal gene to replace.
Carry and Vector built for the size because there is a limit to the"cut out gene"vector and"introduction to genes"with a vector of 2 has been used, the gene editing efficiency is not.
This gene replaced the necessary part to the shorter edit,"cut out a gene"and"introduction to genes"to the 1 vector so that they will want to. This vector was used, where the gene editing efficiency of 2〜5 times greater improvement with.
In this way you create a normal gene for the introduction of the vector, the blind retinopathy in the mouse retina near was administered. When the disease causing mutations of which 10%is normalized. The mouse to light of the reaction was measured,1 million times Rose.
In the future, retinitis pigmentosa, and many gene mutations of the disease for gene therapy to contribute to that.
This research Tohoku University University of Nishiguchi koji, associate Professor and Ophthalmology in the field of Nakazawa Toru Professor of Group 1 on 24 November in Nature Communications journal published in May. [Article: 室園 美映子・The article list to look at]
Source link