IT Lifehack
Brightly illuminates and gives a good impression! Smartphone stand with ring light that can be used for web conferencing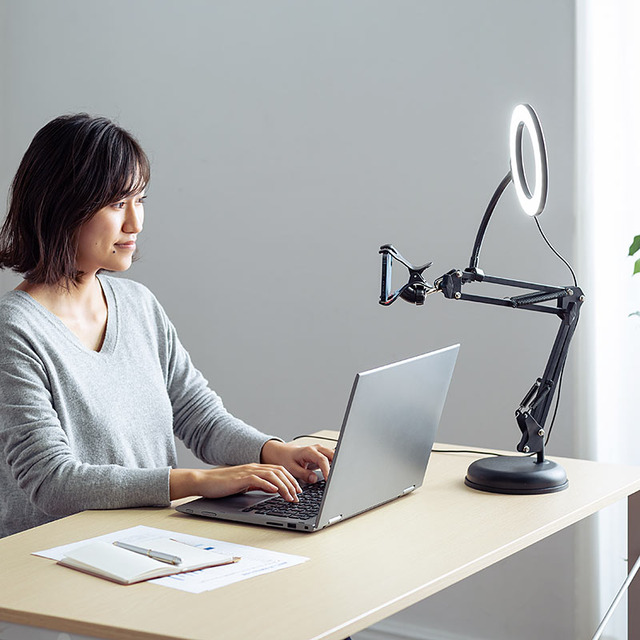 The direct sales site "Sanwa Direct" operated by Sanwa Supply Co., Ltd. has released the "200-DGCAM025" smartphone stand with a ring light, which is ideal for video shooting, distribution, and shooting of things, and can be dimmed according to the environment.

■ Smartphone stand with ring light that is ideal for shooting subjects
This product is a smartphone stand with a ring light that is ideal for web conferencing, selfies, and subject photography.
The ring light part can be selected from 3 colors, and the amount of light can be adjusted in 10 steps.
You can adjust it according to the situation of use and illuminate the light as beautifully as possible and with a good impression.
The arm of the ring light part adopts a flexible arm that can be freely twisted, and the degree of light application can be finely adjusted.
The smartphone holder part is a clip-type holder that is easy to pinch, and can hold a smartphone with a width of 3 cm to 9.5 cm, and the holder part can be switched vertically and horizontally.
The arm of the smartphone holder can be operated in front, back, left, right, up and down.
The size is about W157 x D157 x H300-580mm, and the weight is about 1300g.
■Smartphone stand with ring light "200-DGCAM025"
■Mobile related articlesI Read
・Lightning cable integrated AC charger, Type-C cable integrated AC charger compatible with PD standard
・The holder part can also be rotated and the angle can be adjusted! Tablet security stand that combines security and stability
・You can use your earphones! "IPhone 12 compatible" Stand type lightning-earphone conversion adapter ""
・Save the "human resources collapse" in remote control! ?? "Dr. Tabot" @ Tabata University Hospital opens on LINE
・For shooting videos from your own perspective! Neck-mounted smartphone holder that allows you to take pictures with both hands free