Digital Camera
Canon Holds New Product Announcement Event Online July 9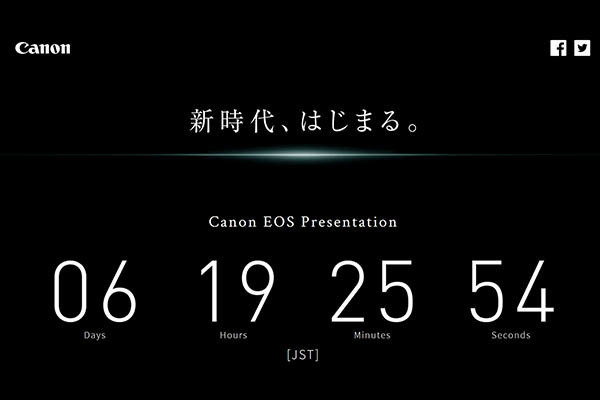 On the Canon website, it was revealed that the event entitled "Canon EOS Presentation" will start at 21:00 on Thursday, July 9th. The message, "Starting in a new era," is attached, and it seems that this is an online event for the launch of new products that will be held simultaneously around the world at 21:00 pm. Details of the full-size mirrorless flagship model "EOS R5" which has already been announced and details of the RF mount interchangeable lens which has announced that it will release nine interchangeable lenses by 2020 will be announced. It seems likely.
Very little information has been published, such as the above message, a countdown display until 21:00 on July 9, and a link to the official SNS of Canon Marketing Japan. By following various official SNS accounts, you will receive notifications before the event starts.
The EOS R5, which is likely to appear at this event, is equipped with an 8K movie shooting function, bird recognition AF support, and an in-body image stabilization mechanism that supports correction in 5 axis directions. That is, information has been released fragmentarily, such as 4K video shooting compatible with a frame rate of 119.88 fps. It seems likely that detailed information will finally be released this time.
As for the interchangeable lens of the RF mount, we have announced the development of the super telephoto zoom lens "RF100-500mm F4.5-7.1 L IS USM", but it seems that it will be announced what kind of lens other than that will be introduced. Let's look forward to seeing if single-focus lenses, zoom lenses, and lenses with unprecedented specifications will be available at low prices.
Source link