CASIO
Casio Spring / Summer 2020 Watch New Product Presentation "G-SHOCK Sports Model" Edition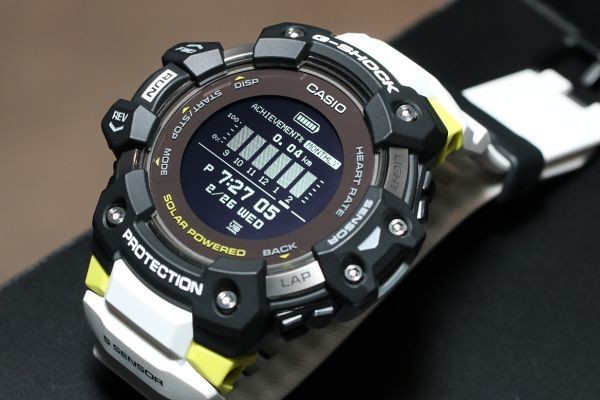 [*]
The theme of the Casio Spring / Summer 2020 Watch New Product Presentation is "The next evolution, new challenges."-This is complemented by the words "Innovative CMF design and original technology." A number of new products that can be described as "more advanced added value" to existing models and categories and "answers to unexplored areas" as Casio. The report started with the annual G-SHOCK.
Casio Spring / Summer 2020 watch new product launch
G-SHOCK[*]Sports model
G-SHOCK[*]New color
PRO TREK
BABY-G
EDIFICE[*]SHEEN
Highlights include "Sports models" such as "G-SQUAD" and "G-LIDE", which were one of the mainstream at this exhibition, and CMF [Color / Material / Finish] design. Of "New Color".
All posted photos are enlarged by clicking. Price includes tax and all release months are planned. Please note that the release date may be changed due to the new coronavirus infection.
5 sensors including a heart rate monitor + GPS + mobile link! The hottest G-SQUAD "GBD-H1000"
A new model that focuses on the popular G-SHOCK "G-SQUAD", which has a pedometer that automatically startsGBD-H1000Appeared. In addition to the conventional 3-axis acceleration sensor, it is equipped with an optical heart rate sensor, triple sensor [direction, altitude / barometric pressure, temperature sensor], and GPS [also compatible with GLONASS and Michibiki].
It acquires location information from GPS satellites, measures mileage, speed, pace, etc., and records the workout in real time in cooperation with the smartphone application "G-SHOCK Connected" via Bluetooth [Low Energy]. It supports not only heart rate but also VO2max measurement, which is a standard for cardiopulmonary performance. It can be used as an index for enhancing endurance such as running.
G-SHOCK Connected allows you to set the time and various clock settings and manage training. In addition to checking the current fitness level and training progress, a training plan is automatically created according to the type of exercise desired by the user [participation in marathon events, health management, etc.] and the amount of exercise. Even beginners can make a reasonable fitness plan. In addition, the ability to easily "visualize" the content and results of the exercise will be a great encouragement to maintain motivation.
For data analysis such as VO2max, FIRSTBEAT library, which has a reputation in sports science, is used. Support higher quality training with more accurate algorithms. Considering excessive exercise load, such as providing a "heart rate zone alert" that alerts you by sound or vibration when your heart rate deviates from the target zone. There is also a vibration function that notifies you of alerts and emails received during training.
Highlights include a curved back cover that reduces interference with the back of the hand, a soft urethane band with a high fit, and two-color molded buttons with excellent operability. It pursues high-dimensional practicality, such as high-definition MIP liquid crystal with high visibility, automatic time correction by GPS satellites, and both USB charging and solar charging [*]. To be honest, it is an overwhelmingly high-performance for the price of 55,000 yen.
*: "Solar assist charging" is also possible, which shortens the time to full charge by charging the USB while being exposed to sunlight.
The "GBD-H1000" is a royal road-like model that combines Casio's specialty in sensor electronics with clear uses and functions, as well as Casio's product philosophy for users who demand it. I would like to pay close attention to the impact on G-SHOCK's cognitive class and new health-conscious user class, as well as overseas trends.
The case size is 63mm x 55mm x 20.4mm and weighs about 101g. Available in four different color models. Scheduled to be released in April.
G-SQUAD "GBD-100" if you want a simpler workout watch
G-SQUAD "GBD-100" is a model that should be said to be the brother of the GBD-H1000 introduced above. With a case design that combines both toughness and sporty impression, the case is miniaturized by eliminating the use of an optical heart rate monitor and GPS unit, while retaining the easy-to-read MIP LCD and convenient and distinctive large measurement buttons.
The thickness and weight of the case have been reduced, improving the fit and lowering the price. Along with this, the function of the dedicated application "G-SHOCK Connected" linked with the mobile link has also been changed from that of the GBD-H1000 [functions related to heart rate have been cut].
However, it has a running function, a step tracker, an interval timer, and a vibration function that notifies you of alerts during training and incoming emails. World time in about 300 cities can also be set. GBD-H1000 for functionality and GBD-100 for lightness and price.
The case size is 58.2mm x 49.3mm x 17mm and weighs 69g. Battery life is about 2 years. A lineup of three models is available, priced at 22,000 yen each and released in April.
Innovative G-LIDE "GBX-100" with mobile link and MIP LCD
A new model "GBX-100" equipped with a mobile link function using Bluetooth Low Energy has also appeared from the G-SHOCK sports line "G-LIDE", which is evaluated and favored by top surfers in the world. The tide information [tide graph] built into the watch body in the conventional G-LIDE is extended at a stretch by the dedicated application "G-SHOCK Connected". Choose from 3,300 locations around the world to set your watch.
In addition, the adoption of a large-screen, high-definition MIP LCD improves visibility and the amount of information displayed. In addition to the conventional tide graph and moon data display, the time and tide level of high tide and low tide, and the time of sunrise and sunset can now be displayed. In addition, it is equipped with a training measurement function [distance, speed, pace, lap, pitch] that makes use of the technology developed in G-SQUAD. It has a preset calorie consumption alarm, training log, and life log function.
The GBX-100 has an updated exterior as well as functionality. The bezel is composed of a combination of resin and metal. Using SS [stainless steel] with hairline treatment and honing treatment on the top part, it balances strength and texture. In addition, the center button is located at 6 o'clock, and it is easy to use only with G-SHOCK, and the soft urethane band also considers the wearing comfort. From daily training to attacking on the shore, it will be a recommended book for marine leisure and sea fishing enthusiasts.
The size is 50.9mm x 46.0mm x 14.7mm and weighs 66g. Battery life is 2 years. Deployed in three models. The price will be released in May for 24,200 yen each.
G-SHOCK "GMA-B800" with pedometer and interval timer
A simple model for workouts with a pedometer [step tracker] and interval timer will appear. Previously, this type of product was released under the G-SHOCK sub-brand "G-SQUAD", but the "GMA-B800" is only a G-SHOCK brand product.
It has a mobile link function using Bluetooth Low Energy, and can check daily steps and calorie consumption in conjunction with the smartphone application "G-SHOCK Connected". In addition, it supports health management by discriminating exercise intensity into five levels based on the measured steps and the running pace, and displaying them in a graph.
The case size is 50.7mm x 45.2mm x 15.5mm and weighs 52g. A lineup of three models, priced at 18,150 yen each, will be released in April.
[*] [*]
Source link