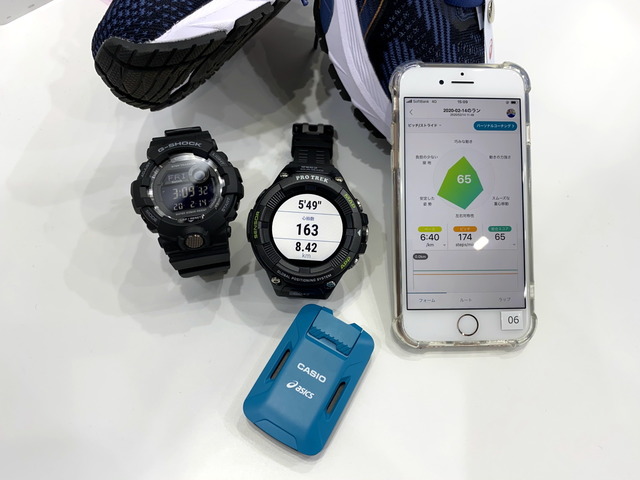 オ Casio Computer and ASICS exhibited at the "6th Wearable EXPO" held at Tokyo Big Sight from February 12 to 14, and unveiled the service contents for runners that they are jointly developing for the first time.
と い う You can check your own run form from your smartphone just by wearing a wearable terminal and running. The biggest feature is that you can check the training form when you are running in the city everyday and the form at the tournament because you do not need video shooting and complicated equipment.
Specifically, it consists of a motion tracker with a built-in GPS / 9-axis sensor and a dedicated application. When you run on your waist, you measure every step of the run and get more than 20 metrics on forms in addition to general running items such as distance, pace, pitch, and slides.
端末 By linking the terminal and the app after the training, you can visualize and check your own running and get information such as points to improve and training methods. It also has a function to display and notify running analysis results to G-SHOCK that can be linked with Bluetooth.
Six items of "skillful movement", "strength of movement", "smooth movement of the center of gravity", "lateral symmetry", "stable posture", and "landing with less burden" to make it easy to understand the acquired data of more than 20 Divided into scores. Although there is no single ideal form [ASICS], it was quantified based on the ideal form, which has the least risk of injury and is common to men and women. The highest score is 100.
一般 We plan to launch general wearable devices and services within 2020. The price is undecided, and the company will search for directions such as combining it as a subscription service or launching it as a single terminal during this exhibition.
The size of the motion tracker is 40mm wide x 62mm high x 18mm thick [the thickness of the body excluding the clip is 10mm]. Compatible with Bluetooth 5.0 and waterproof [equivalent to IPX7]. Equipped with 9-axis sensor [acceleration, gyro, magnetism], barometric pressure, GPS, GLONASS, Michibiki. Built-in lithium-ion battery, continuous use time is about 15 hours [when used at normal temperature 25 degrees], so it can be used enough for full marathon. Weight is about 40g.
5In May 2019, Casio announced its first medium-term business plan and announced that it had entered into a business alliance with ASICS with the aim of digitalizing sports. We aim to provide new services for runners by combining the sensing technology, motion analysis technology, and hardware development technology that Casio has cultivated with ASICS 'expertise in sports engineering and know-how and runner big data. The first of these is service content for runners exhibited this time.
て い る The company wants to offer new running experiences, such as coaching tailored to each individual based on the analysis of running forms and proposals for body-building programs.