Headline
China Xiaomi landed in Japan-selling "high cost" 6 models such as 100 million pixel smartphone and rice cooker
】 Smart phone giant China Xiaomi announced its entry into the Japanese market on December 9th. The company has already deployed in 90 countries and regions.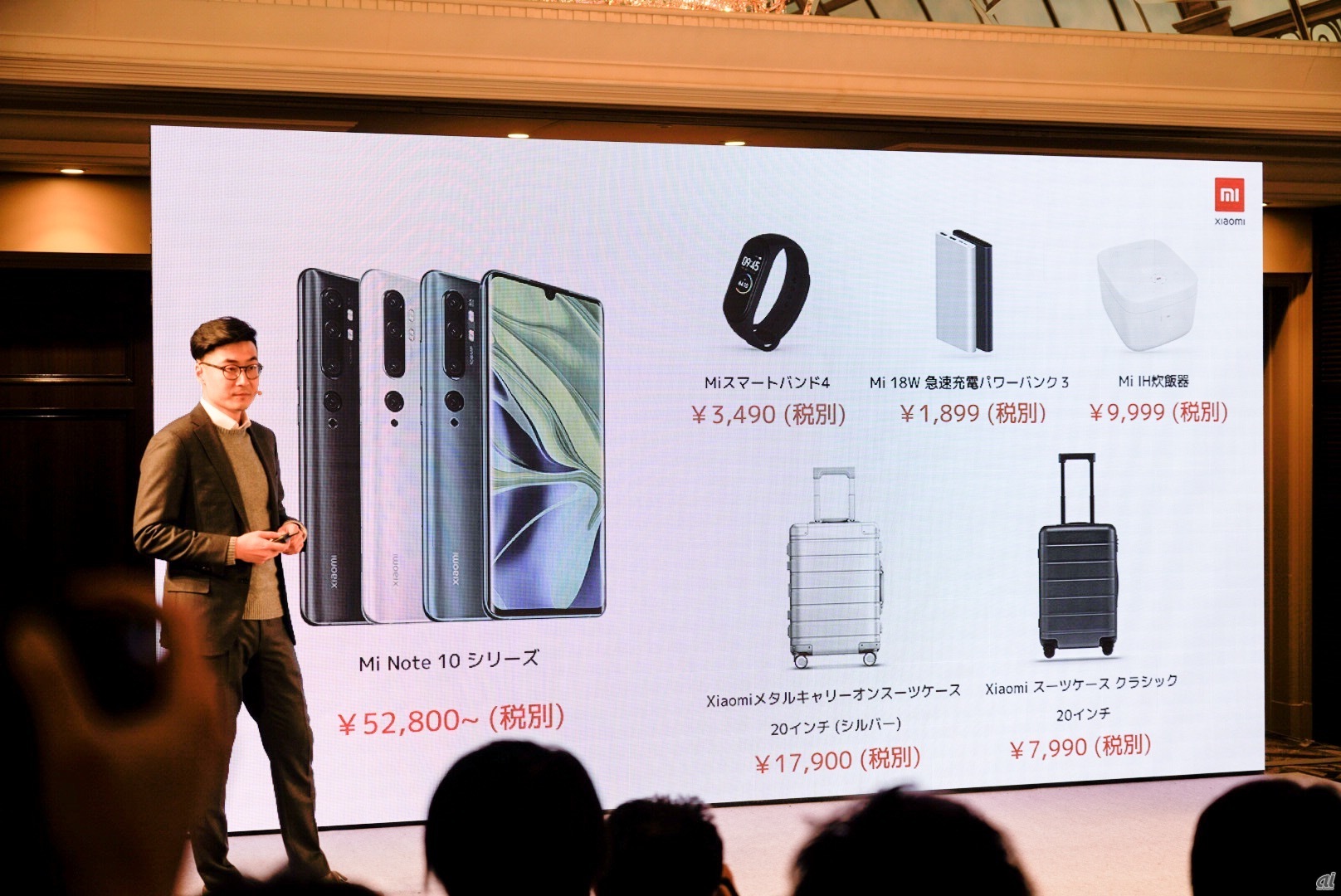 The company is the world's fourth-largest smartphone maker after Samsung, Huawei and Apple. Three of the seven founding members have a design backbone and focus on product design, such as having a unified design language throughout the product. He has won more than 400 design awards worldwide including "reddot award" and "iF DESIGN AWARD". In addition, based on the policy that the total net profit of hardware does not exceed 5%, we will provide products with excellent cost performance.
In recent years, smart home appliances such as wearable devices, rice cookers, air purifiers, robot cleaners, wireless earphones, TVs, electric kickboards, and drones have been developed and sold. In addition to the Mi Note 10 smartphone with a five-eye camera equipped with an image sensor with 108 million pixels, the wearable device "Mi Smart Band 4" and the smart rice cooker "Mi IH rice cooker" will be introduced to the Japanese market. , 10000mAh mobile battery, two suitcases each adopting aluminum and polycarbonate.
" Mi Note 10 '' in the 50,000 yen range with a 100 million pixel camera
Mi Note 10 is the first product developed at the 9th Japanese camera R & D center established in the world, equipped with an ISOCELL Bright HMX 1 / 1.33-type 108 million pixel image sensor jointly developed with Samsung. Equipped with a wide-angle lens, a 20-megapixel ultra-wide-angle lens, a 5-megapixel 5x telephoto lens, a 12-megapixel 2x telephoto lens, and a macro lens 5-eye camera. Digital zoom from 0.6x to 50x can be used. It also has a 32 million pixel in-camera.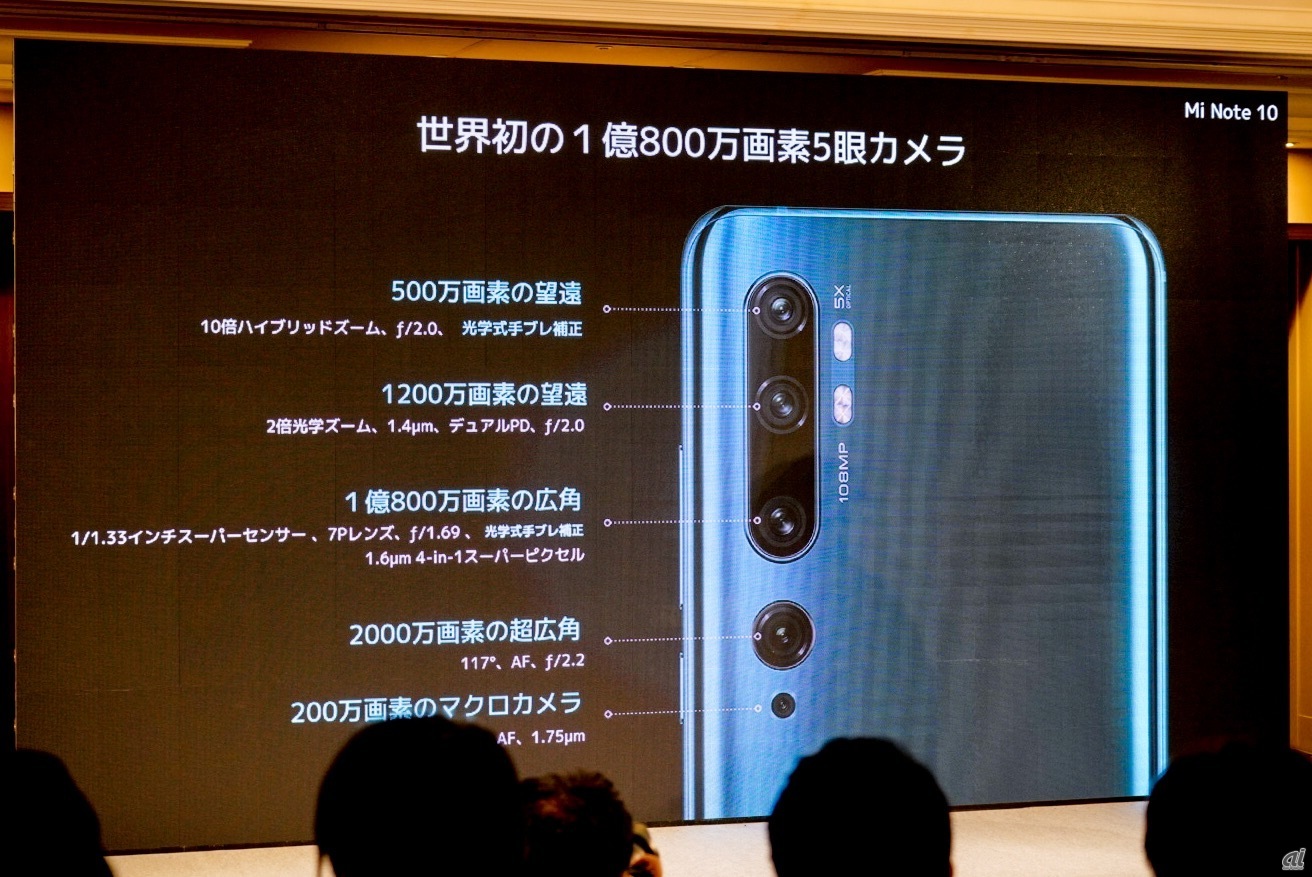 Equipped with 5-eye camera
The 108-million-pixel sensor enhances dark shooting by 4-in-1 pixel binning, which unifies four pixels into one pixel and increases sensitivity. It also has a 4-axis camera shake correction function. In addition, it supports night mode 2.0 and can shoot in dark areas without blur. In addition to 4K / 30fps video recording, the video supports 960fps [720p] slow motion recording. "Shoot Steady" that eliminates blur using AI and Vlog mode are also installed.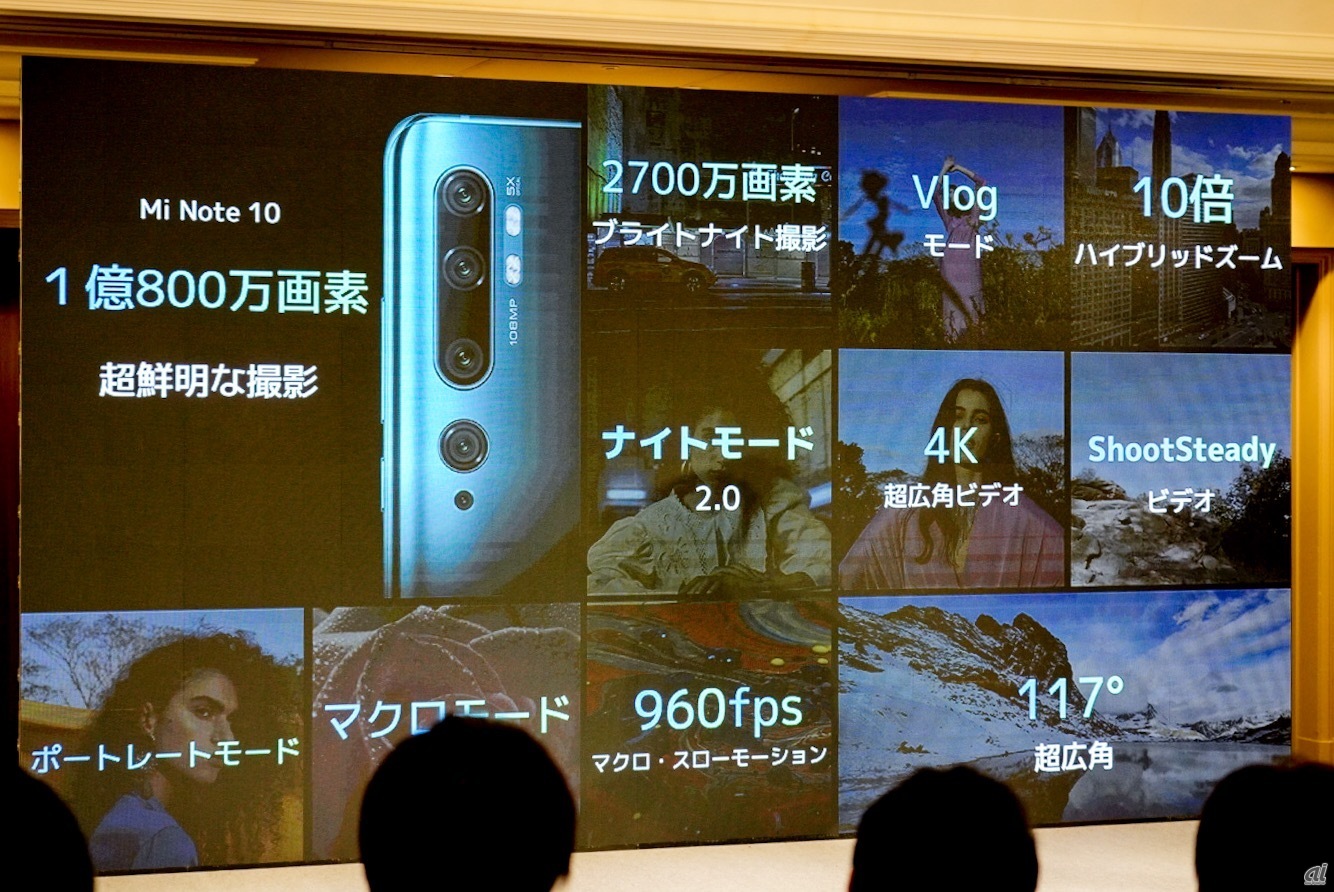 Equipped with 4K shooting, 960fps high-speed shooting, Vlog mode, etc. for not only still images but also movies
The display uses a 6.47 inch 3D curved organic EL display. A fingerprint sensor with a built-in screen is also installed. SoC is Qualcomm Snapdragon 730G, RAM 6GB, storage 128GB. According to Xiaomi, the battery is 5260mAh and a large-capacity smartphone is used, and it can be used for more than 2 days. It also supports 30W rapid charging, and can be fully charged in 65 minutes. It also has an infrared sensor and a 3.5mm earphone jack.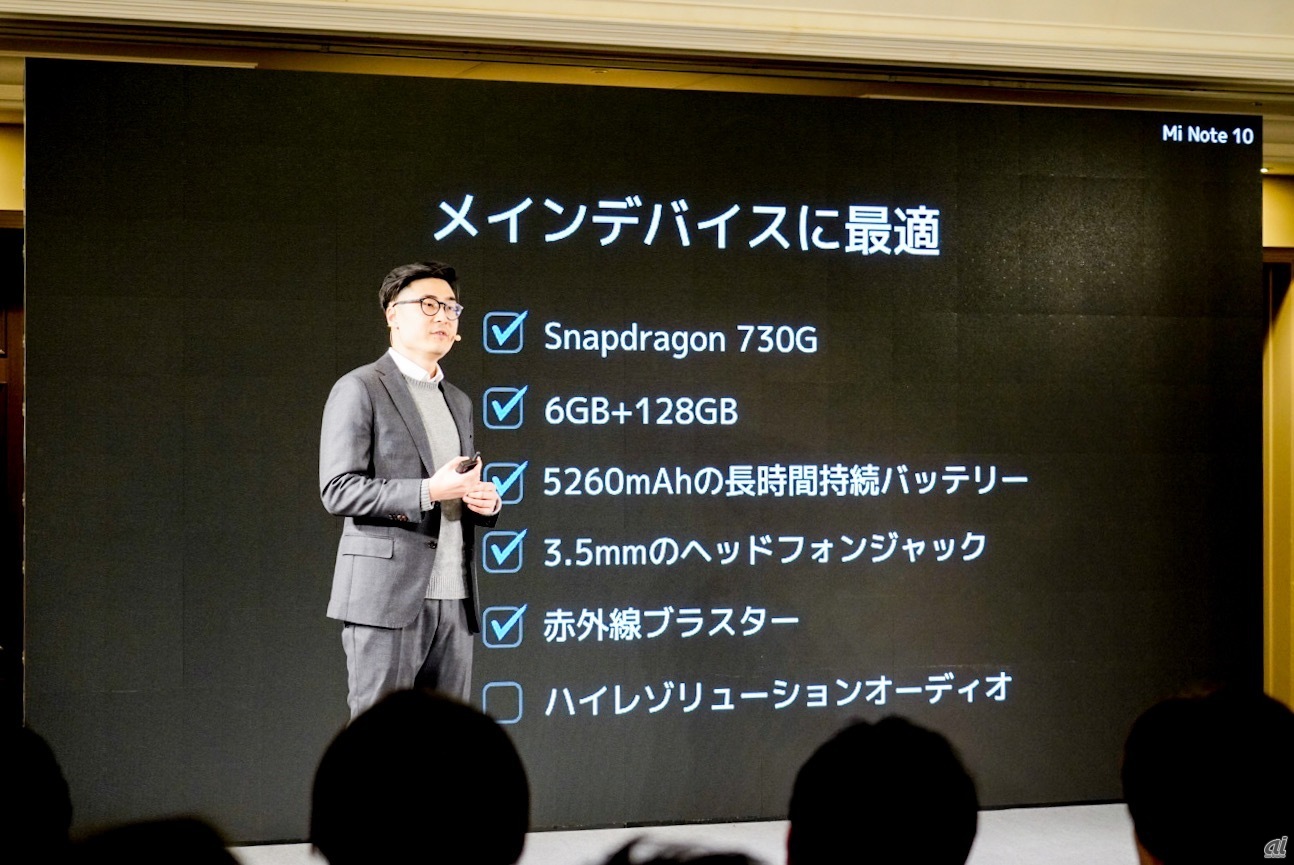 Equipped with infrared sensor and 3.5mm audio jack to be used as remote control
Also, the main camera has an 8P lens [which can be shot with higher quality than the 7 lenses of Mi Note 10 although the F value does not change], RAM 8GB, storage 256GB "Mi Note 10 Pro" lineup. Both models will start accepting reservations on December 9th. Mi Note 10 will be released on Amazon on December 16, and Mi Note 10 Pro on December 23. The price is 52,800 yen [excluding tax] for Mi Note 10 and 64,800 yen [excluding tax] for Mi Note 10 Pro.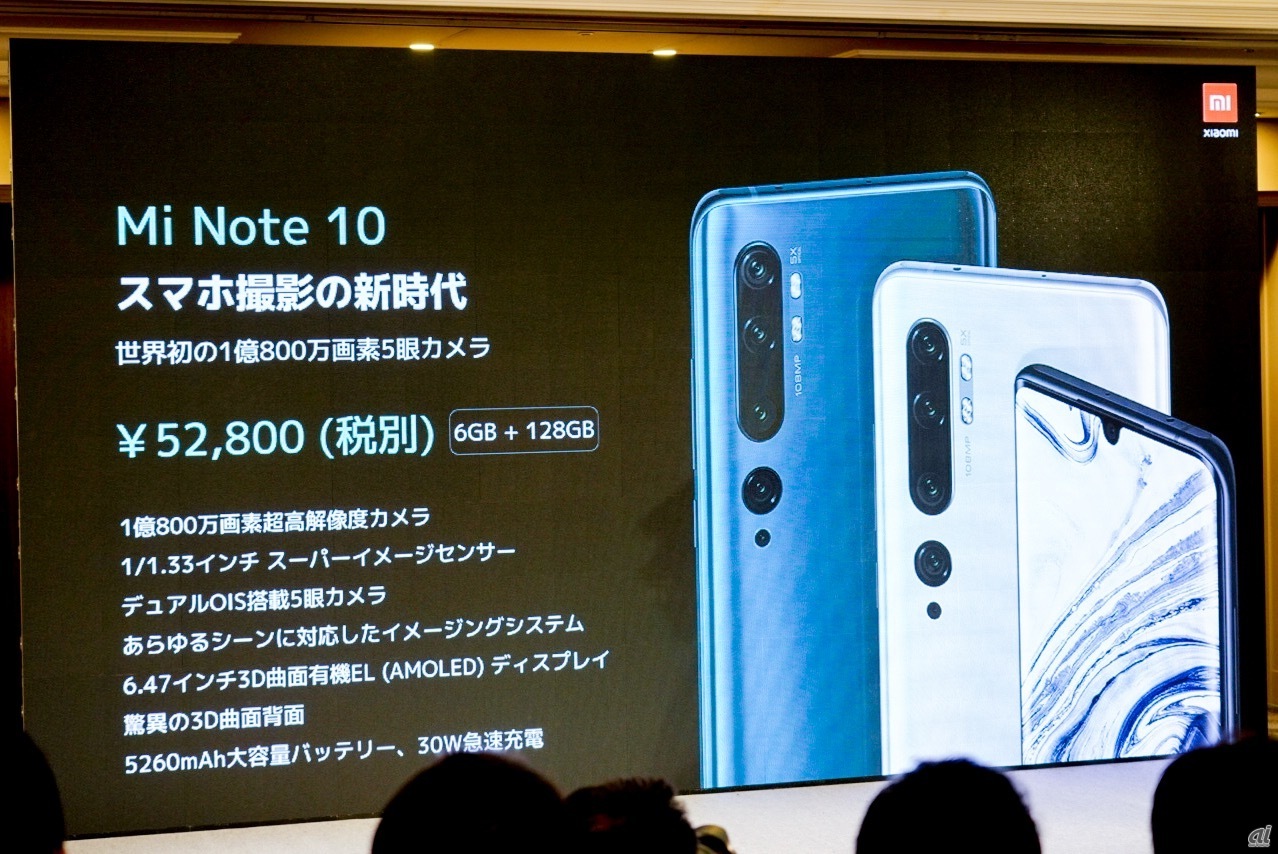 " Mi Note 10 '' is 52,800 yen without tax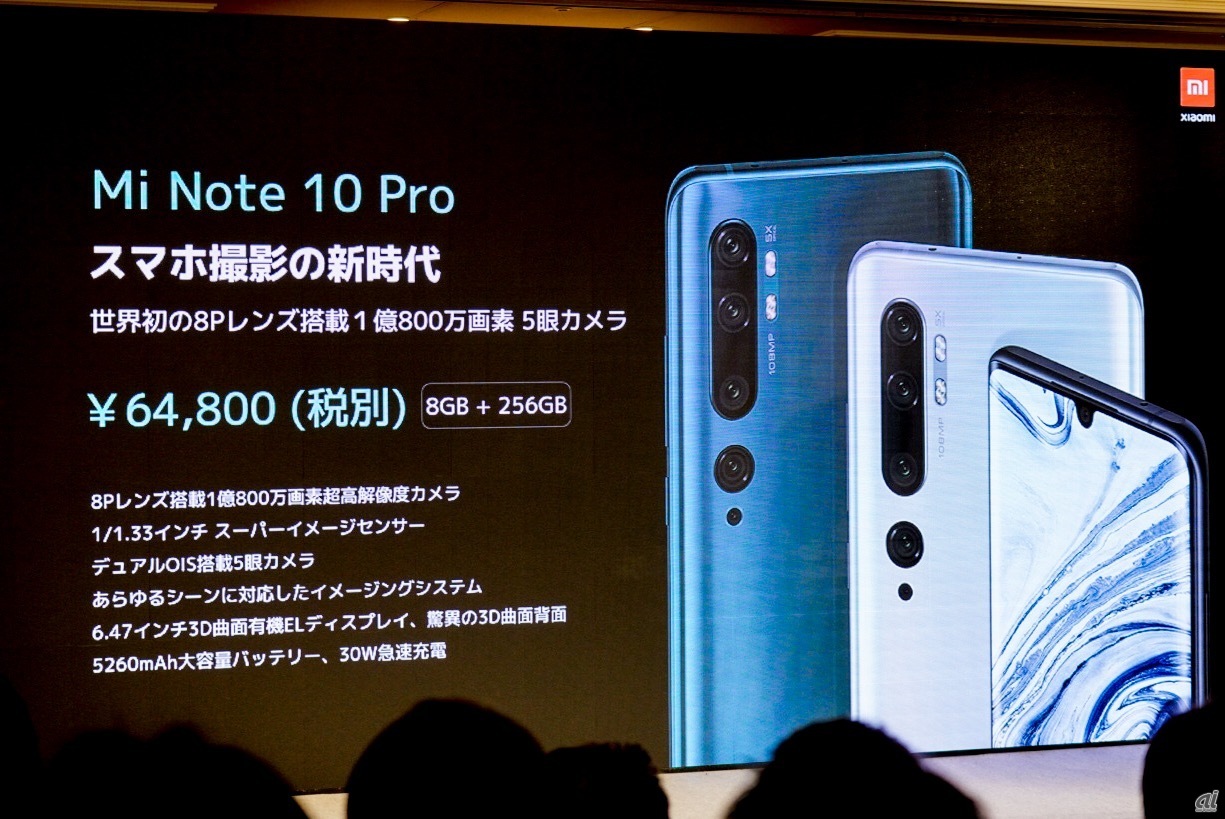 " Mi Note 10 Pro '' is 64,800 yen excluding tax
The smart band's favorite or "Mi Smart Band 4"
Fitness tracker "Mi Smart Band 4" will also be introduced in Japan. It is equipped with a 0.95-inch full-color AMOLED display and can display fitness statistics, messages, app notifications, music operations, and more. In addition to a 6-axis sensor, it also has a swim track mode that makes use of 5 ATM water resistance. Charging is completed in 2 hours and can be driven for up to 20 days. Compatible with iOS / Android. The price is 3490 yen [excluding tax].
" Mi smart band 4 '' with tax of 3490 yen
IH rice cooker with Japanese developers
Xiaomi also develops and manufactures white goods, and introduces an IH rice cooker called "Mi IH rice cooker" that ships 600,000 units every year. The first Mi IH rice cooker was designed by Satoshi Naito, who was also responsible for the development of former Sanyo Electric and Panasonic, and the new model uses a 3mm inner pot with induction heating technology and PFA coating. In addition, by connecting to Wi-Fi, you can select the rice cooker operation and your favorite cooking from the Mi Home app. The price will be 9999 yen [excluding tax] and will be sold on Amazon within 2019.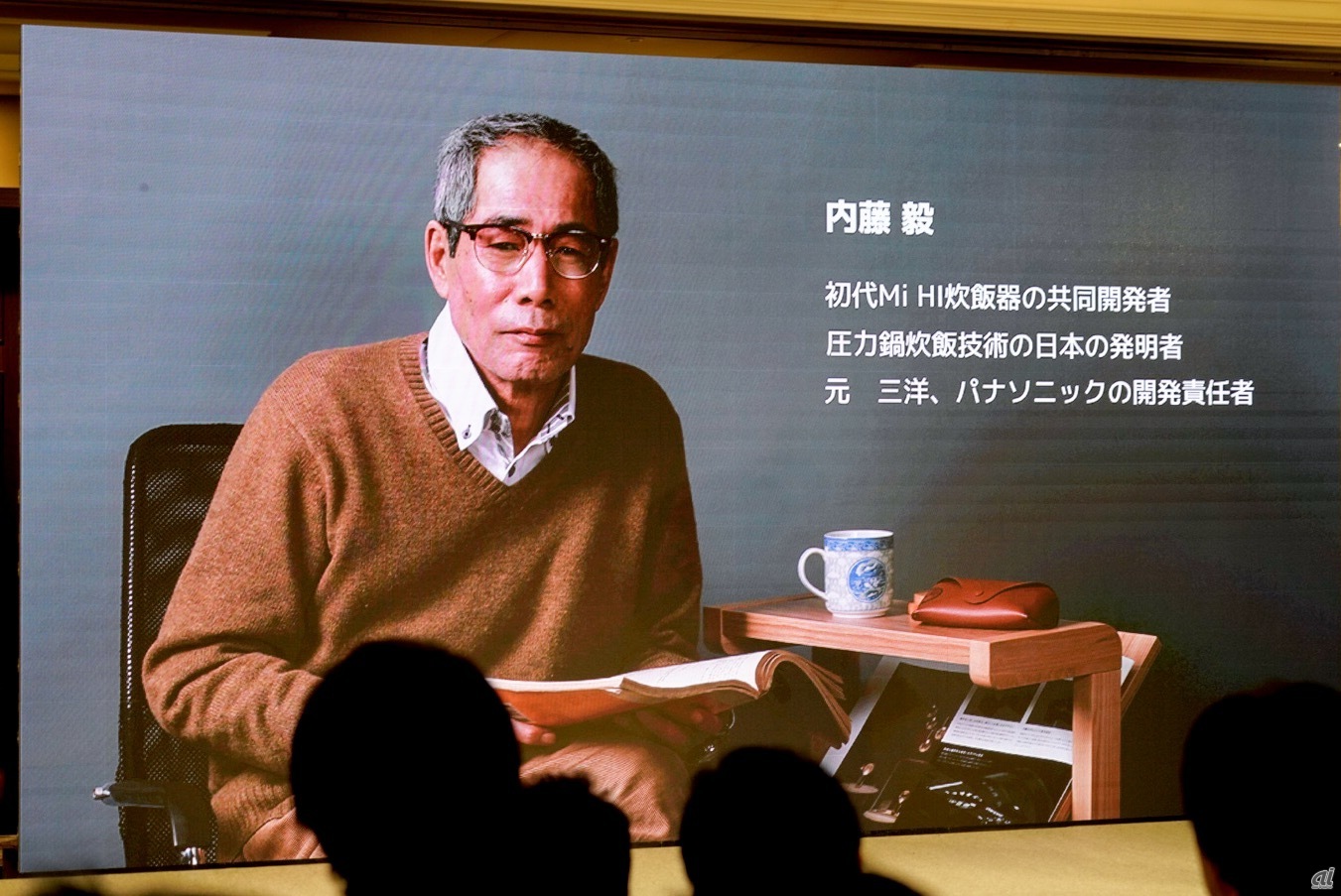 A former Sanyo Electric engineer Jun Naito designed the first Mi IH rice cooker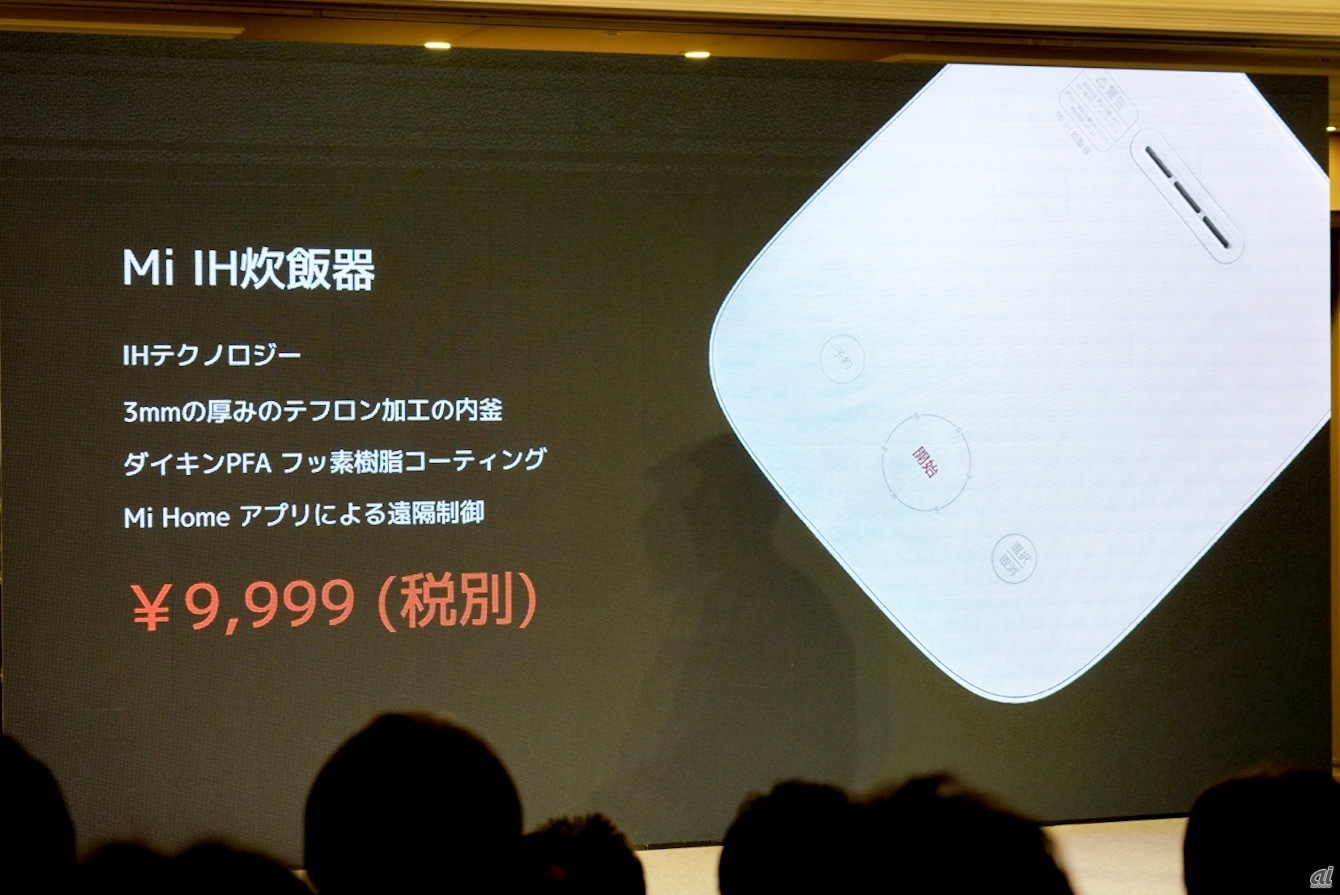 9980 yen by tax with smart collaboration and IH support
Some aluminum suitcases that were popular in Japan also landed
In addition, two types of suitcases are also available: "Xiaomi Metal Carry-on Suitcase 20 inches" using aluminum and "Xiaomi Suitcase Classic 20 inches" using polycarbonate. Metal type adopts aviation grade aluminum magnesium alloy shell and reinforced frame. In addition, it incorporates functions unique to high-end models such as TSA certified dual combination locks and 360-degree spinner wheels. Both will be sold on Amazon within 2019. The metal type is 17,900 yen [excluding tax], and the polycarbonate type is 7990 yen [excluding tax].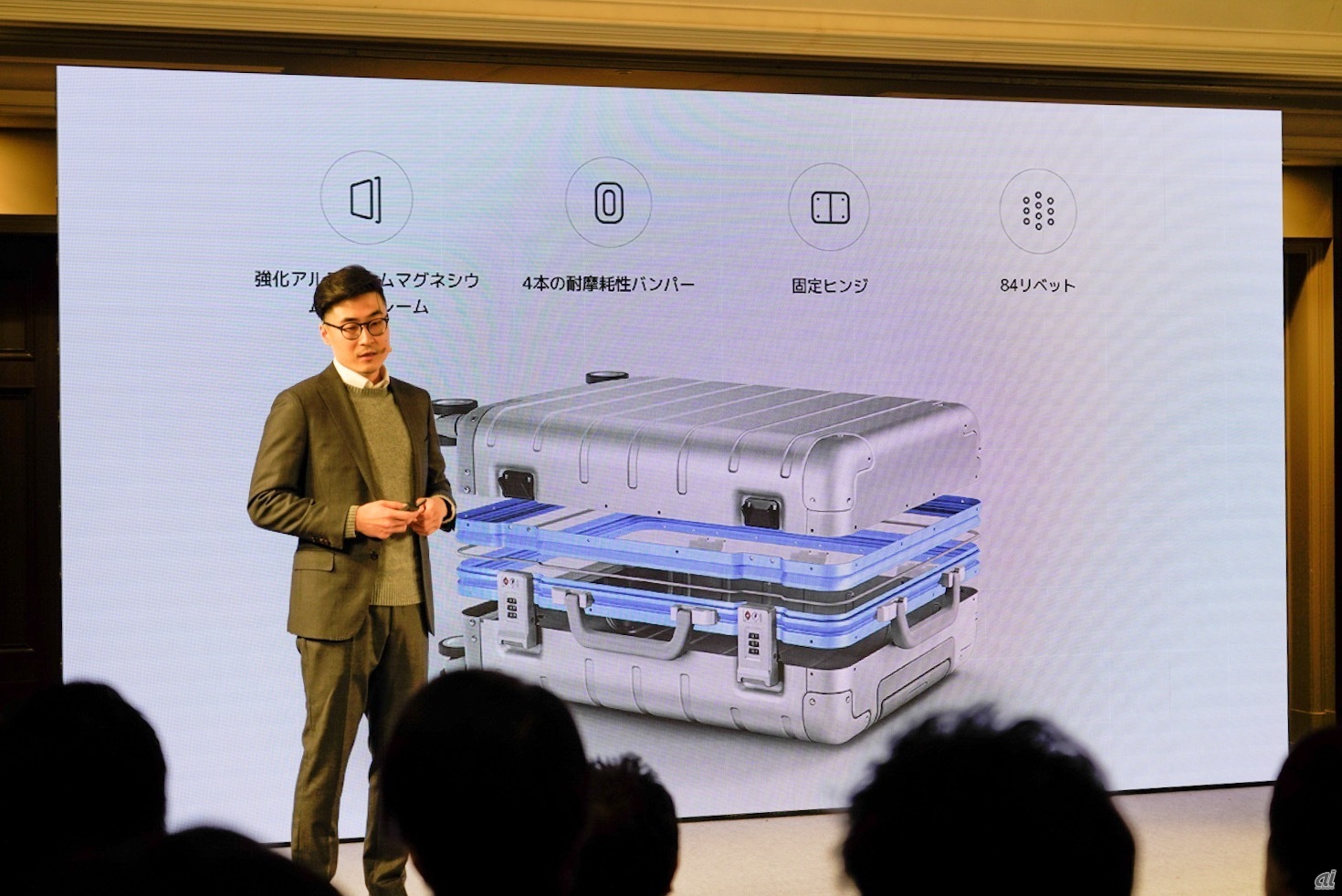 " Xiaomi metal carry-on suitcase 20 inch '' which was inexpensive and popular in Japan as an aluminum type suitcase
Also handles mobile batteries. The "10000mAh Mi 18W Quick Charge Power Bank" compatible with 18W USB-PD has a built-in USB-C port x 1, USB-A port x 2, MicroUSB port x 1. It also has a low-current charging mode, and can charge low-current devices such as Bluetooth earphones that cannot be powered by some mobile batteries. This will also be available on Amazon within 2019. The price is 1899 yen [excluding tax].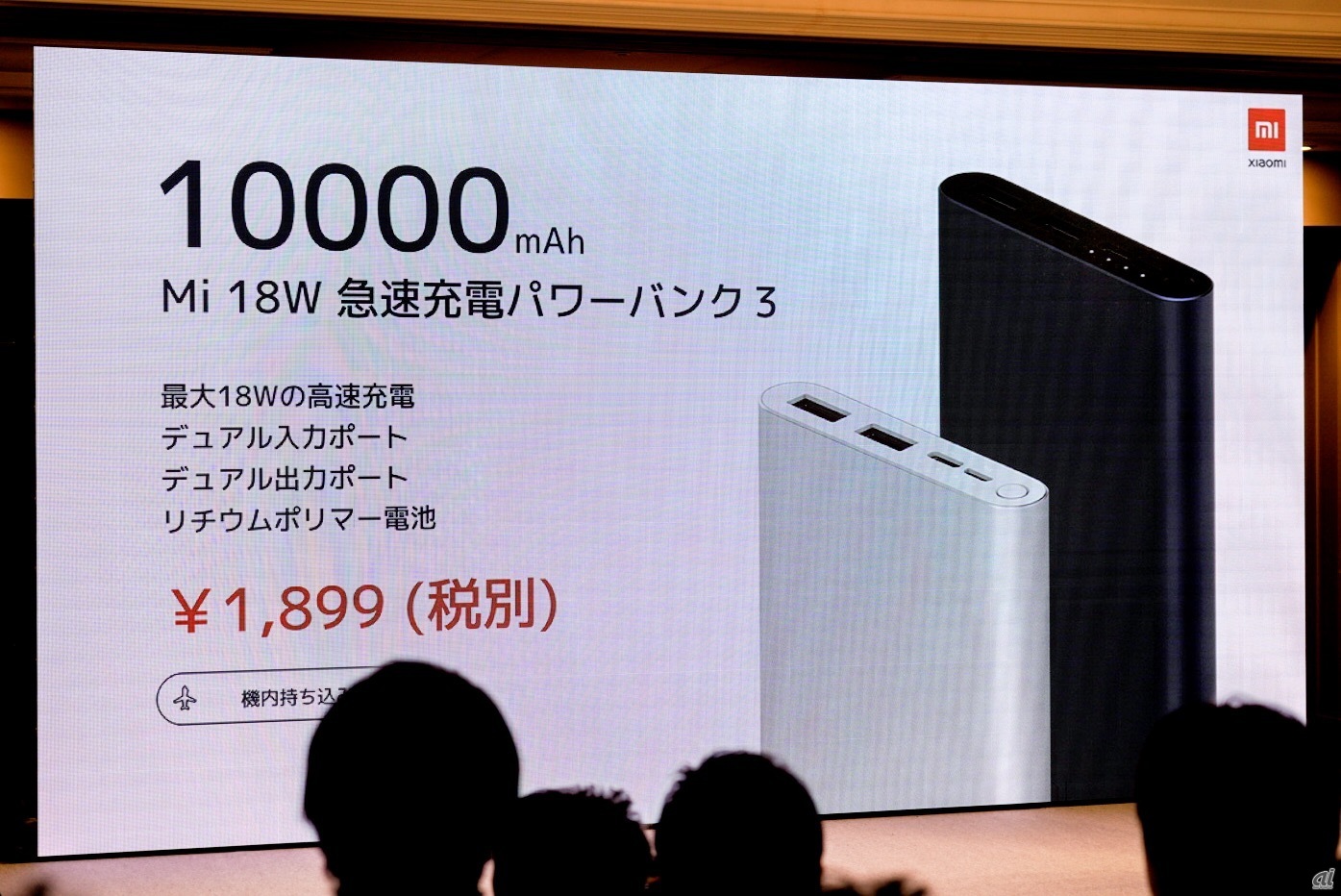 10000mAh Mi 18W quick charge power bank is inexpensive as an 18W USB-PD compatible battery
Source link