Technology
Claims that the decline in female researchers is not just 'sex discrimination'
Claims that the decline in female researchers is not just 'sex discrimination'
In the fields of science, technology, engineering, and mathematics (STEM),The decline of female researchers is problematicHas beenGender equality reduces female researchers in the STEM fieldA survey result was also announced. Karen J. Morenz, who is also a physical chemistry woman researcher, explains why women researchers in the STEM field are steadily declining.
Is it really just sexism? An alternative argument for why women leave STEM
https://medium.com/@kjmorenz/is-it-really-just-sexism-an-alternative-argument-for-why-women-leave-stem-cccdf066d8b1
2011American National Science FoundationofreportAccording to the report, only 20.3% of women received a bachelor's degree in physics in 2008, and only 18.6% of women received a doctorate. In chemistry, the percentage of women with a bachelor's degree is 49.95%, and the percentage of women with a doctoral degree is as low as 36.1%. In contrast, in biology, women accounted for 59.8% of bachelor's degrees and 50.6% of doctoral degrees, a high percentage when compared to the STEM field.
Education and gender inequality in Europe(PDF file)ResearchThe following graph shows the gender ratio by class at Italian University of Trento (UNITN) and universities across Italy, as revealed in. The vertical axis shows the percentage (%) and the horizontal axis shows the class. From the left, bachelor students, doctoral students, postdoctoral fellows, part-time lecturers, lecturers, lecturers, associate professors, and professors are arranged in this order. At the time of the bachelor's degree, there is not much difference in the gender ratio, and women show a slightly higher proportion, but as the class rises, the proportion occupied by men increases, and at the time of the associate professor a large difference opens You can see that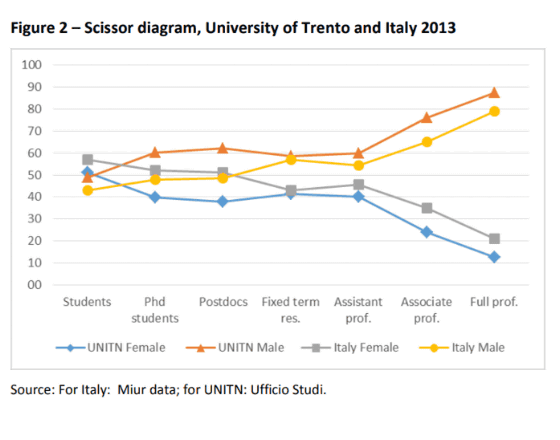 It also includes gender ratios at Canadian universities, including in the fields of humanities, social sciences and education.ResearchThe same phenomenon occurs in the graph created in. In the graph below, the vertical axis is the percentage (%), and the horizontal axis is the bachelor's degree, master's degree student, doctoral researcher, lecturer, associate professor, and professor from left to right. The phenomenon in which a woman who has become a postdoctoral researcher leaves a university without taking on a part-time lecturer or post of lecturer or higher is called a "leaky pipeline".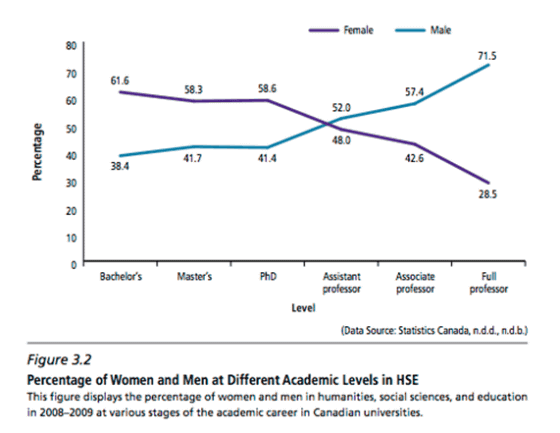 "It is widely believed that gender discrimination is the cause of women leaving college, but that is not the case," said Morenz. In fact, in 2016ResearchReports that about 60% of women in the STEM field have experienced some form of gender discrimination. But won the Nobel Prize in Physics in 2018Donna StricklandProfessor and chemists conducting advanced functional materials research in CanadaEugenia Kumacheva"Gender discrimination did not become a barrier," says a professor and other female researchers. According to Mr. Morenz himself, "At the time of my Ph.D., most women have survived a number of gender discriminations. Demonstrating that he is a very stubborn person who has survived even in the face of difficulties, '' he argues that gender discrimination is not a major cause of female researcher decline. .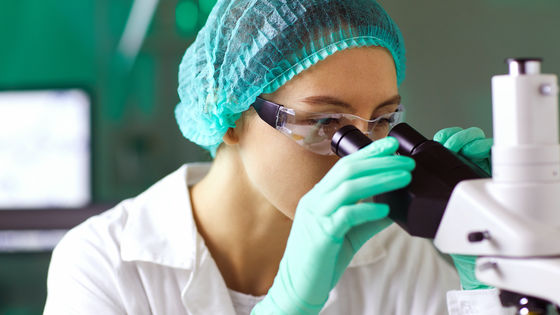 When Mrs. Morentz independently asked her why she quit her research position, the most frequent reason was "combining work and family." STEM women reduction in 2016ResearchAccording to the study, women in research positions in the STEM field tend to be late in marriage and childbirth or remain single, and even if they have children, Women tend to have fewer children than researchers. There is no difference between men in the STEM field compared to men in the non-STEM field, as they do in women.
Furthermore, in the early 30s, when women's fertility began to decline and the risk of complications during childbirth began to increase for both mothers and children, about 56% of women left their jobs from STEM research in large numbers. Say(PDF file)Investigation resultIs revealed. About 50% of women who leave the STEM field will work for non-profit organizations or government agencies, about 30% will switch to a non-STEM field job that makes it easier to spend time with their family, and about 20% will be dedicated I am a housewife.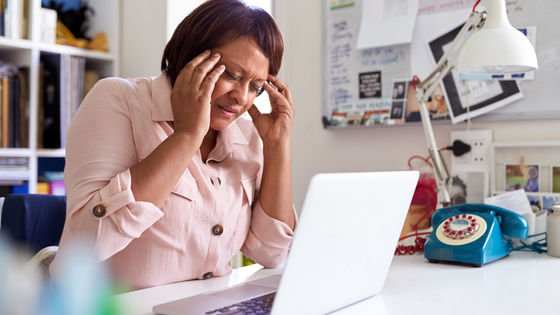 "Most scholars and policymakers believe that engaging young women with STEM and addressing gender discrimination in the workplace can improve women's decline in the STEM field. The main reason for leaving a research position is not gender discrimination, but statistics show that balancing work and family is a problem, and despite this, without taking any concrete measures, It has been ignored because powers are more likely not to hire women because they are afraid that they will get pregnant and take parental leave, "said Mr Morenz.
"It's not to say that gender discrimination is not a problem, I guess, because of the many years of continuous effort, However, at least at the graduate level, it is no longer the biggest obstacle for women in the STEM field, but that doesn't mean that sex discrimination is not an issue. Should focus more on other issues, such as how to properly support a woman who wants to work. "
Projects to support women working in the STEM field include providing free childcare facilities and programs that provide assistants and technicians to help women manage their lab while taking care of their children. ,America'sDana-Farber Cancer InstituteAnd so on.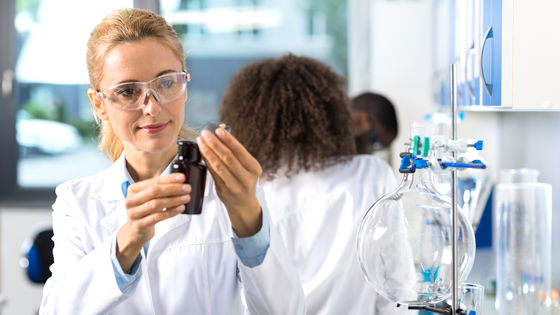 "I personally think that the ideal situation is now in place for women seeking research positions. By helping women in the STEM field choose to have a home, more doctors Encouraging women with higher education to take on academic jobs that require higher qualifications, and our entire society benefits from the skills of highly trained and intelligent women, You will have access to innovative solutions to today's challenges. "
Copy the title and URL of this article
Source link