Technology
Clearly the official name of Microsoft's next-generation game machine will be " Xbox '' instead of " Xbox Series X ''
Clearly the official name of Microsoft's next-generation game machine will be " Xbox '' instead of " Xbox Series X ''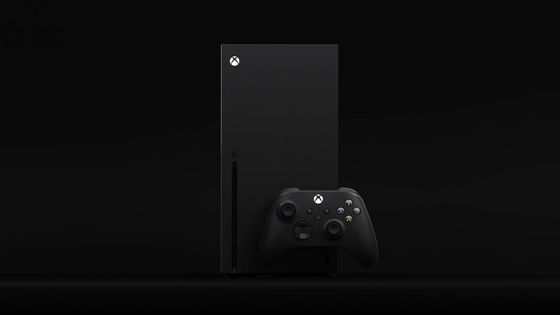 Recognize the most rated games in 2019The Game Awards 2019Among them, Microsoft has advanced as a project to develop the next generation game machine of Xbox One.Project ScarlettThe official name of "Xbox Series X"Was announced.
The next generation of Xbox is just called … Xbox-Polygon
https://www.polygon.com/xbox-scarlett/2019/12/16/21025133/xbox-series-x-name-scarlett
Xbox Series X is Sony's next-generation game consolePlaystation 5As with (PS5), AMD's microarchitectureZen 2Equipped with processor and NAVI generation GPU, up to 8K resolution and high speedGDDR6It is equipped with memory and is said to have achieved a performance that is four times faster than Xbox One X. At the same time as the announcement, Microsoft released the following video to appeal the existence of Xbox Series X to the whole world.
Xbox Series X-World Premiere-4K Trailer-YouTube
(embed) https://www.youtube.com/watch?v=0tUqIHwHDEc (/ embed)
And the new name "Xbox Series X" is not the name of the next-generation game machine that will appear in 2020, but "Xbox" will be used as the name of the next-generation game machine. It has become clear.
Microsoft's next-generation Xbox is actually just named 'Xbox'-Business Insider
https://www.businessinsider.com/microsoft-only-using-xbox-name-going-forward-2019-12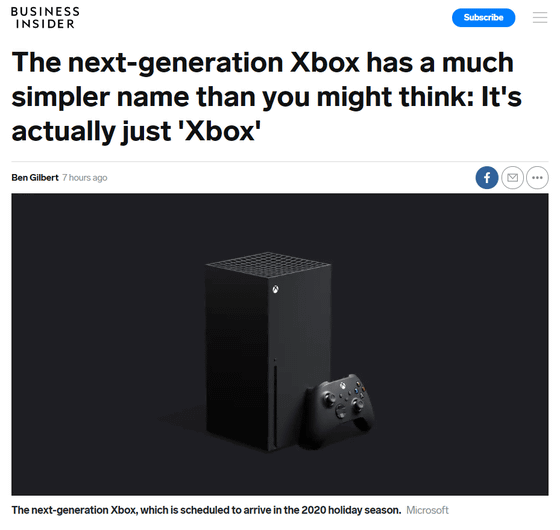 A Microsoft representative said, "The name of our next-generation game console is simply" Xbox. "And in The Game Awards 2019, it was revealed that the name will be realized through" Series X "." He said. In other words, Xbox Series X refers to the entire development project for next-generation game consoles, and "Xbox" is used as the game console name.
Phil Spencer, who leads Microsoft's game development department,GameSpot"In the name" Series X ", we can create a descriptor when we need it and do other things with that name," he explains. In other words, the normal version of the Xbox One seriesXbox One"Inexpensive and slim"Xbox One S"High spec version"Xbox One XIt seems that the name of the game machine has been simplified, assuming that additional models will be released, as there were three models.
The Fastest. Most Powerful Xbox Ever. #XboxSeriesX #PowerYourDreamshttps://t.co/rNGNQvsdTl pic.twitter.com/fU8R6kjaY3

— Xbox (@Xbox) December 13, 2019
Also,According to Spencer, Xbox Series X will support backward compatibility that will allow Xbox One games to be played on the release date. Jason Ronald, partner director of the Xbox division, said, "There are thousands of titles that can be played on the Xbox One. We just want to make these games go forward with the users. We want to move the service forward with the player, including the gamer score and list of friends that the user is currently using, as well as the achievements he has played in the game so far. " Not only does it make Xbox One games playable, but it also suggests that various statuses will be passed on to the next generation.
A major issue when supporting backward compatibility is that each generation of games is optimized for the unique hardware features of each game console. However, Xbox Series X is designed with silicon in mind, so it is possible to support strong backward compatibility.
Copy the title and URL of this article
Source link