Technology
Colombia's armed organization is slaughtering people who do not respond to refraining from going out with new coronavirus measures
Colombia's armed organization is slaughtering people who do not respond to refraining from going out with new coronavirus measures
A non-profit human rights organizationHuman Rights Watch(HRW) reports that a Colombian armed group has killed and abused civilians in the name of stopping the spread of the new coronavirus infection (COID-19).
Colombia: Armed Groups' Brutal Covid-19 Measures | Human Rights Watch
https://www.hrw.org/news/2020/07/15/colombia-armed-groups-brutal-covid-19-measures
Colombian cartels killing those who don't obey their Covid-19 lockdowns | Global development | The Guardian
https://www.theguardian.com/global-development/2020/jul/15/colombia-cartels-rebel-groups-coronavirus-lockdown-human-rights-watch
Due to the epidemic of COVID-19, Colombia is implementing curfew and lockdown to prevent the spread of infection. According to HRW, at least 11 out of 32 states in Colombia have been monitored by militants under curfew, and have made their own judgment to detain and abuse or kill civilians. Did.
Jose Miguel Bivanco, HRW's US Branch Chief, said, "In the community across Colombia, militants are taking unique and radical steps to prevent the spread of COVID-19. Reflects the government's missteps in establishing a nation's presence in rural areas of the country."
Northern ColombiaBolivarThen, of the leftist rebel guerrillaNational Liberation Army(ELN) stipulates that "only those who work in grocery stores, bakeries, and pharmacies can go out for work, others must stay at home." ELN was the same leftist rebel guerrillaColombian Revolutionary ArmyThe (FARC) remnants form an armed group and brutalize those who do not obey the curfew.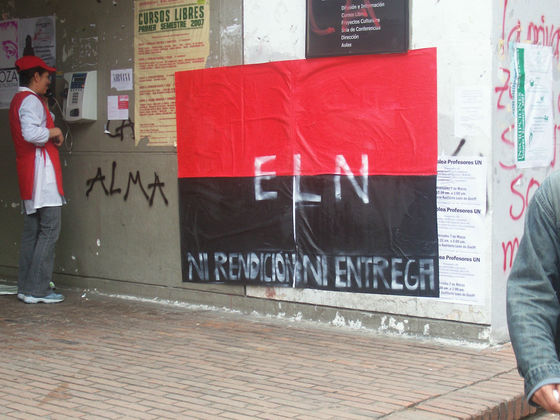 While these measures enforce lockdowns, they also make food procurement difficult for local communities. In Tumaco, a port town in the southwestern part of Colombia, it became impossible for the residents to sell fish and shellfish because fishing was not possible due to control by armed groups. Also, since the curfew was set at 5 pm, people who sold food at the stalls to make a living could not work. The locals say, "Even if I dare to go out, there is no one to buy it, so business is not established and my family is starving."
The Colombian government allows outings to access medical services and banks. However, the armed groups are more restrictive and do not allow any outings. Even if you get sick, you can't even go to the hospital.
ELN insiste en un alto al fuego en Colombiahttps://t.co/iYEt2aDFy6 pic.twitter.com/2apUTlwJow

— InSight Crime ES (@InSightCrime_es) July 16, 2020
The HRW argues that all armed groups should "respect the rights of Colombian citizens and stop deliberate attacks on civilians." He also advised the Government of Colombia, "To take more effective and appropriate measures to protect the right to people's health and to ensure that people have food and water, and to prevent the spread of COVID-19. Should take the duty."
"To prevent the spread of COVID-19, the harsh penalties imposed by civilian groups by armed groups have been attacked and sometimes killed when people in poor remote communities in Colombia go out,'' said Bivanco. Governments should urgently improve their efforts to protect these communities, secure adequate food and water, and protect their health from the effects of COVID-19."
Copy the title and URL of this article
Source link