Digital Camera
CP + 2020 " scheduled to be held as planned '', calling on visitors to wear masks etc.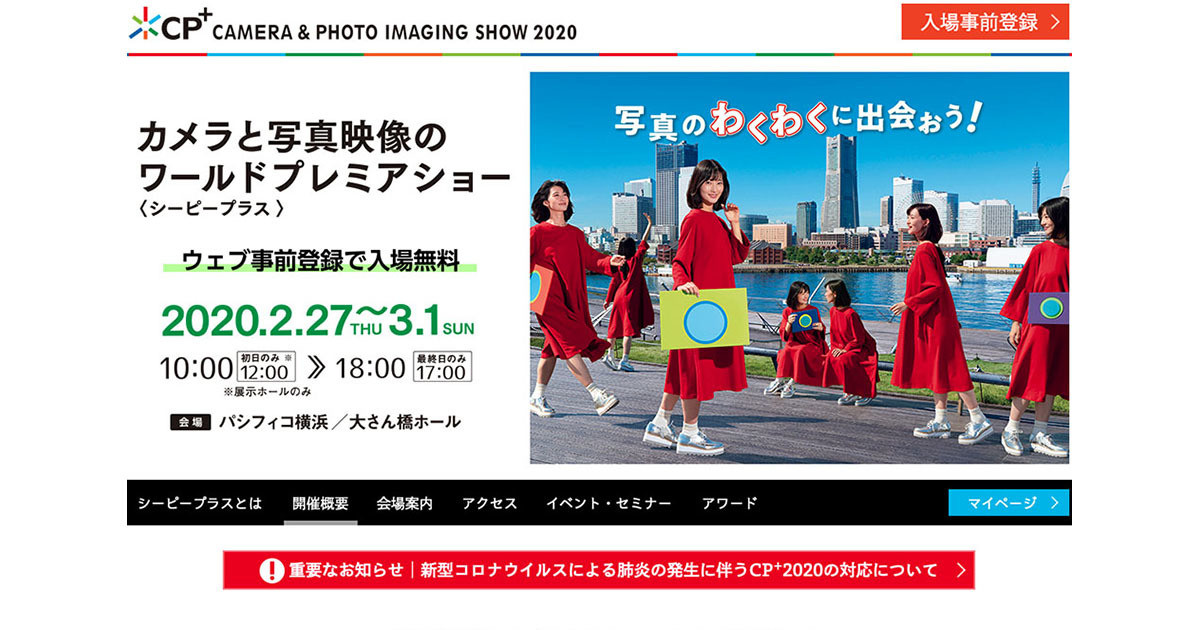 The annual camera and photographic video event "CP +" (organized by the Camera and Imaging Products Association). Attention was paid to responding to a new type of coronavirus infection, whose infection is expanding, especially in China, as it is a large event that attracts many people. The CP + Secretariat announced on February 6 that "CP + 2020" will be held as planned in Yokohama from February 27 to March 1 at this stage. In addition, "Request for Visitors" was posted on the CP + website.
We are worried, but we are preparing for CP + 2020 while paying close attention to the situation, and will hold it as planned. For this reason, we are studying countermeasures with venues such as Pacifico Yokohama. See the link below for details. I would like your understanding and cooperation for the event.https://t.co/eDWkkhJ77W

— CP + 2020 Secretariat (@cpplusjp) February 6, 2020
The CP + Secretariat is considering specific countermeasures in accordance with the policies of the Ministry of Health, Labor and Welfare, and is strengthening cooperation with the venues, Pacifico Yokohama, Osanbashi Hall, and related administrative organizations. "We are preparing for the event while watching the situation," he said. In addition, 15 companies will be exhibiting from mainland China, and although there are no exhibitors from Wuhan this time, it is checking with each company whether it is possible to exhibit.
In addition, as a response to visitors, the CP + secretariat has installed disinfectants at entrances and exits of the venue. At the same time, it is strongly recommended that visitors wear masks, wash their hands and gargle, and if they feel unwell, encourage them to refrain from visiting. Exhibitor booth staff also want to understand how to wear a mask.
Source link