Headline
DOCOMO and Recruit "combined with points" to compete with KDDI-5G charges are "slightly higher than 4G"
ド NTT DoCoMo announced on January 30 the financial results for the second quarter of the fiscal year ending March 2020. Operating revenue fell 3.8% year-on-year to ¥ 3.516 trillion, and operating income fell 12.7% to ¥ 787.9 billion, down from the previous quarter.
The reason for the decline in sales and profits was the impact of customer returns from the new rate plans " Gigaho '' and " Gigalight '' introduced in response to the revision of the Telecommunications Business Law in October 2019. Operating income fell sharply to ¥ 15 trillion, down ¥ 115.8 billion year on year. However, since the company forecasts lower sales and profits from the beginning of the current fiscal year, Kazuhiro Yoshizawa, President and CEO of the company, said, "We are on track with our annual forecast."
At the beginning of the new rate plan, although the transition rate of customers tended to be slow at the beginning, we will launch a campaign that comes with Amazon Prime for one year and a campaign that doubles the communication capacity of Gigaho to 60 GB Aggressive transition promotion. As a result, it has exceeded 12 million contracts on January 18, 2020, and is currently increasing at the pace of tens of thousands of contracts per day. The company will continue to work to achieve its annual target of 17 million contracts.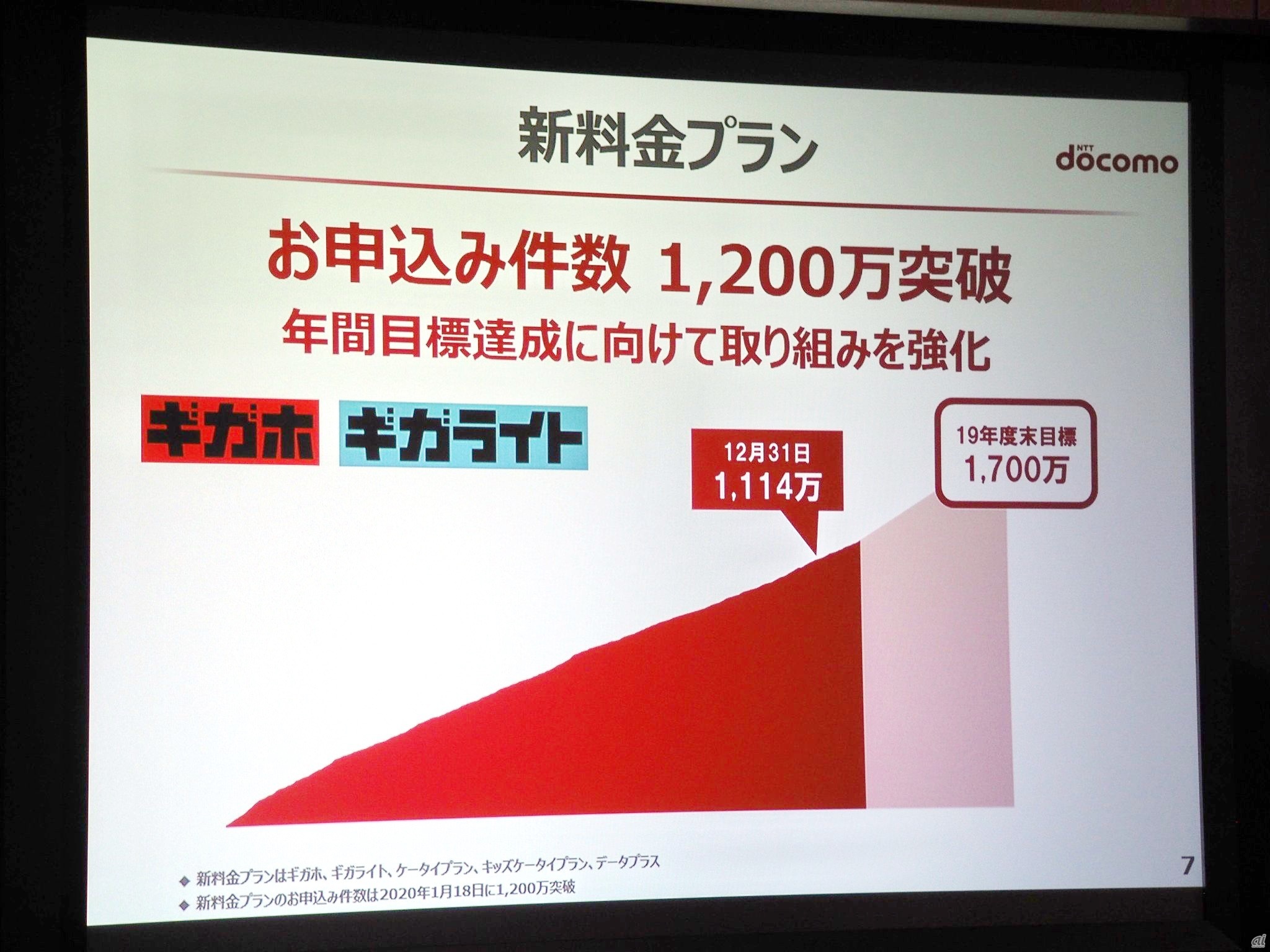 The number of contracts for the new rate plans "Gigaho" and "Gigalight" has exceeded 12 million. We are implementing various measures to achieve 17 million contracts by the end of March
According to Yoshizawa, the campaign to double the capacity of gigaho to 60GB was implemented. "It is not visible, but the number of port-outs [due to number portability] for those who use data communication considerably increases. Was "was the reason. The company says that it has doubled its capacity to close the gap with other companies that offer larger capacity plans, and that port outs are improving.
Furthermore, the law revision has also affected smartphone sales, and it is said that smartphone sales had been braked since October due to the impact of last-minute demand until September 2019. However, the sales volume has been gradually recovering since December due to the expansion of the lineup of low-priced standard models and various campaigns. In addition, due to the revision of the law, "monthly support" of terminal discounts linked to communication contracts has been abolished, and the impact on business performance will be reduced in the future, which will be a factor to cancel the negative impact of customer return At best, Yoshizawa is talking.
Reveal the attitude to compete with KDDI with points and settlement
On the other hand, in the smart life field, operating revenues increased by ¥ 66.2 billion year on year to ¥ 732.8 billion, and operating income increased by ¥ 1.7 billion to ¥ 136.4 billion, partly due to the consolidation of NTT Plala. ing. In the Smart Life business, operating profit fell by ¥ 12.1 billion year-on-year due to efforts to promote sales of video profit services. According to the company, overall sales have been strong.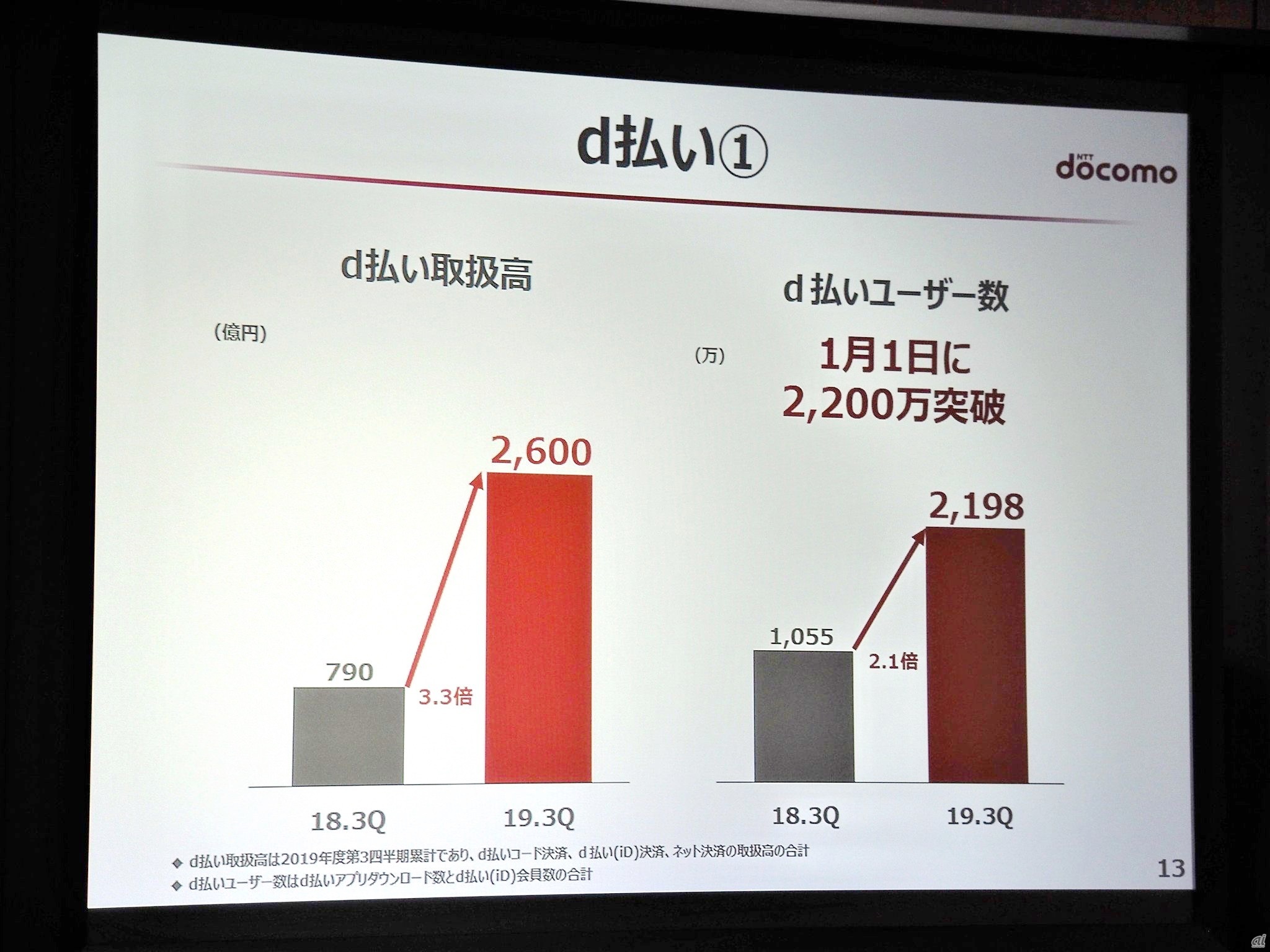 The number of users for smartphone payment "d payment" exceeded 22 million on January 1. Transaction volume also increased 3.3 times year on year
ス マ ー ト フ ォ ン Regarding smartphone payments, recent reorganizations have been taking place, such as the recent announcement that Z Holdings and LINE, which have Yahoo, have announced a business integration, and Merpay has acquired Origami. Yoshizawa said, "I don't think the camp will be indiscriminately random," he said.
On January 28, KDDI launched a large-scale return campaign for " au PAY '', and the campaign battle of each company is continuing, but Mr. Yoshizawa said, " We will do hundreds of millions of days, such a campaign. I'm not going to do that. " Nevertheless, the company has acknowledged that campaigns are necessary to expand the ecosystem, and will continue to run campaigns while narrowing down the target stores to continue using d-payments.
ド In addition, DOCOMO announced that it will form a business alliance with Recruit in line with the announcement of this financial result. By linking the recruiting group's Recruit ID and d account, a mechanism to select and accumulate d points at Jalan and Hot Pepper Gourmet will be provided, and Air Pay, a recruiting lifestyle, will be developed. The company will start handling d-points with the optional service "Air Pay Points".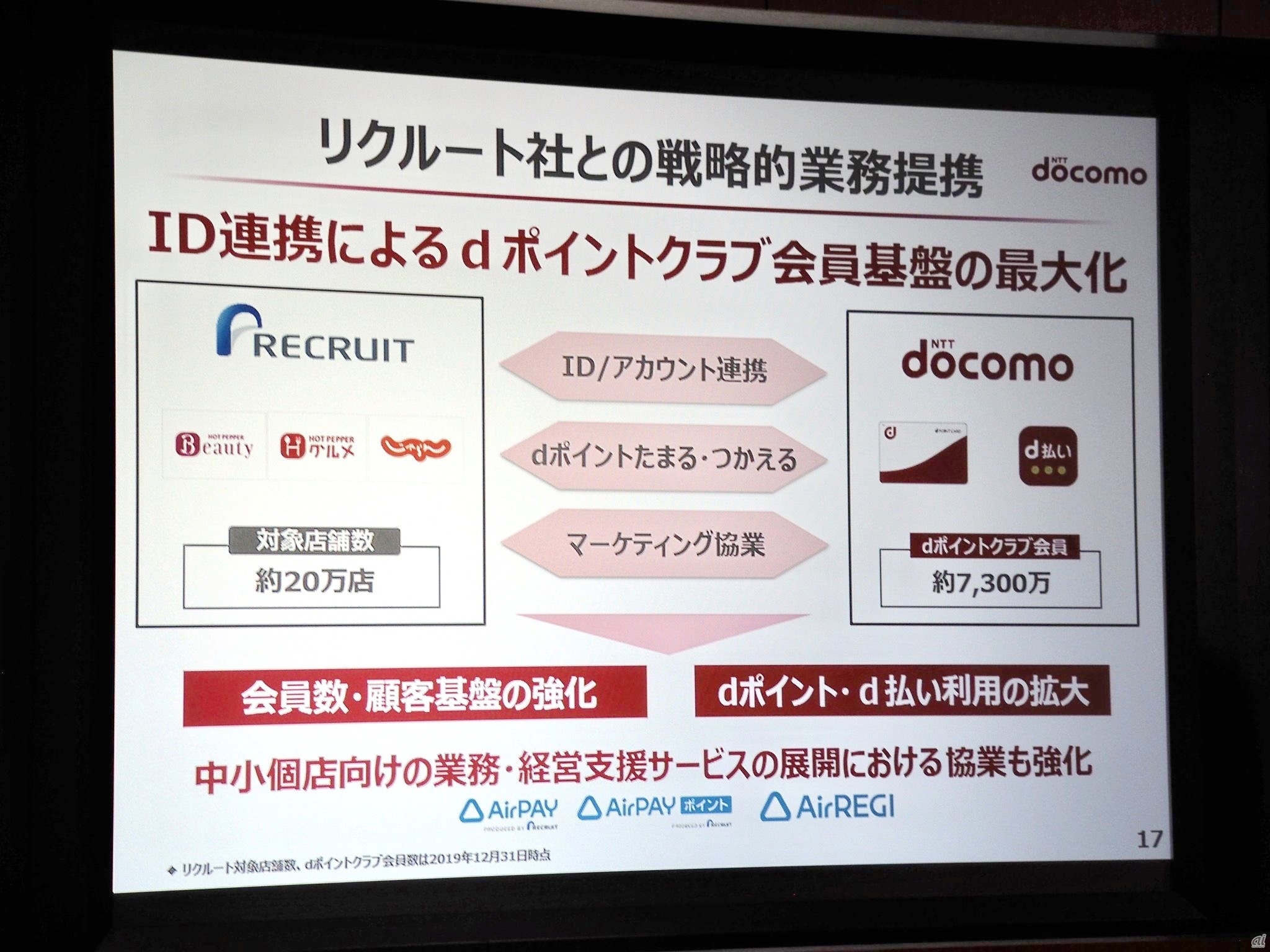 DoCoMo has announced a partnership with Recruit, which has been focusing on Ponta. Recruit services such as "Jalan" will also be able to use d points
Recruit has previously used "Ponta" as a common point, but it has announced that it will partner with rivals KDDI and integrate "au WALLET points" into Ponta for loyalty marketing that operates the Ponta. That being said, it seems that this partnership can be seen as DoCoMo, which was originally closely related to the Ponta camp, has competed against KDDI and has begun to break down the Ponta camp.
5G service launch is "Spring"
DoCoMo plans to launch 5G commercial services in the spring of 2020, but KDDI and SoftBank have launched services in March 2020. For this reason, reporters were asking questions about the specific timing of commercial launch of 5G services, but Yoshizawa said, " I would like to hold a presentation before launching and talk about fees, services, terminals, etc. '' He declined to mention specific dates.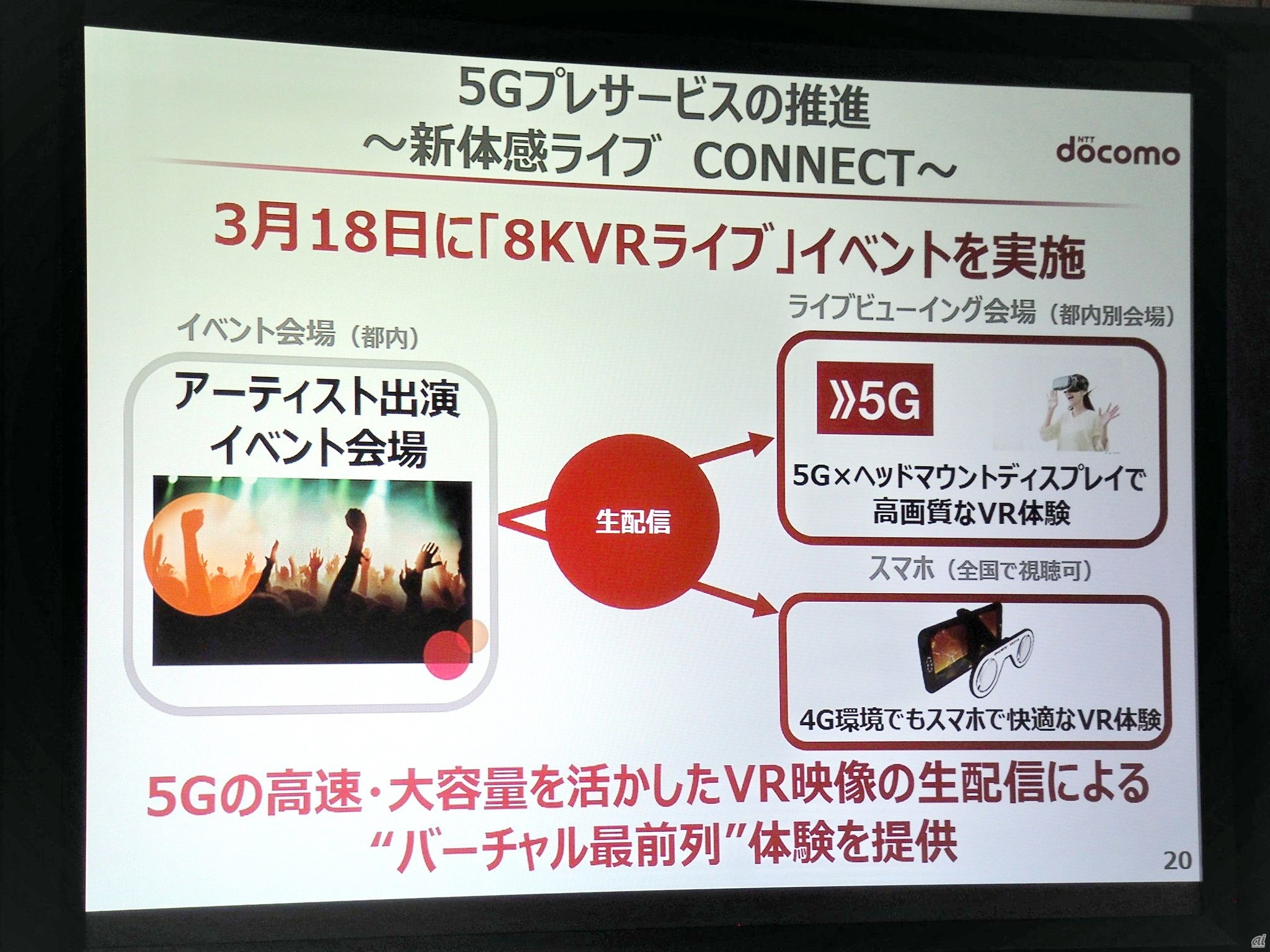 There is no specific schedule or content for the launch of 5G services in the spring of 2020. Live viewing of 8KVR utilizing 5G to be implemented on March 18, 2020, it is not decided at this stage whether it will be implemented as pre-service or official service
However, regarding the rate plan, Mr. Yoshizawa said, "As a price level, we naturally consider the unlimited plan to be one of the options." He showed that he was considering preparing an unlimited traffic plan that exceeded Gigaho, which was doubled to 60GB in the campaign. Whether it will be unlimited is not decided, but the amount of the large capacity plan that will be offered in 5G is said to be " a little higher than 4G, but not significantly higher '', and currently It seems to be considering to keep it at the same level or slightly higher than that of Gigaho.
ド In the early days of 2020, there was a problem with docomo at the docomo Shop Ichikawa Interchange, operated by Kanematsu Communications, giving memos insulting customers. Mr. Yoshizawa also touched on this matter, and apologized again, saying, "We do not take the shop staff and distributors, but heavily regards NTT DOCOMO. We must return to the basics of dealing with customers." The company will try to prevent recurrence by conducting video training anew.
Source link