Headline
Domestic unicorns increase to 6 in 2019, tripled year-on-year–financing and market capitalization rankings
On January 23, Four Startups launched an information platform "STARTUP DB, Announced the 2019 Domestic Startup Financing Amount Ranking. The startups' sums raised in 2019 are listed in the top 50.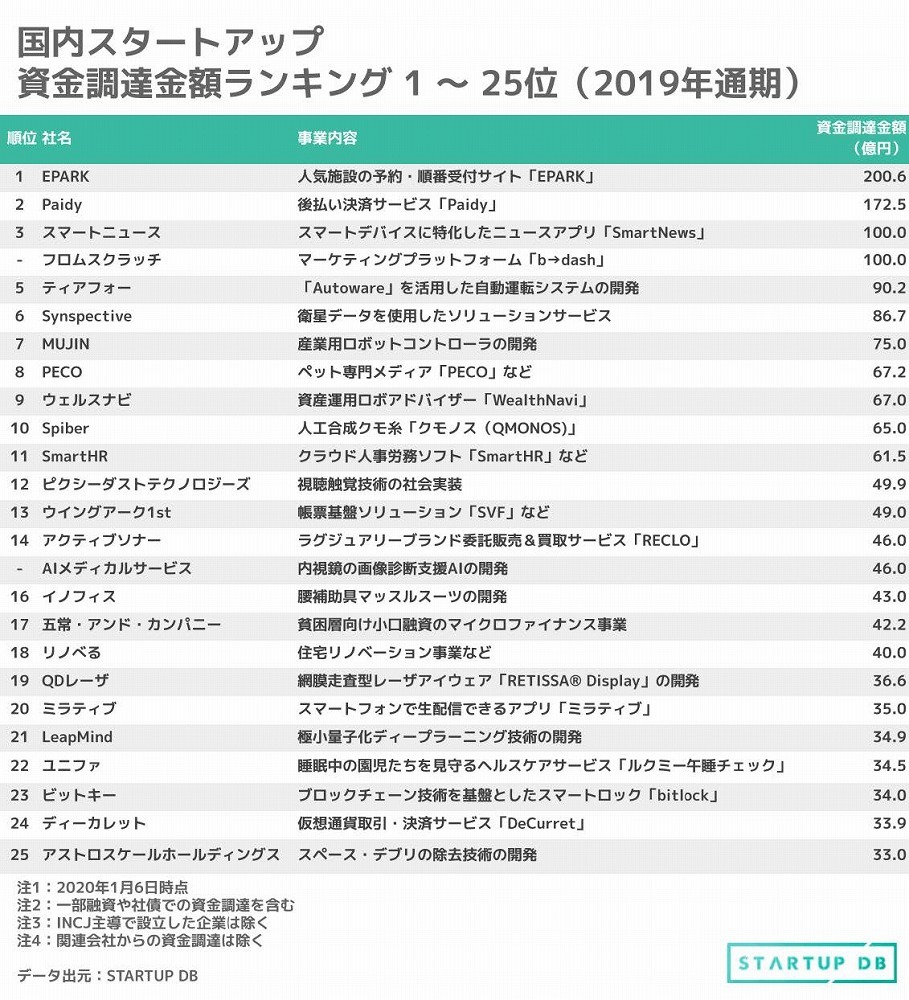 According to that, the first place was EPARK, whose cumulative procurement amount exceeded only 20 billion yen. In 2018, JapanTaxi and Blue Planet-works were two startups with a total procurement amount of more than 10 billion yen, but there were four startups in 2019.
同 社 One of the reasons for the higher procurement amount is that the company estimates that there is the influence of foreign investors. The 10 billion yen procurement conducted by From Scratch in August 2019 includes KKR, an overseas investor, and the 17.52 billion yen procured by Paidy included five overseas investors including Goldman Sachs Loans from are included. SmartHR, ranked 11th, also raised 6.1 billion yen through procurement, including two foreign investors.
ス タ ー ト ア ッ プ If you look at the startups that rank 1st to 25th in the ranking and have the highest procurement amount, there are three areas. One is deep tech, which includes space, manufacturing, and R & D. It includes eight companies, including Tier Four, Synspective and MUJIN. Next was FinTech. There were four companies including Paidy, which ranked second, WealthNavi, Gojo & Company, and Dee Karet. The third is SaaS. Includes three companies, From Scratch, SmartHR and Wing Ark 1st, which raised 10 billion yen at a time.
In 2019, unicorn companies will " triple '' compared to the previous year
The company has also announced the "Market Capitalization Ranking for Domestic Startups" as of January 6, 2020. In addition, financing with some loans and corporate bonds is included, and financing from affiliates is excluded. Companies established by INCJ are excluded.
This time, the estimated market capitalization of domestic startups is summarized from 1st to 50th.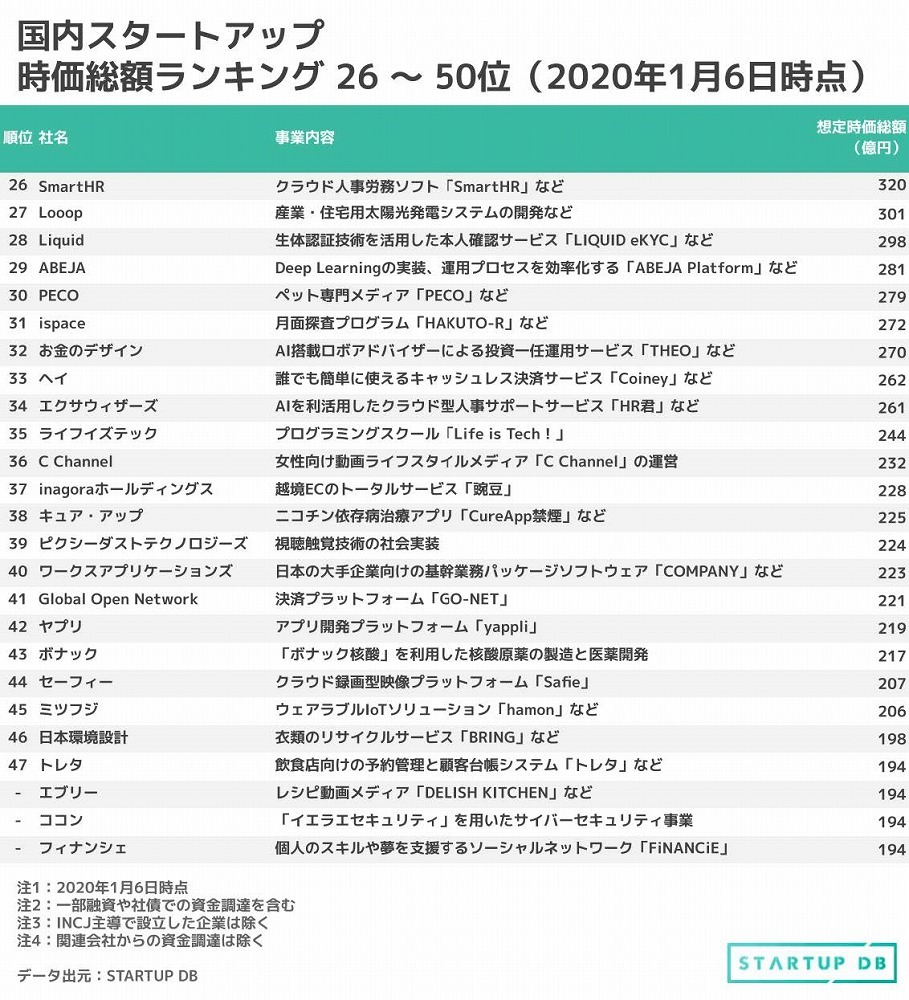 に よ る According to that, the number of domestic unicorn companies will increase to 6 in 2019. In 2018, Japanese startups have grown remarkably, given that there were only two companies, Preferred Networks, which is currently number one, and Mercari, which was listed in 2018. However, according to a survey by CB Insights, there are more than 150 U.S.-based unicorn companies, far from global leaders.
ス タ ー ト ア ッ プ Looking at the domains of each startup included in the ranking, DeepTech has 15 companies, SaaS has 11 companies, and FinTech has 9 companies. In the deep tech domain, Preferred Networks, Clean Planet, TBM, and TRIPLE-1 are four unicorns, accounting for two-thirds of the number of unicorn companies in Japan.
In the SaaS area, in addition to PART and HRMOS operated by KARTE, BizReach also operates BizReach, a career change site, From scratch operated by b-dash, and SmartHR were ranked.
Plaid raised from Google, FromScratch raised about 10 billion yen from KKR and Goldman Sachs, etc.SmartHR raised 6.15 billion from Light Street Capital and others investing in Uber, Slack, Lyft, etc. The company explained that it is procuring yen and is attracting attention from overseas investors. In the FinTech domain, the Liquid Group saw Unicorn, and others saw Origami and WealthNavi.
Source link