Headline
Early experience with NHK Plus-an app that leverages the strengths of broadcasters
NHK started a trial service of "NHK Plus," a simultaneous simultaneous delivery and missed program delivery that delivers program content via the Internet in March. The company has begun full-scale utilization of the Internet as a complement to broadcast programs.
"Simultaneous simultaneous distribution" is a service that literally distributes programs broadcast on TV on the Internet at the same time. During the trial period of March, about 17 hours a day [7 to 0 o'clock] will be delivered from April, when the service is scheduled to start, and about 18 hours a day [6 to 0 o'clock].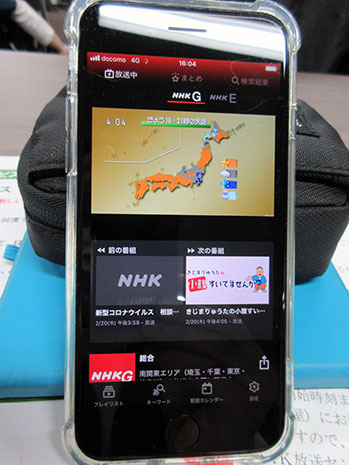 "NHK Plus", a program that delivers program content via the Internet simultaneously
The broadcast will be distributed on terrestrial broadcasting NHK General TV and Educational TV [E-Television]. However, at the start of the service, broadcast programs targeting the southern Kanto area [Saitama, Chiba, Tokyo, Kanagawa] will be distributed nationwide.
配 信 The missed delivery period is 7 days, and is a guideline until the end of the same time zone program the following week. For example, if it is a drama, you can watch it on NHK Plus even if you miss the previous week and reach the broadcast time, and you can watch the episode just broadcasted after watching it.
異 な り Unlike the conventional Internet distribution service "NHK On Demand" [NOD], it is positioned as "broadcast complement", so there is no additional subscription fee. Of course, the subscriber's family can use it on their mobile terminals.
In addition, the service pack of NOD has been revised due to the start of overlooked distribution on NHK Plus. The "All-you-can-see" pack and the "All-you-can-see all-you-can-eat pack" [990 yen / month] have been eliminated, and will be integrated into the "Entirely unlimited view pack" [990 yen / month].
Distribution quality is equivalent to SD, with or without subtitle display can be selected
In order to use NHK Plus, you need to download the dedicated application and enter the required information on the application screen.
The dedicated app has the impression that basic functionality required for video distribution services is included, such as chase playback of programs on air, keyword search for missed programs, and provision of on-air lists based on genre and topicality.
Some news programs are divided into chapters for each item, and you can search for them by selecting them. You can directly access the news item videos you care about. It also has a sharing function on SNS and so on. If you select "Share scene" with the scene you are interested in paused, you can paste the video from that scene.
The delivery bit rate is up to 1.5Mbps [equivalent to SD image quality], but it is also possible to select the image quality according to the environment such as the presence of Wi-Fi. It is possible to select whether or not to display subtitles, and to display them, the position [inside or outside the screen] can be selected.
場合 If the reception contract cannot be confirmed by the use application, the overlooked delivery cannot be used, and a "contract confirmation message" will be displayed for simultaneous retransmission. Also, after applying for the use, it is necessary to enter a confirmation code written on a postcard sent to the contract address, and a "confirmation message" will be displayed even if the code is not entered for a certain period of time.
ID One ID is issued for one broadcast reception contract, but up to 5 screens can be viewed at the same time. There is no limit on the number of terminals, and even if you change models, you can use the new terminal by entering an ID without any problems.
The impression of "I tried using it" …
N The aim of introducing "NHK Plus" is simply to increase the opportunities for young people to contact. NHK announcer Nobuko Ikeda, who explained at the " experience meeting '' held on February 20, said, " I think that if you can watch it on a smartphone, you will have more opportunities to watch the program to more people, '' He expressed his expectation for the spread of audiences different from broadcasting.
Even when I actually touched it, there was no particular discomfort compared to general video distribution sites etc. I made use of the "broadcasting station's strengths" such as locating news chapters, sharing program scenes, and supporting subtitles and secondary audio I felt it was finished as an app.
On the other hand, Ikeda pointed out that "accuracy required for search words" is a bit outdated in today's era, where it is common to scoop up objects with ambiguous keyword input. The main factor is the link to the program program [EPG], but it may be urgently required to respond to a wider range of search words.
を 持 つ In the event of an emergency disaster, it has a function to forcibly return to real-time broadcasting even if the overlooked distribution service is used.
However, as mentioned above, broadcasting programs in the South Kanto area will be distributed nationwide for the time being, and there will be a delay of about 30 to 40 seconds even in the case of simultaneous distribution. "Return" itself is a function of NHK's app, but there are some aspects that you can not rely on as an emergency information tool.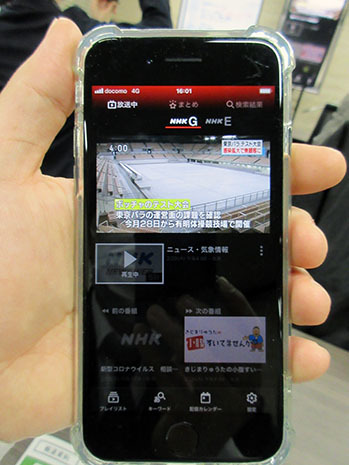 There is a delay of about 30 to 40 seconds even in simultaneous distribution
In addition, if simultaneous retransmission services by broadcasting stations are in full swing, the most anticipated is a "platform with horizontal stations".
Regarding this point, in this experience meeting, we returned only " Policy to consider participation if requested [from commercial broadcasting etc.] '', but free distribution portal " TVer '' launched by 5 stations in Tokyo has 2019 Some programs have been provided since September, and similar developments are expected.
N NHK's free Internet distribution service that starts after clearing various institutional barriers. In recent years, especially in the younger generation, where the tendency to be pushed by the Internet is pointed out, is it possible to bring a "plus" not only to NHK but also to the broadcasting industry as a whole? First, I want to watch the situation after the trial service started in March.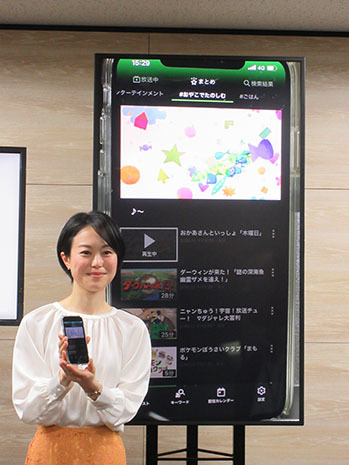 NHK announcer Nobuko Ikeda
Source link