Headline
Ekinaka store's first "rescue deli" demonstration test for employees at Tokyo Station to reduce food loss
On January 7, JR East Startup will start a demonstration experiment to reduce food loss with two companies operating a railway hall and a food sharing service " TABETE '' as part of the " JR East Startup Program 2019 '' Announced.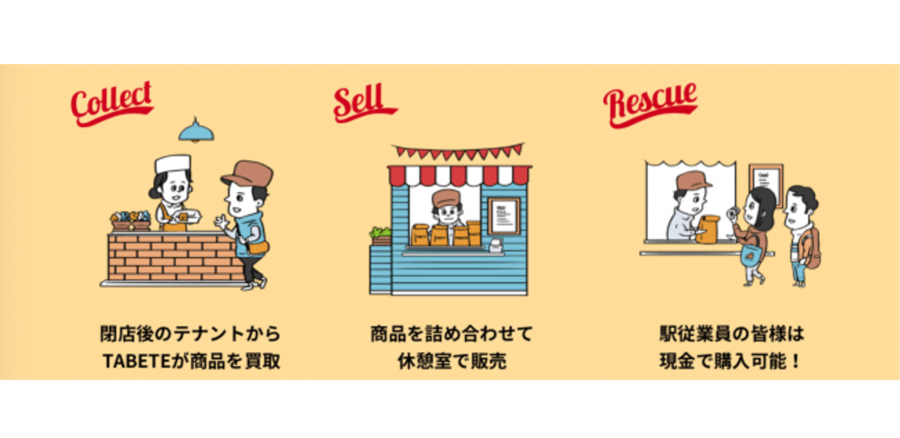 実 験 The period of the experiment is from January 14 to February 14. For employees of commercial facilities and station facilities working at Tokyo Station, this will be held in the employee rest room designated by JR Tokyo Station after the Ekinaka store closes.
According to the company, there are issues surrounding food in the store after the store closes, such as food loss due to the assortment of products until the store closes and the large fluctuations in the number of prospective customers due to the weather.
Therefore, in the same experiment, TABETE-operated co-cooking purchased food that could not be sold at Ekinaka stores such as the Ekinaka commercial facility " Gransta '' in the ticket gate of Tokyo Station, and provided it to employees working at the station. Sold at the first real store service "Rescue Deli". Through this, we aim to build a new Echinaka food ecosystem that reduces food loss.
The target shops are Blange Asanoya, Daizy Tokyo, BURDIGALA EXPRESS, Sasahachi, and Honoriya Tokyo Head Office. Examples of exhibited products include assorted breads, bento boxes, and rice balls.
Source link