IT Lifehack
Experience "cutting with a smartphone"! Kaiji, a cutting specialist, commemorates the 111th anniversary of Kaiji's founding.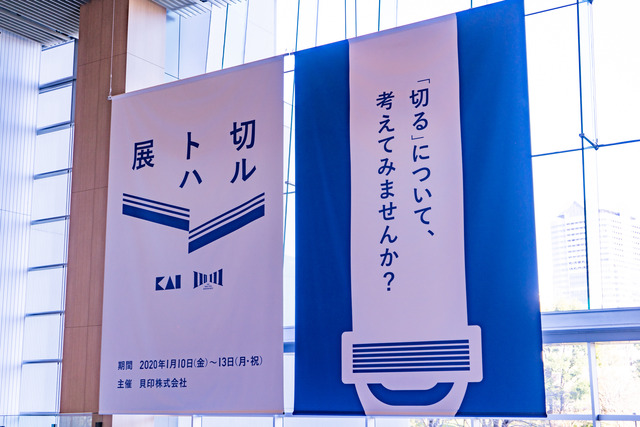 Kaiji, a general knife manufacturer that celebrated the 111th anniversary of its founding in 2019, will open a museum that expresses " cutting '' with various angles of vision, hearing, tactile sensation, and various angles " Kaiji Presents " Cuttoto '' Exhibition '' January 10, 2020 The event will be held at Tokyo Midtown Atrium from [Fri] to 13 [Mon / holiday].

The concept of the event is to enter the "cut" dictionary and reconsider the act of "cut". This is an experience event unique to Kaiji that has been pursuing "cutting" for many years.
There are five contents in the venue. Using a smartphone distributed at the venue, you can freely travel while reading AR content with various meanings of " cutting '', and " cutting '' through interactive contents and product exhibitions on the theme of tools, sounds, tastes, etc. Enjoy the fun of the act. In addition, those who have experienced each content and collected AR stamps will receive a free gift of shellfish [※ first come, first served, ends as soon as it is gone]. In addition, follow the Kaikai official SNS account "@kai_corporation" and add a hashtag of "#Kai" and "#Kirito" to the photos taken at the venue and draw by lots from among the 20 people who contributed There is also a chance to win a special smartphone ring and the "SELECT100 T-type peeler", which is the "Cuttoto" exhibition.
■ Kaishi Presents "Kiritoto" Exhibition ■ Summary
Date: January 10 [Fri]-13 [Mon / holiday] 2020 11: 00-21: 00
Venue: Tokyo Midtown Atrium [9-7-1 Akasaka, Minato-ku, Tokyo] Price: Free
Contents: AR stamp rally while experiencing video and sound with the theme of "cutting"
貝 Gifts of shellfish will be given to AR stamp rally participants [* first come, first served, ends as soon as they are gone]Shellfish products, history display
■Kai-Shi Presents "What is it?" Exhibition
■Articles related to cultureI Read
・"The Legend of Galactic Heroes Die Neue These" The long-awaited second season, "Seiran," will be airing for the first time at Family Theater
・The 4th new Tokyo Metro "Find my Tokyo." Commercial featuring Satomi Ishihara will feature "Kinshicho – a city where the world and Nippon can be more connected".
・I shouldn't have watched it … I'm sorry to release the movie "Looking for Yutaka Ozaki" If you are an au Smart Pass Premium member, you can listen to Yutaka Ozaki Playlist, where you can listen to songs in the movie
・Create art using aibo! "Aibo x graphic art competition" held at Sony Square Shibuya Project

・Very active in the event of a disaster in addition to the outdoors! A compact "ZEEPIN portable power supply" with a capacity of 60,900 mAh that can be purchased at the 20,000 yen level and supports 6 simultaneous charging and PD fast charging