Headline
From "# Home Camp" to "# Home Monte"-Parents who enjoy their time at home
The time spent at home increased due to the continued refraining from going out due to the corona sickness. It seems that many people are making various efforts to enjoy staying at home. On Instagram, many posts with hashtags such as "# home time", "# home cafe", and "# home rice" were posted to enjoy the time at home. It seems that the way of enjoying at home is expanding while the complete convergence cannot be expected yet.
Enjoy home time as if you were going out
"I have a desire to eat out and go out to play, but I don't want to infect my children, so at least I want to enjoy my time at home." A housewife in her thirties who has a preschooler is addicted to making bread and sweets and continues to post on Instagram. "It's popular with children, and the food is deep."
Looking at Instagram, posts that enjoy your time at home, such as "# Home Time" (5.59 million), "# Home Cafe" (4.88 million), and "# Home Rice" (173.33 million), are very popular. high. As in the example above, many people enjoy cooking and making sweets in order to make meaningful use of their extended stay at home.
In particular, at "# House Cafe", there are many examples of hand-made Instagram-worthy sweets such as "# Dalgona Coffee" (126,000) and "# Strawberry Candy" (108,000) and posting photos. ing.
As the chances of drinking alcohol outside have decreased, I make and post fashionable and delicious snacks that look like izakaya at home, such as "# Izakaya" (446,000) and "# Izakaya" (60,000). ) Etc. are also very popular. The bowls are also elaborate, and there are many dishes that look like they were taken at a real izakaya or bar.
"# Home camp" (43,000 cases) is also interesting. You can enjoy camping by setting up a tent in the garden or on the balcony, having a barbecue, and cooking rice with a mess kit. There are many examples of making full use of outdoor goods such as Mestin, Sierra cups, and lanterns. It seems to be popular with children, saying, "It feels delicious just to eat outside" and "It makes me feel like traveling."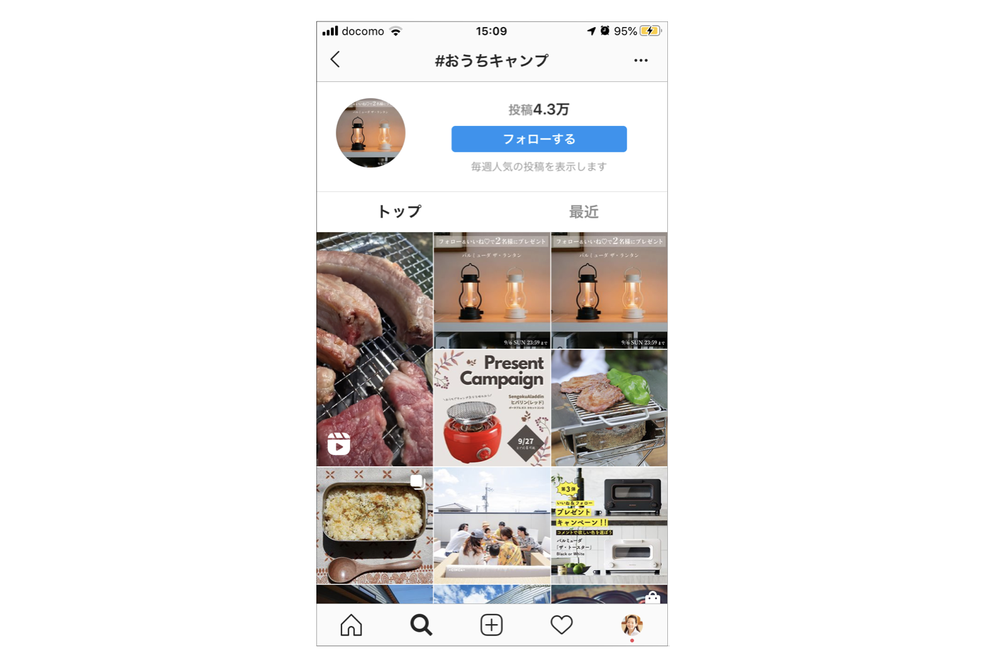 For "# Home Disney" (17,000), there are conspicuous examples of making meals and sweets featuring Disney characters and posting photos while thinking about Disney resorts that are difficult to visit. There are also examples of shooting with Disney character stuffed animals and wearing headgear.
Montessori education and English education can be done at home
Many child-rearing families are spending a fulfilling time at home. For example, "# Home play" (66,000) and "Home play" (49,000) are posted with many ideas for play that small children can enjoy at home.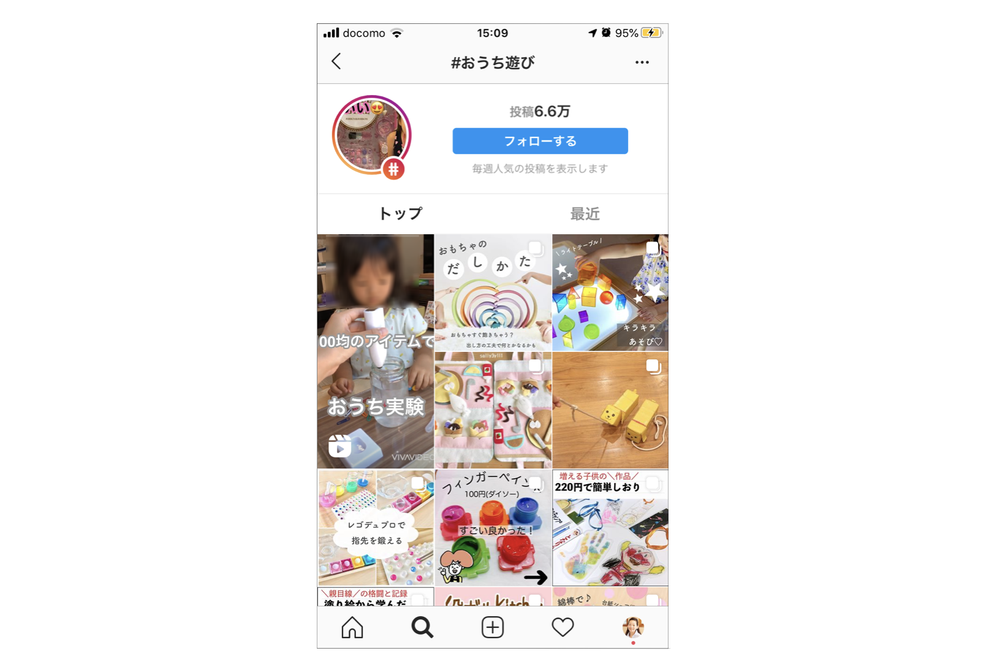 There are many things that can be seen after devising at home, such as educational toys and goods that can be obtained at 100-yen shops, series that explain how to play with illustrations, children's drawings and works. There are also many smiling pictures of cute children posted, such as cooking for the first time, playing in the balcony pool, playing in the water, playing in the shophouse, and playing with soap bubbles.
"Kindergarten was closed, it was hard to go to the park, and my child was bored. I often looked for ideas for play," said the housewife in her thirties. "I found recommended goods and ideas, and I was encouraged that they were all the same."
Do you know what "# house Monte" means? Abbreviation for "Home Montessori Education". Montessori education is a popular teaching method devised by Maria Montessori that uses teaching tools to learn everyday life, sensations, languages, math, and culture.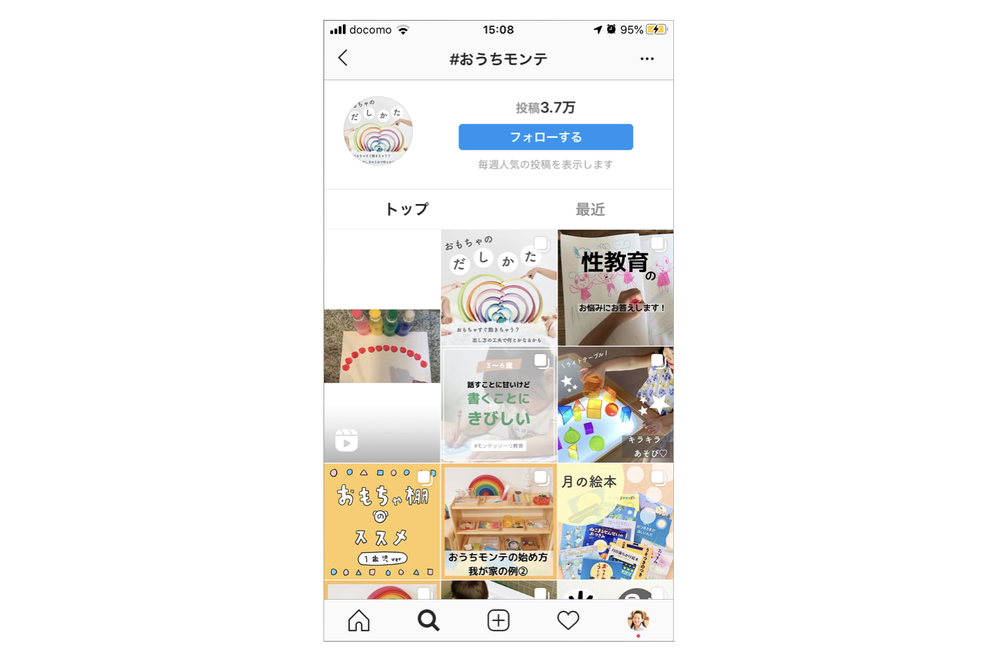 In "# Home Monte", many ideas for simple Montessori education that can be done at home are posted. There are many things you can do right away at home, such as "Let's hand over scissors," "Practice cleaning," and "Let's use a screwdriver." Kindergartens and nursery schools are also closed, which may be due to the fact that younger children had few opportunities to receive education.
"# Home English" (87,000 cases) and "# Home English childcare" (1000 or more) are also popular. Most of the posts are about learning English for preschoolers at home. Teaching materials and goods that can be used for learning English, such as English apps and teaching materials for young children, English conversation that can be used in daily life, picture books in English, and alphabet building blocks, and examples of voice calls from parents in English are posted. It can be seen that there were many parents who worked hard to educate their children, even though they could not freely go to lessons.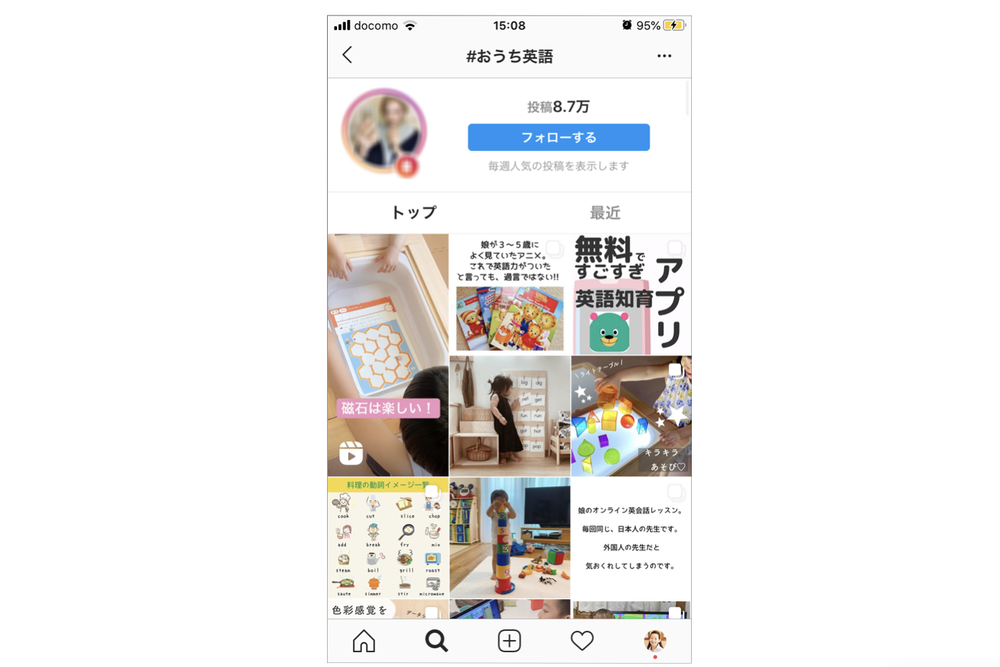 In "# House Studio" (170,000 cases), there are many posts that are fashionable and the background is set as if they were shot in the studio. "I wanted to take a picture to commemorate my 2-year-old birthday. Studio photography is expensive, but I can take it safely and cutely at home," says a housewife in her 40s who took a full-scale shot at home. "I was able to shoot much more seriously than I expected, and it was fun to prepare this and that."
Although the time spent at home tends to be longer, it is still possible to educate children and enjoy their daily lives. Why don't you refer to such posts as well?
Akiko Takahashi
IT journalist. He writes articles for books, magazines, web media, etc., consultants for companies, lectures, seminars, etc. Learn more about web services such as SNS and information literacy education.
Former elementary school teacher.
He has authored many books, including "Books that turn into profitable companies on smartphones x social" and "Books that turn into profitable companies on Facebook x Twitter" (both by Nihon Jitsugyo Publishing Co., Ltd.).
His recent book is "People Drowning in Social Media Addiction Connections" (Gentosha).
blog:http://akiakatsuki.hatenablog.com/
Twitter:@akiakatsuki