Headline
Fukuoka city, LINE-based evacuation drill "Totsuzen Hajimaru evacuation drill" conducted from September 1st
LINE Fukuoka announced on August 26 that it will carry out an online evacuation drill "Totsuzen Hajime Evacuation Drill" that will utilize the functions of "LINE" in cooperation with Fukuoka City from September 1, the day of disaster prevention.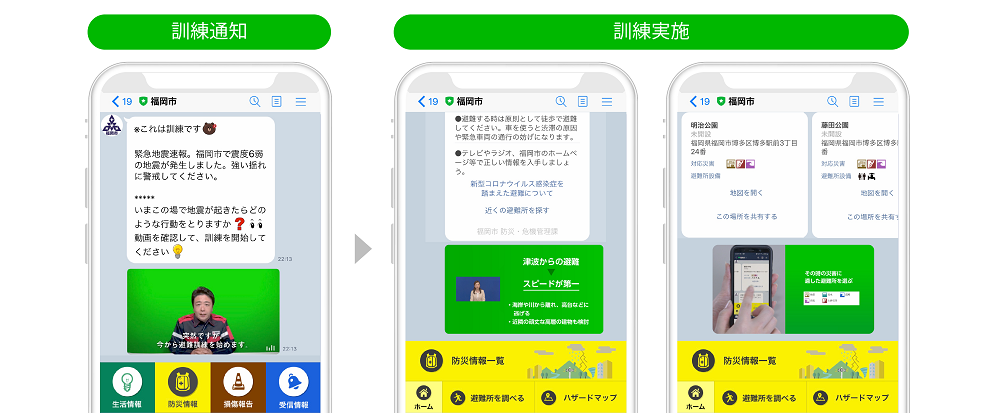 This training utilizes the disaster prevention function implemented in the Fukuoka City LINE official account [@fukuokacity] based on the situation that it is difficult to carry out evacuation drills that gather in one place due to the spread of new coronavirus infection. Suggested to Fukuoka City as an online evacuation drill that can be conducted without gathering. It is said to be carried out.
The Fukuoka city LINE official account has a "disaster mode" that supports evacuation activities in the event of a disaster. It will switch when there is an evacuation instruction or recommendation from the disaster prevention and crisis management section of Fukuoka City such as an earthquake or heavy rain, and by setting beforehand to receive disaster prevention information from the official account, you can chat at the time of disaster The bot will automatically deliver the notification. By selecting the residential area, office building, coast, mountain, etc. starting from indoors/outdoors/inside the vehicle, the evacuation behavior suitable for the scene is presented.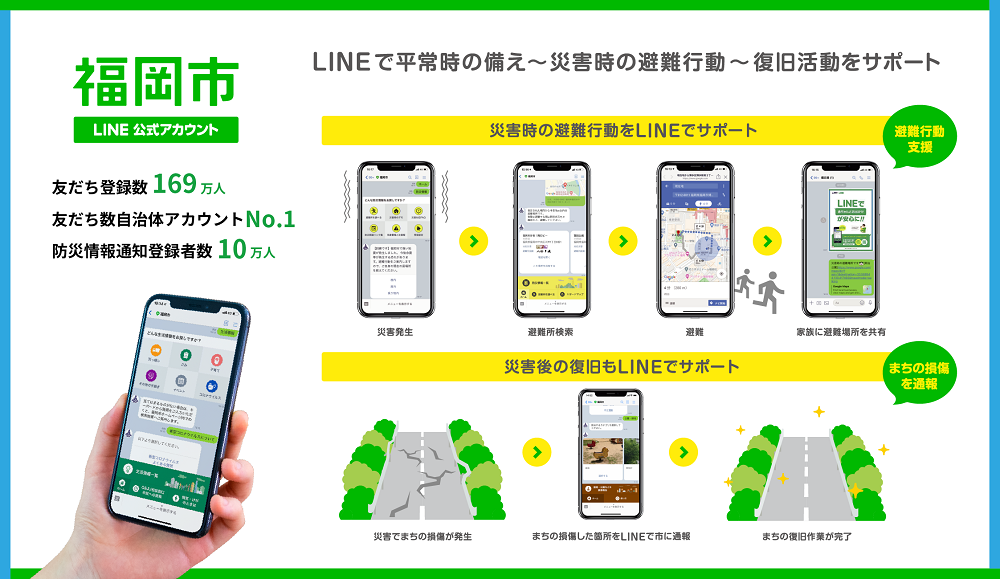 You can participate in the training by adding Fukuoka City LINE official account as a friend and registering in advance [15:00 on August 26 to 21:00 on September 5]. From either September 1 to September 6 [between 7:00 and 21:00], the official account will be notified of the disaster. The timing of notification is not announced, and the type of disaster [water damage or earthquake] is not known until the notification actually arrives.
When you receive a notification of a disaster occurrence, you can learn the evacuation behavior that should be taken in the event of a disaster, from the occurrence of the disaster to the completion of evacuation, by operating according to the message that reaches LINE. The training time is about 5 minutes.
 Conventional evacuation drills are carried out at a fixed date, but an actual disaster suddenly comes, making it difficult to keep calm. According to the company, evacuation drills are designed to start suddenly, just like an actual disaster, so that you can protect yourself when and where a disaster occurs.
Source link