CASIO
G-SHOCK emergency firefighting squad collaborative model thoughts-Sendai City fire brigade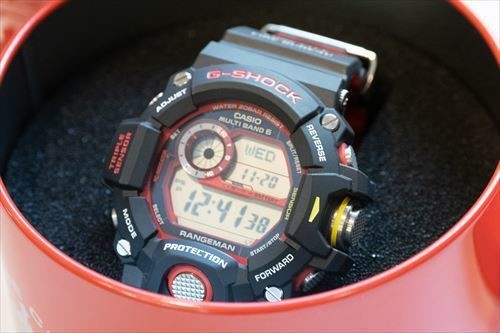 "I want more people to know the emergency fire brigade system."
One wristwatch was born from that thought.
G-SHOCK is a collaborative model of the emergency fire brigade.
This collaboration model, which was planned 25 years after the establishment of the Emergency Fire Services Corps, what kind of thoughts of Casio and the fire brigade members are put into it.
***
On November 20, last year, Kobe City's Nagata Fire Department gave a lecture on "The Future of Disaster Prevention", and Kobe City and Sendai City firefighters who cooperated in the development of the G-SHOCK collaboration model met.
This time, we interviewed the firefighters and asked the two members of the Sendai City fire brigade about their thoughts on the work of "firefighting" and their impressions of the G-SHOCK collaboration.
■ G-SHOCK emergency firefighting support team collaboration model was born
The emergency fire brigade, which is the motif of the model, is a fire brigade that was established in 1995 with lessons learned from the Great Hanshin-Awaji Earthquake.
It is organized as a support unit for unexpected situations such as when a large-scale disaster occurs, and is currently composed of a wide variety of elite units such as aviation platoons, water platoons, special disaster platoons, and is active in various disaster sites. .
With the 25th anniversary of the establishment of such an emergency fire brigade, this collaboration model was created in hopes of increasing awareness of the system.
For coloring and design, the Kobe City Fire Bureau, which experienced the Great Hanshin-Awaji Earthquake, which triggered the establishment of the Emergency Fire Fighting Aid Unit, and the Sendai City Fire Bureau, which experienced the Great East Japan Earthquake, which was the largest unit dispatched since its foundation. Full cooperation.
It is finished in a symbolic design with the thoughts of firefighters.
***
What kind of impression did the firefighters have about the completed G-SHOCK?
We asked Keiyo Ogura and Shinya Sasa of the Sendai City Fire Department.
■ "Accurate time management is required to protect lives"
GWhat is G-SHOCK seen from them?
-G-SHOCK emergency firefighting support team collaboration model has been completed. How are you looking at it?
Ogura:The design is good. Especially I thought that black and yellow matched well. G-SHOCK has a feeling of fit and is highly reliable in terms of function. I expect it to be useful in various fields.
Sasa:I thought it was cool with my first impression. Highly convenient, just tough. I think it is for firefighting.
――What are the points that firefighters look for in watches?
Ogura:The stopwatch function, durability and waterproofness are essential, and the important thing is to know the exact time without getting crazy. The G-SHOCK emergency firefighting support team collaboration model is a radio clock, so there is no mistake.
Sasa:I agree. Fire fighting requires accurate time management to save lives.
Ogura:Watches are a part of the body in field activities, so it's important what you wear. Like me, many people use Casio around.
–Thank you.
■ About working as a rescue squad
――What do you think about the job of firefighting?
Ogura:There is no scenario at the disaster site, and it is necessary to move on a flexible basis. Under such circumstances, I feel a sense of mission and achievement in rescuing lives. When we receive voice of "thank you" from citizens, we are glad.
Sasa:I wanted to be a firefighter from a young age, especially for rescue squads.
So I'm very happy that I'm doing the job I wanted to do now.
――What is important when you work in firefighting?
Ogura:There are various departments in the Fire Department, but the aspirations are all the same. I think a sense of mission is important.
Sasa:You always remember the feelings of a newcomer. It is a spirit that you should never forget.
――What kind of person is suitable for firefighters?
Ogura:Physical strength is necessary as a major premise. On top of that, mental power is also important. I see terrible sites.
Communication skills and coordination are also required. You don't work alone.
Sasa:Some people are good in the beginning, others grow as firemen after they enter. The important thing is to continue working. And a heart that never gives up. Our job is to help people, so it's important not to give up.
――I think it's always an easy job, but how do you switch your mind between on and off?
Ogura:The moment you put on this clothes, the on switch will turn on. I go to work and look in the mirror to tighten my feelings.
Sasa:I think there are various types of switches depending on the person, but it is important to rest properly when the switch is off. I am refreshed by enthusiastically playing and playing with my hobbies.
Ogura:We are close to children, so we are close to family. I go camping and eat with my family.
Sasa:In that sense, I think that the G-SHOCK Emergency Fire Relief Corps collaboration model is also a switch. You may be able to switch the moment you turn it on.
–Thank you very much.
***
After the interview, Mr. Ogura and Mr. Sassa attended a disaster prevention performance held at the Nagata Fire Station and looked back on rescue operations in the Great East Japan Earthquake.
Mr. Ogura and Mr. Sasa introduced the situation at the time, such as rescue operations that were extremely difficult due to the tsunami, rescue measures from isolated evacuation centers, and fire fighting activities from the air, and explained the importance of disaster prevention. Participants listened to both lectures.
In the talk session, firefighters from the Kobe Fire Department who experienced the Great Hanshin-Awaji Earthquake and dispatched to the Great East Japan Earthquake also appeared. A panel discussion was held with Mr. Ogura and Mr. Sasa on the two earthquakes, and talked about disaster prevention.
What all the speakers emphasized was the importance of preparing for a disaster. For that purpose, it is important to be aware of disaster prevention, as it is always acceptable. The G-SHOCK emergency fire brigade collaborative model, which you can always wear, will play a role in raising awareness of disaster prevention.
Source link