Headline
GA Technologies to make luxury rental service site "Modern Standard" a subsidiary
GA Technologies announced on December 9 that it will make the modern standard operating a luxury rental service site a group company. The number of contracts is expected to increase significantly by adding 70,000 members of Modern Standard to "RENOSY", which has a cumulative total of approximately 60,000 members, and increasing the number of members by approximately 2.2 times.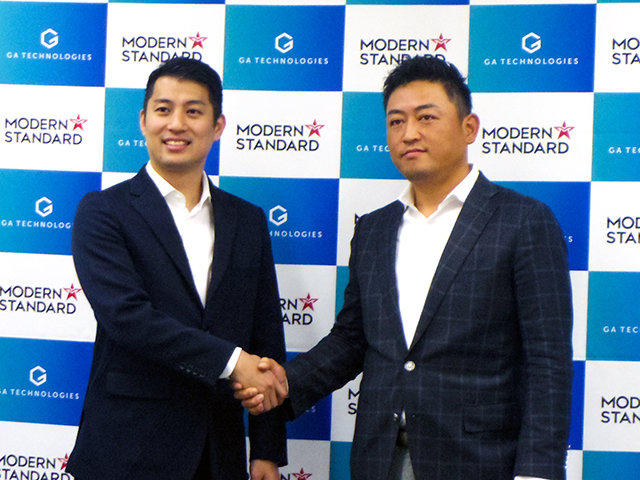 From the left, GA Technologies President and CEO Ryu Higuchi and Modern Standard President Keisuke Matsuda
同 Signed a stock transfer agreement on the same day and acquired 67% of the shares from Modern Standard shareholders. The company plans to make it a wholly owned subsidiary through a share exchange with shareholders in mid-January 2020. Modern Standard changed its executive structure on January 15, 2020. Mr. Keisuke Matsuda will continue as the representative director, and Mr. Ryu Higuchi, CEO of GA Technologies, will be the director.
Modern Standard was established in 2009. "The company that pioneered the media in Japanese real estate tech. I've always wanted to work with GA Technologies since its inception," Mr. Higuchi reveals.
Luxury brokerage is the main business, and 42% of customers are high-income earners with annual income of 10 million yen or more. Akasaka, Aoyama, and Azabu have the highest level of recognition in the high-class area called "Mina-ku 3A". The monthly PV of the service site is about 1 million and MAU is about 200,000.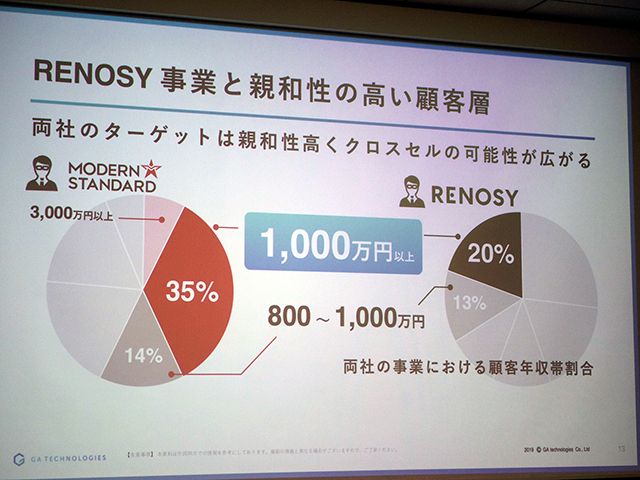 Highly compatible customer base with the Renocy business
"Leading luxury rental media company that develops both online and real. Matsuda [Mr. Keisuke], who serves as a representative, has a deep knowledge of real estate media. In this area, he is familiar with either media or real estate. There are many people, but Matsuda is familiar with both, and I think this knowledge will contribute to the growth of Renocy, "said Mr. Higuchi.
The goal is to cross sell with the Renocy business. Expect customers to buy, sell, renovate and invest in real estate from a modern standard service site. We expect large synergies from the high affinity with "Making the most of media power" [Mr. Higuchi].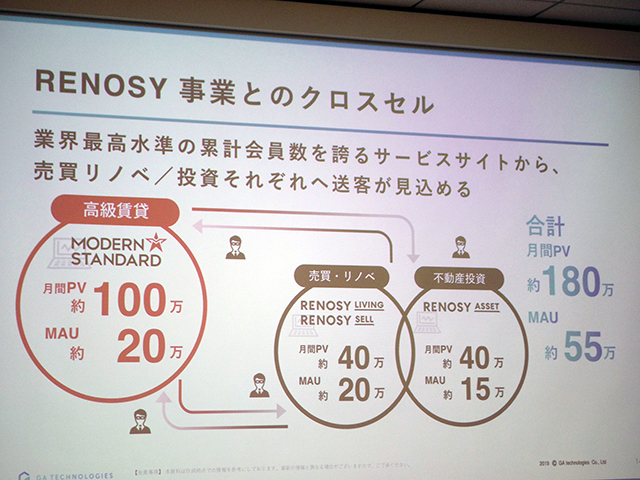 Cross-selling with the Renocy business
On the other hand, the modern standard has high expectations for the development capabilities of GA Technologies. "At first I didn't immediately know what I wanted to do with GA Technologies, but I realized that the way I set up the business I wanted to do was very similar as I continued the discussion. "We have assets that can stimulate the imagination of the business," he said.
"In addition, it is very expensive to have an engineer in the company to do business. I was running in the East and West to form a good alliance with a third party. The story quickly progressed at a low level, and what I wanted to do was immediately returned as feedback, "Mr. Matsuda said.
Mr. Higuchi introduced a modern standard business that provides customers with one-stop properties as well as GA Technologies. "20 years ago, it would have been possible to purchase and search for things on the Internet. I thought about creating a logistics facility because customers knew that they wanted speed, they wanted to do more than they could at this stage, and then they could only offer it one-stop. I want to innovate in this industry that hasn't changed. "
Source link