Headline
"Galaxy Note10 +" Star Wars limited model–2000 units limited
SAMSUNG ELECTRONICS JAPAN announced the special model "Galaxy Note10 + Star Wars Special Edition" of "Galaxy Note10 +" on December 6th in commemoration of the release of "Star Wars / Dawn of Skywalker". It will be handled by NTT DoCoMo and will be on sale from 10:00 on December 13.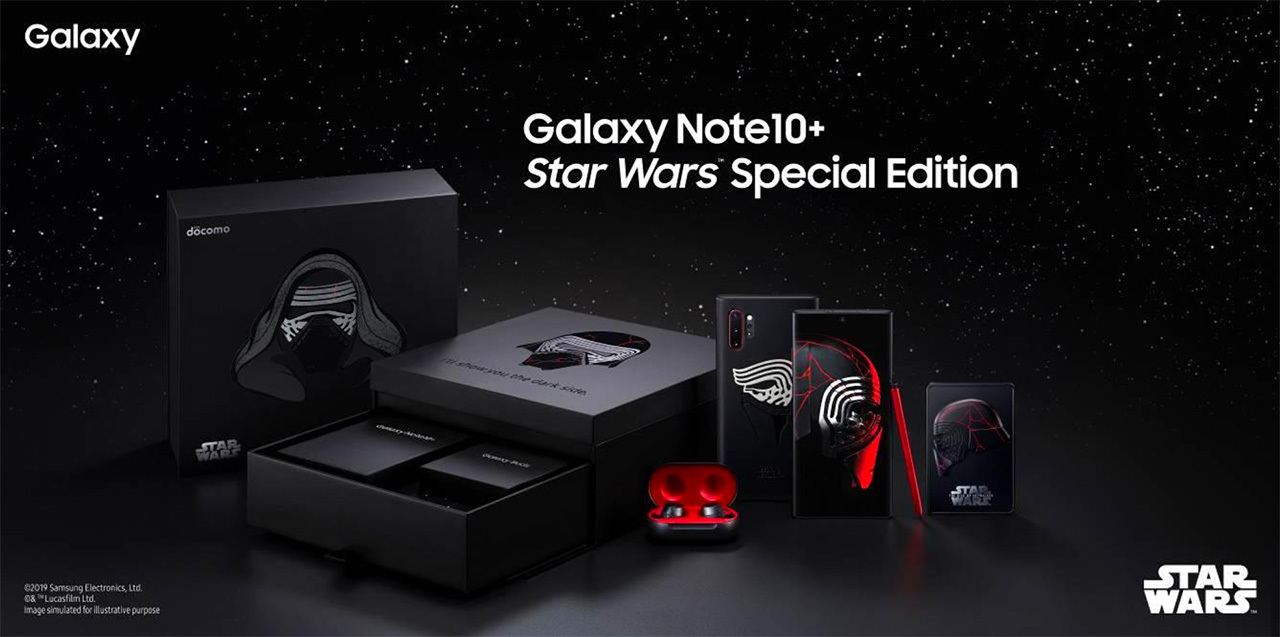 Black-based design that symbolizes the dark side
The Star Wars Special Edition has the same performance as the standard Galaxy Note10 +, but with a black-tone body design that symbolizes the "dark side", and incorporates red as an accent on the camera frame and volume buttons. On the back is a symbol of the dark side organization "First Order". The built-in S pen is also red that is conscious of the light saver on the dark side, and the sound effect for taking out the light saver is played when the pen is taken out.
In addition, the UI, some apps, ringtones, and sound effects are Star Wars specifications, and the wallpaper includes the "Len Knights" design and the "Sis Trooper" design. It also has a dedicated emoji that can be used as a stamp in messaging apps. When the power is turned on, the Cairo / Ren mask appears on the display. When the power is turned off, the trajectory when leaving the hyperspace is displayed as an animation.
The dressing box is also designed exclusively for black. Inside, it comes with a body, a commemorative aluminum plate, and a smartphone case with a limited design. In addition, the complete wireless earphone "Galaxy Buds" comes with a limited design model, and the charging case has a red color.
* Sales limited to 2000 units. Only handled by Galaxy Harajuku [20 units] and docomo online shop [1980 units]. In addition, Galaxy Harajuku will be sold by lottery and will be accepted from 11:00 on the 13th. In addition to the purchase rights for Galaxy Note10 +, a lottery for original goods will also be held.
Specs include Snapdragon 855 [2.8 GHz + 1.7 GHz octa-core], RAM 12 GB, storage 256 GB [compatible with microSD], 6.8 inch Dynamic AMOLED display, and Android 9. The size is about 162 x 77 x 7.9 mm, and the weight is about 197 g. The camera is a wide-angle camera with approximately 12 million pixels [F1.5 / 2.4 automatic switching], an ultra-wide-angle camera with approximately 16 million pixels [F2.2], an optical double camera with approximately 12 million pixels [F2.1], depth In addition to a ToF camera that measures information, an in-camera [F2.2] with approximately 10 million pixels is placed on the front.
Source link