CASIO
" GBD-H1000 '' which integrates smartphone with new ground, heart rate monitor and GPS built in G-SHOCK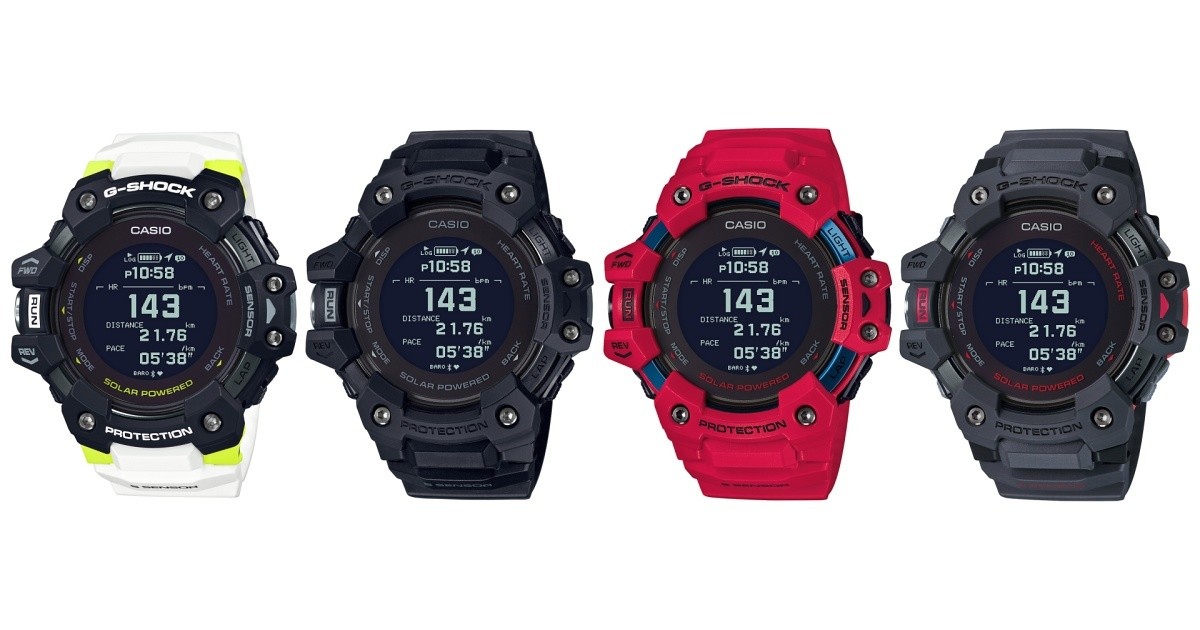 On February 26, Casio Computer announced the GBD-H1000, a new model of the G-SHOCK shock-resistant watch. A major feature is that it has a built-in heart rate monitor and GPS function. Four models with different colors will be prepared and released on April 24. The price including tax is 55,000 yen.
The face of the GBD-H1000 is a high-definition, high-contrast MIP [Memory In Pixel] liquid crystal on almost the entire surface. This is a type of reflective liquid crystal that displays a screen using external light, and has excellent low power consumption performance. "Gawa" is the G-SHOCK itself, but looking at the face alone, it will be different from the previous G-SHOCK, and it can be said that it is a new generation G-SHOCK.
The heart rate meter uses an optical sensor to measure the heart rate by detecting changes in blood flow from blood vessels in the wrist. In addition, it is equipped with a triple sensor that measures azimuth, barometric pressure, altitude, and temperature, an acceleration sensor that measures the number of steps and distance traveled, and a GPS function that acquires location information.
The data obtained from these sensors is analyzed by a dedicated smartphone application connected to the GBD-H1000 via Bluetooth, and indicators such as cardiopulmonary performance are displayed on the face of the GBD-H1000. The dedicated app also has history management of measurement data such as calorie consumption and movement trajectory, training function, fitness function and so on.
The GBD-H1000 body has a devised bezel shape that makes it easier to operate buttons without gazing at the hand while exercising. The buttons are non-slip. In addition, consideration is given to the fit and fit on the wrist and interference with the back of the hand. A soft urethane band and a gently curved back cover are used.
The power supply is built-in battery and USB charging, but the power for daily use is covered by solar charging. Running time with the built-in battery is up to about 14 hours when using the training mode [GPS continuous measurement] and heart rate measurement function, and about 12 months in the time mode [including the step counting and notification function].
Source link