Technology
"GIGAZINE Manga Award" Recruitment started in January 2020 & Top drawing making looks like this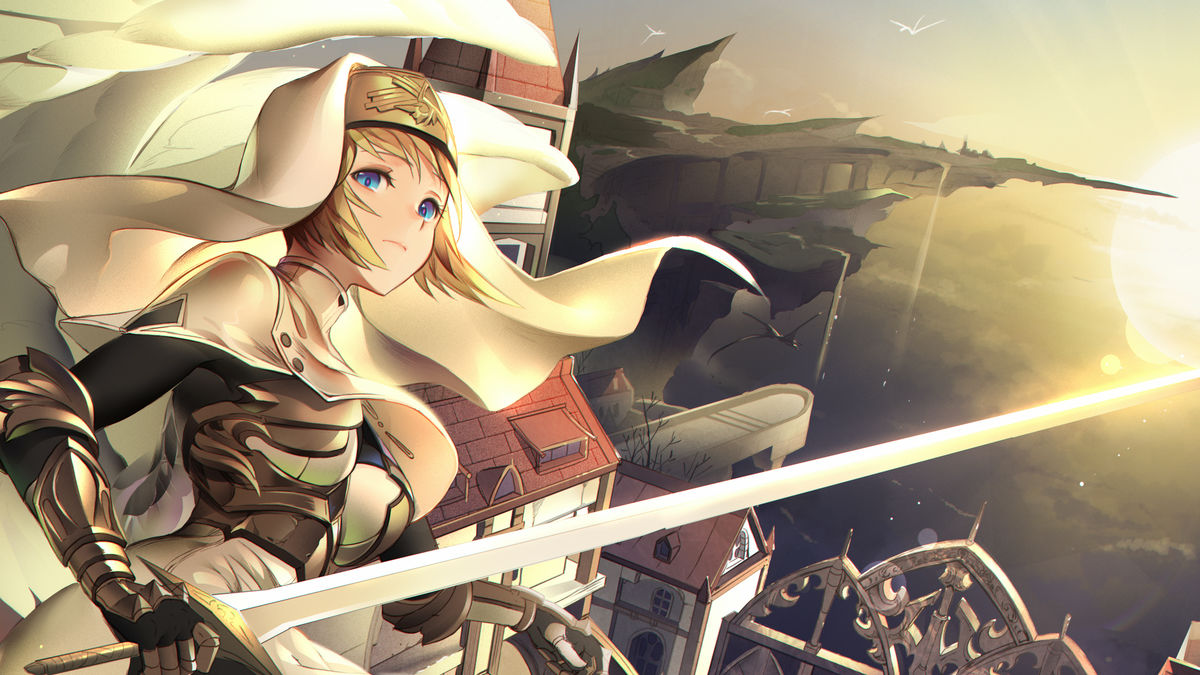 "GIGAZINE Manga Award" Recruitment started in January 2020 & Top drawing making looks like this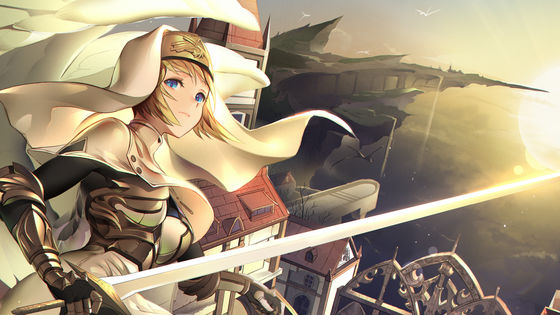 It is 2020. Regardless of the circumstances and circumstances of the individual, many things will happen and things will change in a year. If you want to change something in the middle of a flowing era, we will continue to hold this year.GIGAZINE Manga AwardPlease knock on the door. We look forward to your own story that makes you feel a new era.
At the end of 2019, we released 12 illustrations that were published as the "Top Drawings" of the Manga Awards in 2019 and an illustration book that summarizes their making into one book. If you are a Kindle Unlimited member, you can always get it for free, so if you missed it, check this opportunity.
GIGAZINE Manga Awards "Top Drawings" Illustration Collection 2019 Edition that Understands "Professional Perspectives" to Retake Illustrations | Kindle Store | Amazon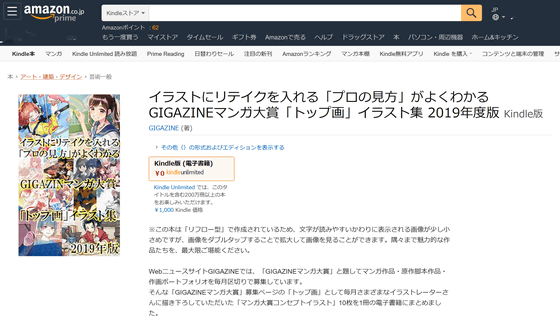 Also, since this year,Koubunren Gakuen High SchoolHas posted a poster informing him of the recruitment of the Manga Awards. The poster includes the August 2019 " Top Painting ''MacchokoUsing the illustration of. As a result of printing each paper such as glossy paper or matte paper, we decided to use glossy paper that can shine bright illustrations quickly.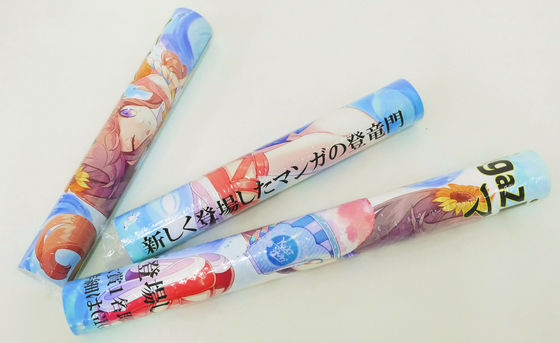 It looks like it was actually posted below.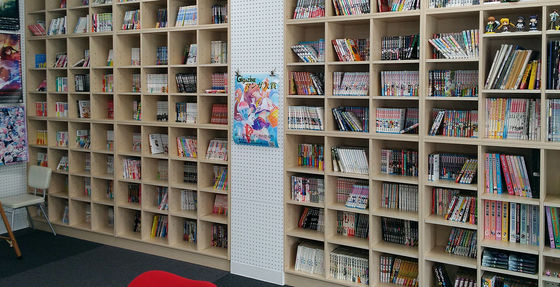 ◆ Click here for "GIGAZINE Manga Award" application guidelines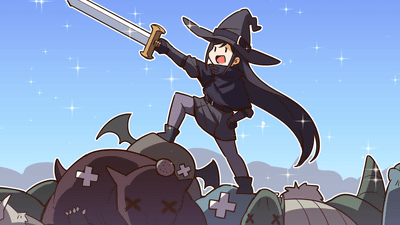 I have already read the application guidelines, so apply anyway! IsApplication FormThank you.
◆ Click here for the original script application guidelines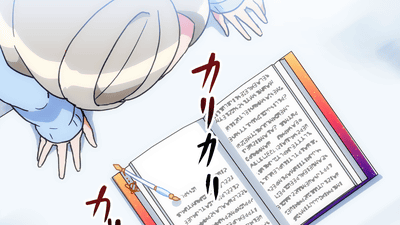 If you would like to apply in a novel or script format, please check the application guidelines from the link above.
◆ Recruitment of top pictures / illustrations for Grand Prize recruitment articles
We are also recruiting illustrations for the "Top Picture" of the "GIGAZINE Manga Award" which is also included in this article. Application requirements areFrom here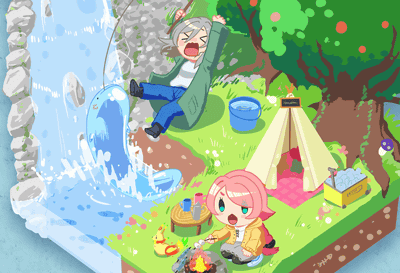 ◆ Top drawing illustration of the GIGAZINE Manga Awards for January 2020
The top illustrations for January 2020JizeroThanks for. A fantasy illustration with all the exciting elements laid out. The dazzling light of the day makes us feel the beginning of a new year.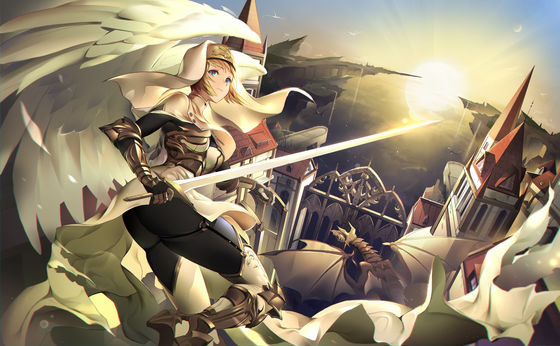 The following is the making of the illustration.
The big rough that I got first. The character's wings and costumes should be centered on the person so that they can be more easily understood, the contrast of the sun should be strong so that the eyes of the character can be seen because of the strong contrast, and it is difficult to adjust the perspective because of the attractive composition I asked them to reconfirm and made a color rough.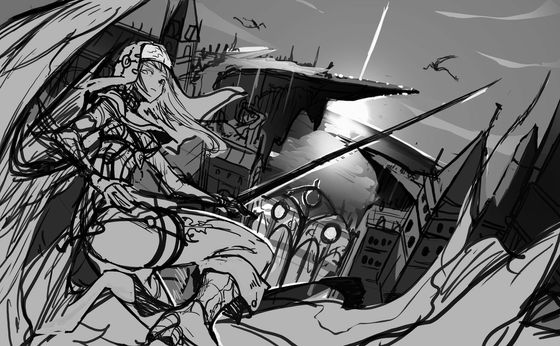 Final color rough. Jizero "Since it was January, I wanted to draw an illustration with a bright sunrise. I included a theme such as my favorite armored woman, fabric, and city, and I was conscious of the composition that felt a sense of distance. At that point, I've decided about the main color and light source. ''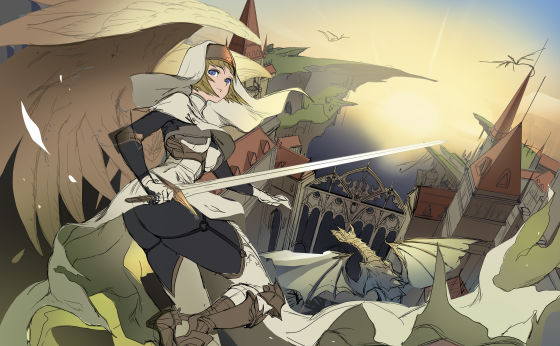 Jizero "I will prepare a line drawing based on the rough. I use a rough pen and draw roughly. I also put a touch where the texture is strong. Once the line drawing is finished, Separates the mask from character, background 1, and background 2. "
Jizero "I will proceed with shading coloring. I will determine the approximate impression and texture in monotone, not from color. I am aware of the feeling of air and the distance between objects, so that I can understand objects even in monochrome I'll paint on it. "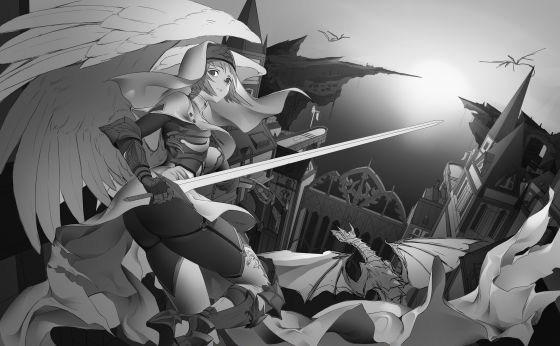 Jizero: "Add colors with an additive layer, referring to the color rough. Although it is still dull as a whole, if it is too bright here the colors will fly later, so prepare the whole in a dark state."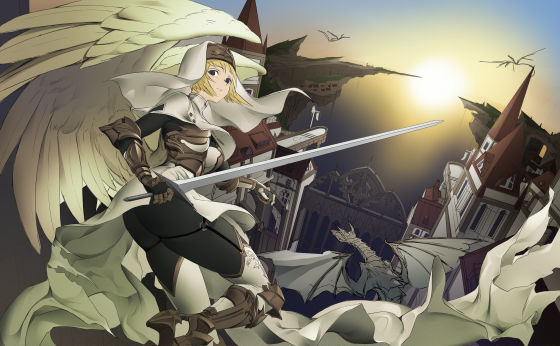 Jizero "We will check the overall impression and proceed not to draw too many parts. Be careful not to combine the background color with the character too much."
Jizero "I will add effects to the finish.
Also, I wanted to make the fabric fluttering in the wind, so I tried applying a glow effect to the fabric. After that, adjust until you like it, and you're done. ''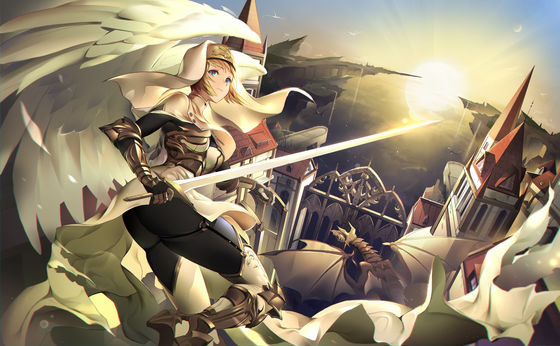 ◆ Recruitment of top pictures / illustrations for Grand Prize recruitment articles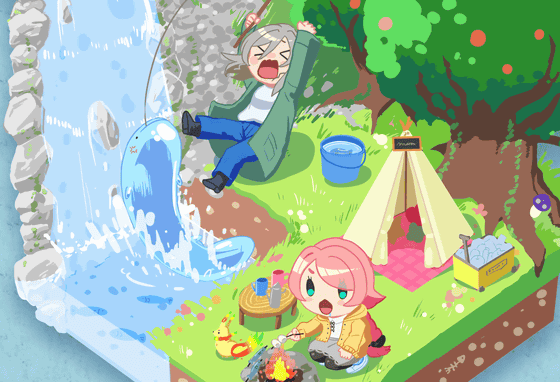 We are looking for illustrations of "top picture" as described in this article. After checking the following application guidelines,Application FormPlease contact from.
・ Contents:
Illustrations appearing at the top of the "GIGAZINE Manga Awards" recruitment articles posted at the beginning of each month, commonly known as "top picture"
・ Use:
Used for advertising and publicity of the "GIGAZINE Manga Award", including making.
Specifically, it will be used on SNS, such as the announcement article for the "GIGAZINE Manga Award" on GIGAZINE and the tweet of the announcement article.
In addition, e-books with multiple works are stored and distributed on Amazon's KDP as shown below.
GIGAZINE Manga Awards "Top Drawings" Illustration Collection 2019 Edition that Understands "Professional Perspectives" to Retake Illustrations | Kindle Store | Amazon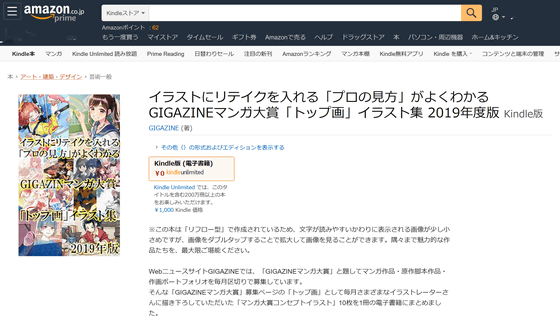 ・ Rights:
There is no need to transfer the copyright, and you will be required to authorize the following three terms: "Posting on GIGAZINE", "Advertising & Promotion of the GIGAZINE Manga Awards", and "Recording in e-books".
·Delivery date:
After asking the desired delivery date, we will consult with you, including "How many months of illustrations?"
・ Process:
"Rough draft" check → "Line drawing" check → "Coloring" check → "Complete" check.
Retake calculates additional rewards according to the number of times.
If you wish to use a process / process other than the above, please give priority to that process, so please fill out the "Other communications" form.
・ Reward:
Please specify the amount of reward you want in the application form. If it changes for each quality level, we would be grateful if you could paste that fact and a helpful image link.
・ Publication of achievements ・ Whether or not to be published in doujinshi and commercial art book of personal production:
Of course, there is no restriction on the use of copyright, so it is "postable". In that case, I would be very happy if you could add "Link to the GIGAZINE article at the time of first publication" and "Is drawn for GIGAZINE Manga Award".
・ Top picture of illustration for recruitment of grand prize ・ Illustration application form:
Click here (Please select " Top picture / illustration of GIGAZINE Manga Award recruitment article '' as the first choice)
◆ "GIGAZINE Manga Award" Application Guidelines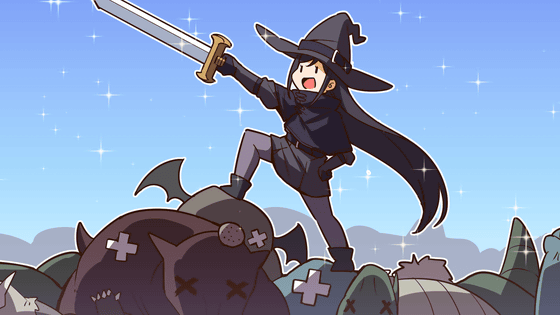 ・ Basic conditions:
・ It is assumed that it can be read with a smartphone (two-page spread, vertical scrolling standard)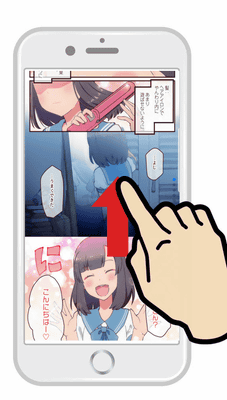 ・ Full color / Full digital (Black and white is treated as "original")
・ The genre is free.Finished manuscriptAnd itsMaking materialsThat. Making materials include character design, color settings, names, and drafts. Of course, there are also applications that have been drawn from the first episode to the last episode.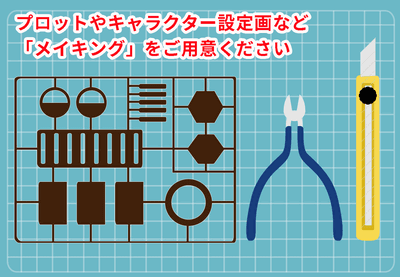 ・ Manuscript format:
Aspect ratio, file size, resolutionPrincess and gamerPlease refer to.
・ Number of manuscripts:
freedom. Any number of pages are OK.
・ Others:
・ There are no age restrictions, and we will perform various procedures so that minors can be cleared when awarded
・ Primary creation OK already announced on other media and platforms
-Works that have been published in magazines but have not been converted to books or that have been discontinued due to unfortunate circumstances on the way are OK. Please do not give up.
・ "Drawing only" is OK if you can show the portfolio URL and work collection. In the second stage judging, those who passed the first stage judging will be actually drawn with the trial original, and after passing, they will be passed to the final stage of voting.
·The deadline:
Friday, January 31, 2020, 23:59:59
・ Examination process: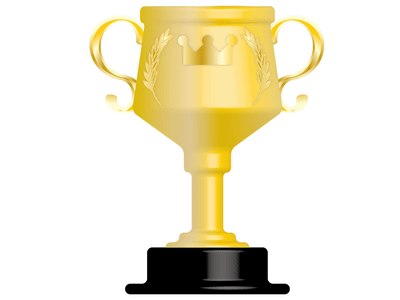 After the primary selection by the editorial department, the following screening process is planned.
First stage:GIGAZINE Secret ClubEvaluation in a closed environment that only members can view + Evaluation including making materials by the editorial department
↓
Second stage: After adding necessary items such as "Plot until the final story", review by the editor-in-chief. Looking at the potential of drawing to the end, if you can judge that you are going to run to the end, you will enter the final stage.
↓
Final stage: posted on GIGAZINE, score evaluation from access analysis results by GIGAZINE readers +GIGAZINE Secret ClubGrand prize winners are determined comprehensively, such as score evaluation by members + score evaluation by editorial department
・ Prize: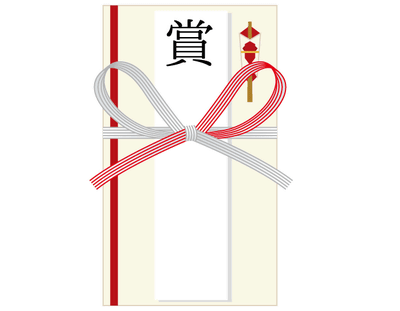 First of all, a prize of 10,000 yen will be presented to everyone who has passed the primary screening and selected in the first stage.
Next, an additional prize of 20,000 yen will be presented to everyone selected in the second stage.
And if the final prize winner is selected, a prize of 100,000 yen will be presented. If you do not reach the grand prize unfortunately, we will give you a prize according to the result in the form of "second run" or "winning".
* The total prize amount isIn a tax-exempt categorySo minors should be fine, you can win. We will do something even if there is no transfer account.
・ Flow after award
After publishing in GIGAZINE in a serialized format, it will be e-booked and sold on Amazon. We will pay the prescribed manuscript fee and royalties. GIGAZINE is also responsible for selling and advertising e-books.
・ Question reception form:
If you have any questions when applyingClick hereIt is okay if you can contact us. If a similar question continues, we will summarize it in the FAQ, so please understand and cooperate.
・ Manga Awards application form: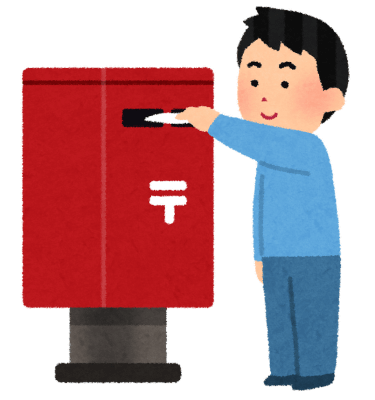 ◆ Original script recruitment guidelines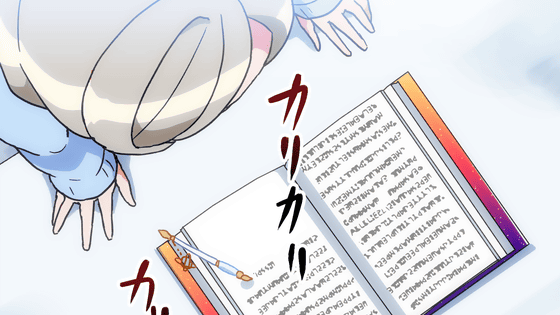 ・Episode 1 manuscriptIn addition to,Plot from episode 1 to final episodePlease prepare together.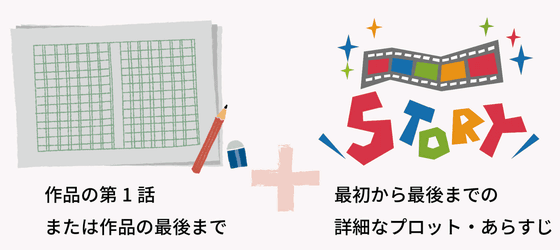 ・ In the first round of screening, we will look at the fun of a simple story and the perfection of one story. When proceeding from the second screening to the final screening, we will judge whether we can create a script written in a constant manner until the final episode.
・ In the case of "Original Only" and only text application, it is okay if you paste the body text into Google Doc and write the address of the shared link in the application form. In that case, please do not edit the document after applying.
Click here for application form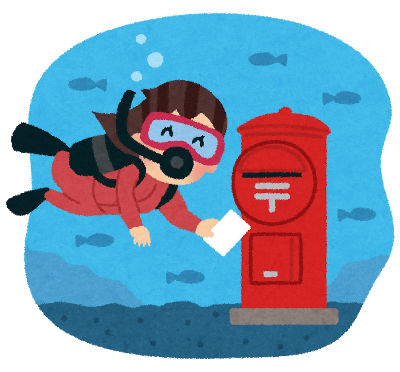 The selection process for the Manga Awards is "GIGAZINE Secret Club (GSC) Closed Judgment". Whether you are a GSC member or a member who is not yet a member, please take this opportunity to join the GSC and witness the birth of a future masterpiece. Registration for GIGAZINE Secret ClubHereFrom.
Then we look forward to the application of creators. Thank you.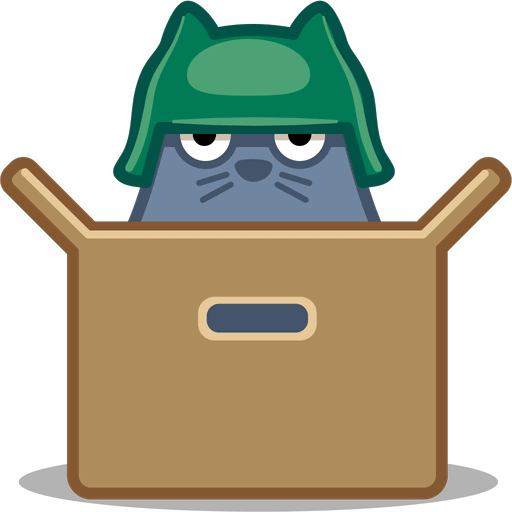 Copy the title and URL of this article
Source link