CASIO
"GRAVITY MASTER" supervised by G-SHOCK x HondaJet and Honda developers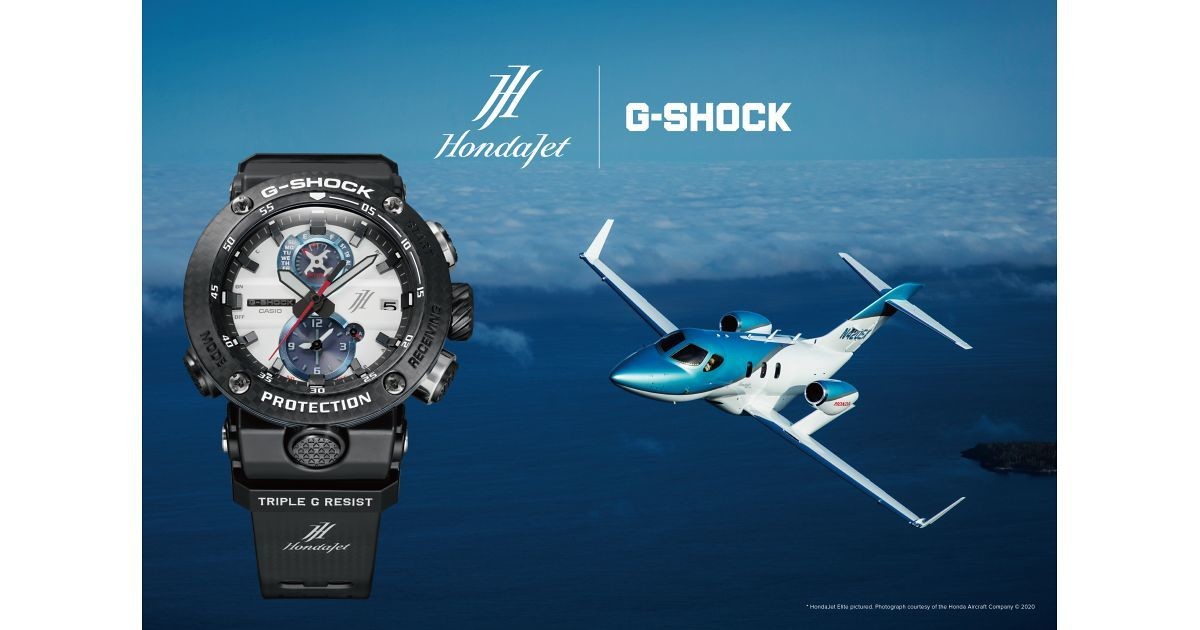 Casio Computer's shock-resistant watch "G-SHOCK" and Honda Aircraft Company's small business jet "Honda Jet Elite" collaborate. "GWR-B1000HJ" appears as a new G-SHOCK. Scheduled to be released in July, the price is 126,500 yen [tax included].
Not only the base model G-SHOCK, but also the popular series "MASTER OF G" that challenges the extreme to the end, the aviation concept "GRAVITY MASTER". Released in March 2019GWR-B1000Based on "," Mr. Michitaka Fujino, who is responsible for the design and development of HondaJet, supervises the design.
Based on the sketch drawn by Mr. Fujino, the indicator that imitates the body of Honda Jet Elite is adopted for the in dial at 12 o'clock. Also, with the fan blade shape of the engine as the motif, curved crown knurling was applied, and with the engine hood as the motif, the button pipes at 2 o'clock and 4 o'clock were mirror-finished.
The dial, crown and band carry the "HondaJet" logo, and the band at 12 o'clock shows the flight performance of the best-in-class HondaJet Elite. The design is full of details of the Honda Jet world. In addition, Casio designers visited the "Honda Jet Elite" aircraft in the United States and faithfully reproduced the white and metallic finish of the dial and logo.
Based on the base model, the basic specifications are equipped with a function to link with a smartphone via Bluetooth. Using the dedicated app, you can graphically and intuitively set the G-SHOCK time adjustment and world time. The flight log function that draws the trajectory of an air route is also interesting.
Source link