IT Lifehack
Great chance to win tickets that are hard to obtain even if sold out! Monster Energy x Coldrain "BLARE FEST. 2020" Ticket Present Campaign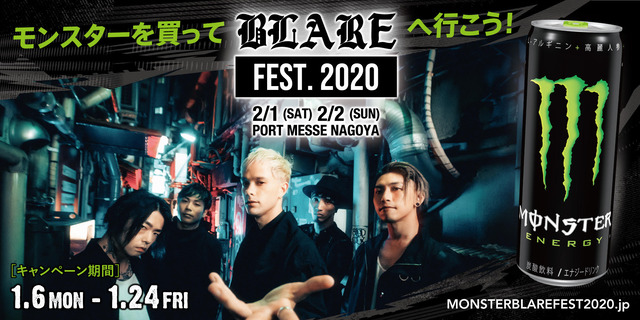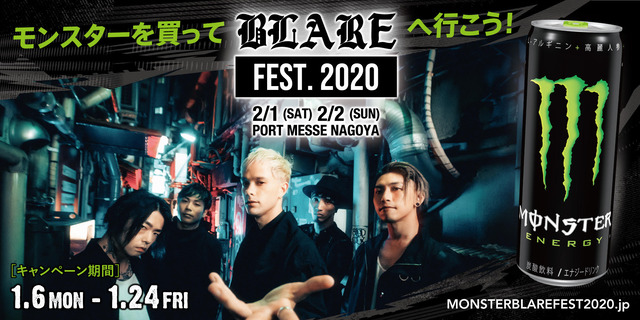 Monster Energy will conduct a campaign "Buy monsters and go to BLARE FEST. 2020!" From January 6 (Mon) to January 24 (Fri), 2020.

This campaign is a campaign where you can attach an image of the receipt of the purchase of the target product at each of the convenience stores that are the target of the campaign during the period and send it to the campaign site. "BLARE FEST. 2020" will be held at Port Messe Nagoya on February 1 (Saturday) and February 2 (Sunday) for a total of 20 sets of 10 (5 people each day, 10 people each) when 5 target products are purchased. 2020 collaboration T-shirts will be won by lottery for a total of 100 people if you purchase 3 paired tickets.
The live event "BLARE DOWN BARRIERS" (= break the walls with explosions) started in 2010 to gather an unusual lineup that is second to none in the whole country. Now that all walls have been broken, we will evolve into a large festival of 20,000 people x 2 days, and hold "BLARE FEST. 2020".
Don't miss the chance to participate in the memorable coldrain's first sponsored festival, where monster energy band MAN WITH A MISSION and a total of 35 super-luxury lineups in two days will be held together in Nagoya!
■Articles related to cultureI Read
・I shouldn't have watched it … I'm sorry to release the movie "Looking for Yutaka Ozaki" If you are an au Smart Pass Premium member, you can listen to Yutaka Ozaki Playlist, where you can listen to songs in the movie
・Create art using aibo! "Aibo x graphic art competition" held at Sony Square Shibuya Project

・Very active in the event of a disaster in addition to the outdoors! A compact "ZEEPIN portable power supply" with a capacity of 60,900mAh that can be purchased at the 20,000 yen level and supports 6 simultaneous charging and PD fast charging
・During the year-end and New Year holidays, heroes and squadrons are excited! Free live broadcast of special effects such as "Kamen Rider Den-O", "Samurai Sentai Shinkenger", "Battle Fever J" at Nico Nico
・Reiwa first held! " Ruby biz Grand prix 2019 '' to commend those who created new value by making good use of the Japanese programming language " Ruby ''

Asahi drink
2012-05-08
Asahi drink
2016-04-12