Headline
Holmes and lawyer dotcom partner to provide cloud sign as standard feature of Holmes Cloud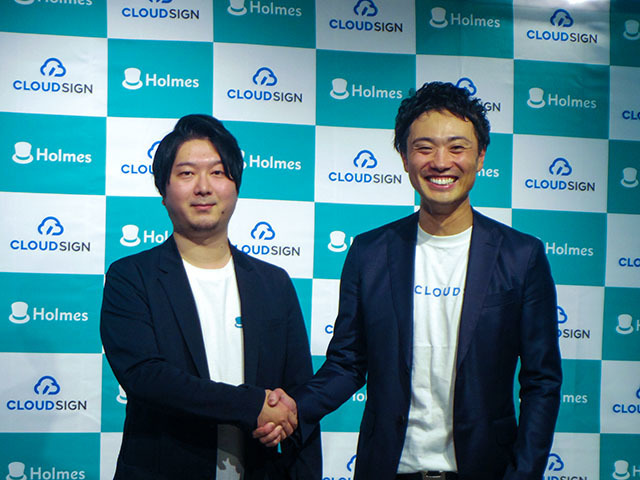 MesHolmes and lawyer dotcom announced on February 3 that the contract management system "Homes Cloud" and the electronic contract service "Cloud Sign" have entered into a business alliance. Provide the electronic signature function of the cloud sign on Holmes Cloud as a standard function. It will be available around fall 2020.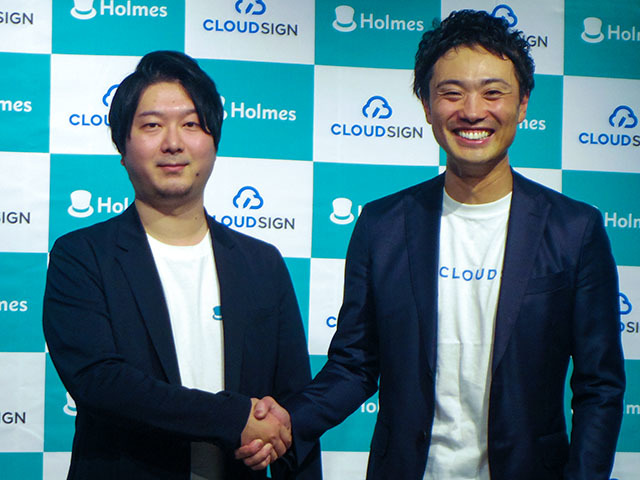 Mr. Daichi Tachibana [left], lawyer.com director and cloud sign division manager, and Kenta Sasahara, Holmes representative director and CEO. At the conference, they exchanged T-shirts with each other's service names and wore them

Holmes and lawyer dot-com have formed a business tie-up with the contract management system "Homes Cloud" and the electronic contract service "Cloud Sign"
Homes Cloud is an electronic contract system released in August 2017. "At the end of the trial, the client felt he wasn't happy with the money and effort, and many of the dispute and the trigger of the trial were in contracts," said Kenta Sasahara, a lawyer and representative director. We need to change the parts. "
On the other hand, Daichi Tachibana, a lawyer.com director and director of the cloud signing division, also has a lawyer qualification. "I run cloud signing because I want to use technology to make legal affairs better." By providing an electronic contract function with an electronic signature and a time stamp, it is possible to confirm "when / who / what has been contracted" and secure legal evidentiary power. This will reduce the time and effort required for contract work.
提携 With this alliance, Holmes Cloud will be equipped with the standard function of electronic contracts on Holmes Cloud, and Homes Cloud users will be able to use the electronic contract function of Cloud Sign. By realizing the optimal contract management by Holmes Cloud and the electronic signing of the cloud sign that guarantees legal evidence at the same time, it can provide a smooth contract conclusion business.
Sasara says, "Cloud sign has performance and functions that are sharpened like a sword that has been polished for about four years. From the user interface, pursuit of the optimal flow of electronic signature, cooperation such as ease of use behind the system, etc. So there is a big difference, such as the user interface. "
MesHolmes also has a similar electronic signature function, development continues, and users can select. If you sign up for Homes Cloud after implementing Cloud Sign and use the Cloud Sign's electronic contract function, the contract transmission fee is 200 yen per case. For those who already use Holmes Cloud, using the electronic signature function of Cloud Sign will not change the existing fee structure.
Sasara says, "Everyone is hard to touch and contracts are easy to pass on to specialists, which makes it difficult to handle and has become a technology-delayed field. It is important to work together in the field of contract management to resolve deep-seated losses. "
Source link