Andorid
I tried touching a palm-sized smartphone " Rakuten Mini ''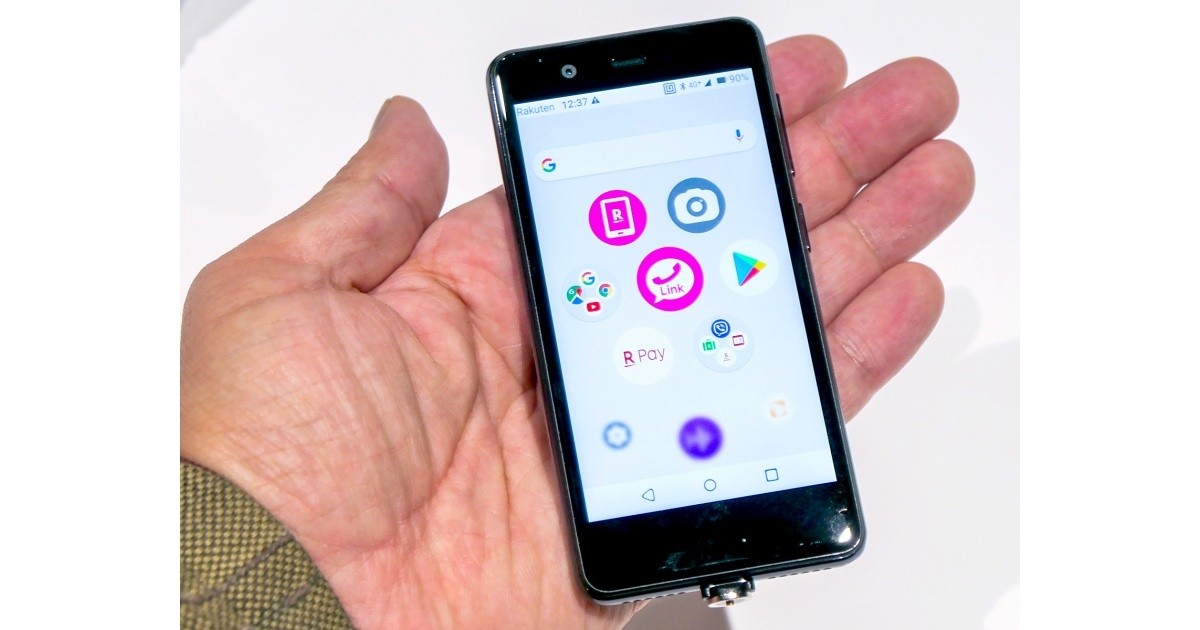 The first original smartphone "Rakuten Mini" announced by Rakuten Mobile. I was able to touch the actual machine at the recital, so I checked its compactness. The price is 21,800 yen [tax included] in one-time payment. If you are a free supporter program user, you can get 18,000 Rakuten Super Points as a purchase at the same time as a contract, and save even more.
Rakuten MiniIs the first smartphone for Rakuten Mobile that is targeted at free supporter program participants. It will be pre-released at six stores including the Rakuten mobile shop Ebisu store opened on January 23. In addition to being sold to the general public at this time, "Crimson Red" with a red body color will be released after April.
The feature is its compactness. Approximately 106.2 × 53.4 × 8.6 mm thick and weighs about 79 g, the palm size is only slightly longer than a credit card. Lightweight and compact body that can be pinched and held with your fingertips, so you can easily carry it anywhere.
The display is a 3.6-inch liquid crystal with a resolution of 1,280 x 720 dots. SoC is Qualcomm Snapdragon 439, memory is 3GB, storage is 32GB. Although it is low-end in terms of specifications, the screen size is small, so it is not a terminal that plays hard games. For applications such as calling, SMS, and email, it should be fine.
The main camera is a single lens with 16 million effective pixels. The image quality has not been confirmed, but it works lightly. The front camera has 5 million pixels.
The feature is that not only the main body is small but also FeliCa is installed. It is the world's smallest and lightest FeliCa-equipped smartphone [Rakuten Mobile research]. Of course, it supports Rakuten Edy, and as an Osaifu-Keitai, you can also use electronic money such as Mobile Suica, WAON, iD, QUICPay, and Google Pay. Sometimes you only carry your smartphone instead of a wallet, but the Rakuten Mini is like a small wallet and very compact.
It is an inexpensive model, but uses a USB Type-C terminal for charging. Although the battery capacity is small at 1,250 mAh, the power consumption is low because the screen size is small. The continuous standby time is about 160 hours, and the continuous talk time is about 5.4 hours. Voice calls also support VoLTE from Rakuten Mobile.
In addition, it has waterproof performance equivalent to IPX2 and dustproof performance equivalent to IP5X. The waterproof performance is the level of waterproofing in everyday life, but it is safe even with wet hands. It does not have a fingerprint sensor, but supports face recognition.
Another feature is that it supports eSIM. eSIM is a mechanism for distributing contract information via a network, which eliminates the need for a physical SIM, and has the advantage that MNP and model changes can be easily performed. There are not many service providers, but in Japan IIJ and other companies provide service, and there are service providers overseas.
In the case of Rakuten Mini, there is no physical SIM and the eSIM is a single SIM, so multiple contracts cannot be shared. However, the removal of the physical SIM tray seems to contribute to the compactness of the main unit. According to Rakuten Mobile, it complies with the eSIM standard, so it should be possible to write other companies' eSIMs.
Currently, only users of the free supporter program can purchase the Rakuten Mini, but this program can be used as an unlimited data communication and can be used as a substitute for a router [up to eight tethering]. It seems to be useful because it is small enough not to be a luggage.
Rakuten Mobile will continue to prepare original smartphones following the Rakuten Mini. If these niche devices can be deployed more and more in order to bring out the characteristics of new entrants, the industry as a whole will be excited.
Source link