IT Lifehack
Ideal for storing A4 size documents! Security box with key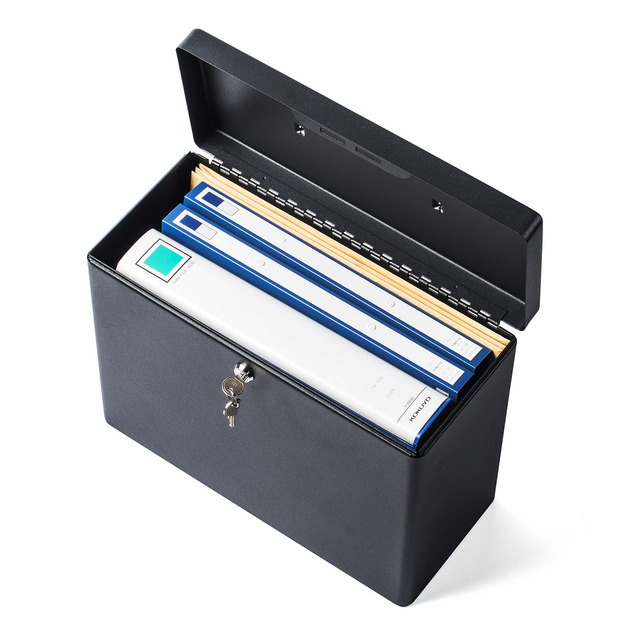 Sanwa Supply Co., Ltd. has released the "SL-86" security box with a key, which is ideal for storing A4 size documents.

■ Security box with key
The "SL-86" is a security box with a key that can store and store A4 size documents and files.
If it is A4 size, even a ring file can be stored as it is. If the file thickness is 60 mm, you can store 2 books, if it is 30 mm, you can store 4 books, and if it is 15 mm, you can store 9 books.
This product has a key as a measure against theft and information leakage, and is recommended for use for managing and storing important data.
Furthermore, by attaching a security wire such as "SLE-32S" manufactured by Sanwa Supply (sold separately) through the handle of this product, it helps prevent the box itself from being stolen or lost.
The material is a sturdy steel material, so it protects the stored items firmly.
The A4 file size makes it easy to manage and store on shelves and racks, so it can be stored anywhere. As it has a handle, it can be easily carried.
■Security box with key "SL-86"
■Articles related to IT businessI Read
・You can go up and down the stairs with heavy luggage on it! Electric trolley "Lightweight electric staircase trolley 60"
・Toyo Seikan Group exhibits new products and technologies of "containers" that will create the future of a low-carbon society
・M & A between Tokai Pipe Works and Ishii Equipment Industry was concluded in 7 months through M & A Research Institute.
・Environment, earthquake reconstruction, children, disabilities. RISTEX that promotes the development of solutions for all social problems
・A ridiculous speed online exhibition where 50 companies are known for work change services in 180 minutes