iPhone
I'm worried about the microphone that appears in the upper left for a moment when the app is closed!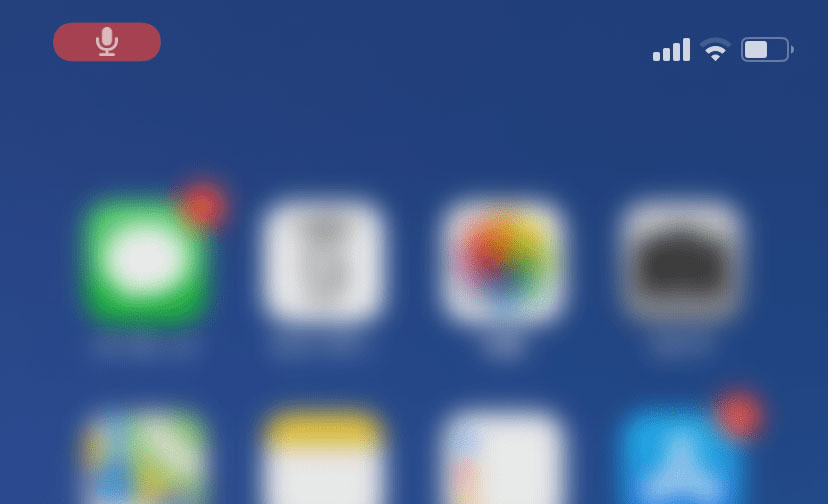 When you close the app, a microphone is displayed at the left end of the status bar at the top of the home screen. Isn't it probably that the microphone is displayed in white in the red capsule-shaped area? If so, that means it's an app that uses the microphone.
On iOS, you can allow the app to use the microphone. When the app is installed and the function of the microphone is used for the first time, the dialog "◯◯◯ wants to access the microphone" is displayed and the user is requested to use the microphone. The app can now access the microphone, record ambient sounds, and accept voice commands.
The apps that have access permission are registered in "Settings" → "Privacy" → "Microphone", and a switch to change the access authority to the microphone along with the application name is prepared. Apps that want to revoke permission to the microphone can revoke permission at any time on this screen.
Applications that have been granted permission to use the microphone in this way will display the microphone icon in the status bar when using the microphone function. Except for apps that can run in the background, closing the app will terminate access to the microphone and the icon will disappear, but there is a timing lag with the animation that shrinks the app screen, and as a result, the status bar The icon of is noticeable.
In other words, showing the microphone is not a problem at all, but it is a proof that iOS properly manages access to the microphone. Even if you wonder why this app needs to use a microphone, there are quite a few things I could tell that I was accessing the microphone to wait for voice commands.
Source link