Headline
"Insta360 ONE R" action cam that allows the camera to "separate and unite"-joint development with Leica
StaInsta360 unveiled a new action camera "Insta360 ONE R" on January 7th, which can change cameras for each application. The company also announced a strategic partnership with Leica.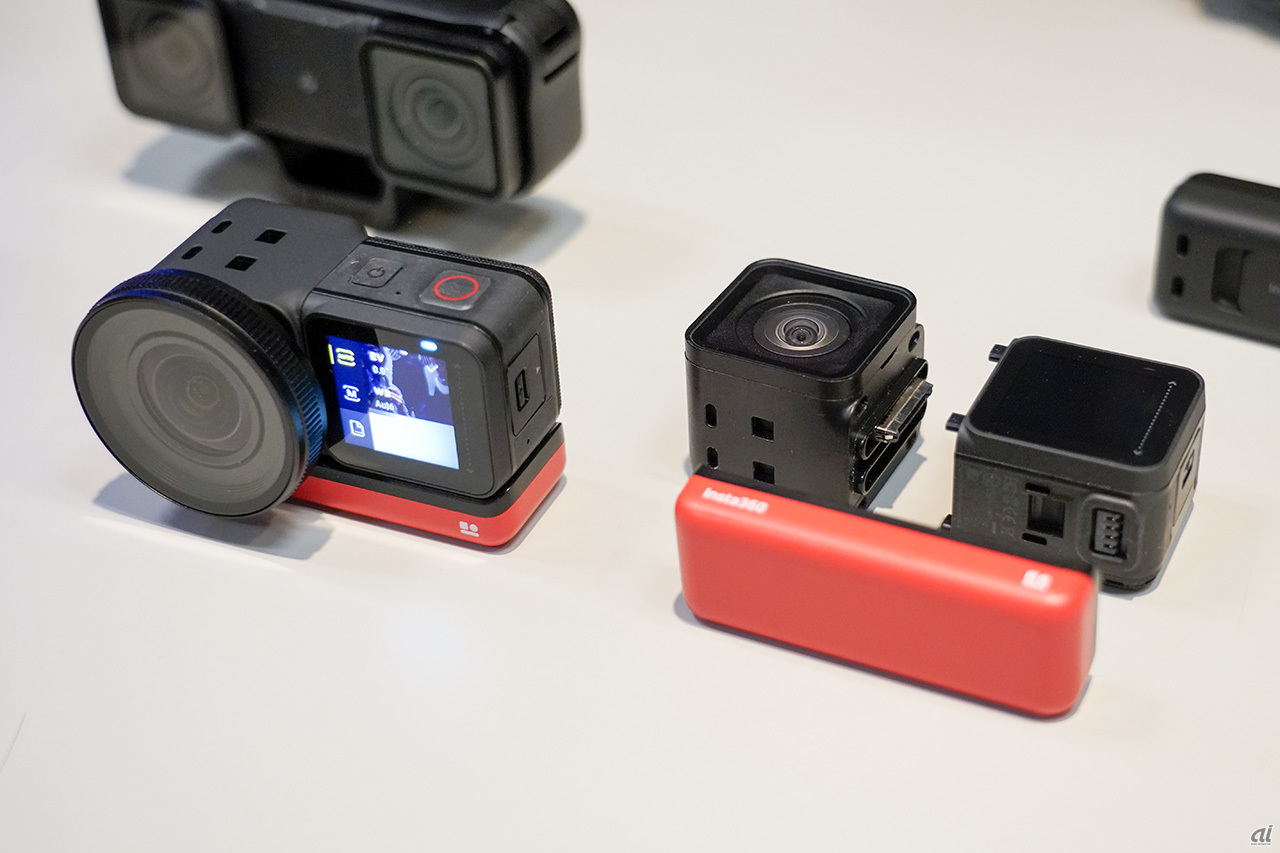 "Insta360 ONE R" where camera, liquid crystal and battery are separated and united. The part corresponding to the orange base is the battery module
https://www.youtube.com/watch?v=7U1avxD-Odc [/ embed]
Insta360 ONE R is the same size as GoPro and DJI's Osmo Action, but consists of a camera module, an LCD module equipped with operation buttons and a MicroSD card slot, and a battery module, and replaces the camera as necessary Action cam that can do. Despite being a module type, it has a waterproof function up to a depth of 5 m with only the main body, and a diving case that supports up to 60 m is also available.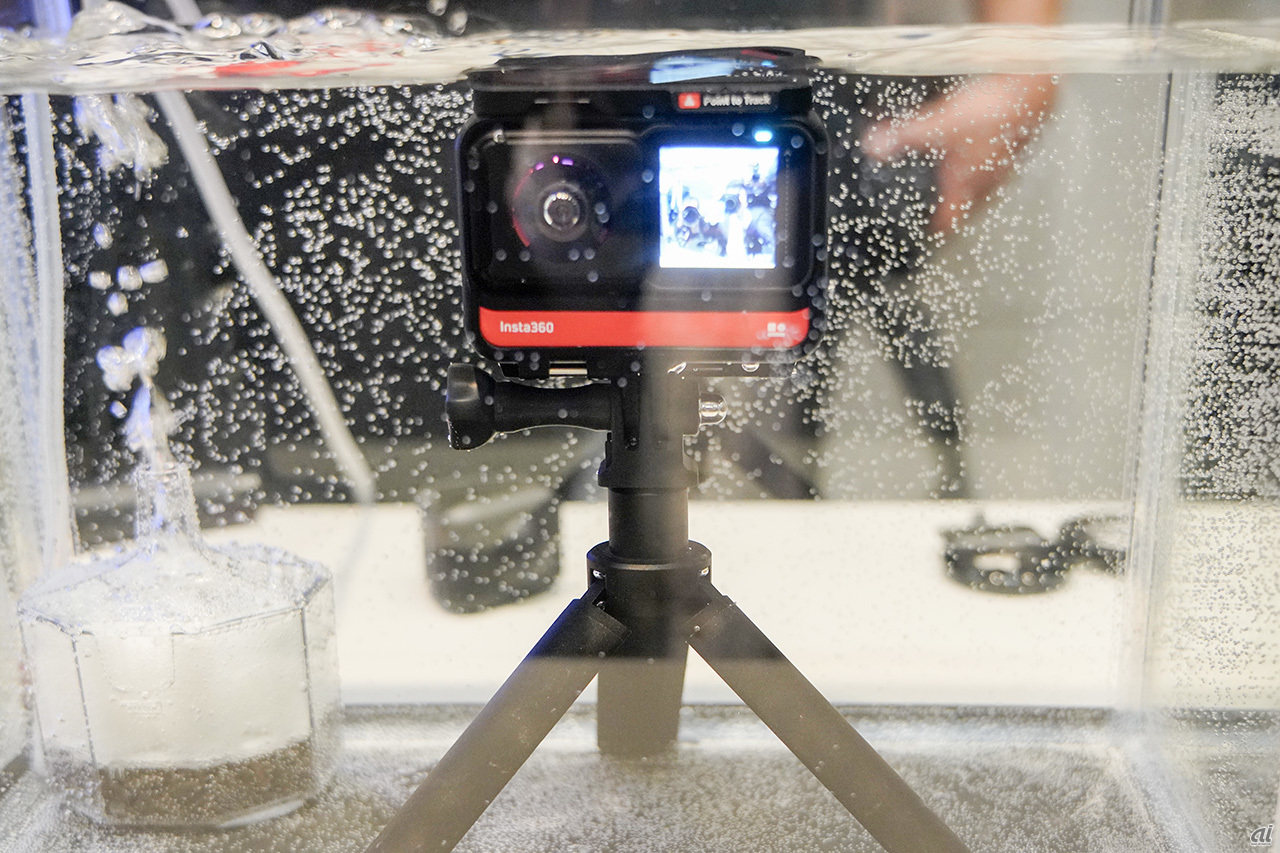 Despite the specifications that can be separated and united, it can dive to a depth of 5 m with only the main body
There are three types of camera modules, including a 4K wide-angle module for wide-angle shooting, a 360-degree camera with a super-wide-angle lens on both sides, and a large 1-inch sensor as an action cam. There is a 1-inch wide-angle module that can shoot at 5.3K. The 1-inch wide-angle module is jointly developed with Leica, and the lens is engraved with "SUPER-ELMAR-A".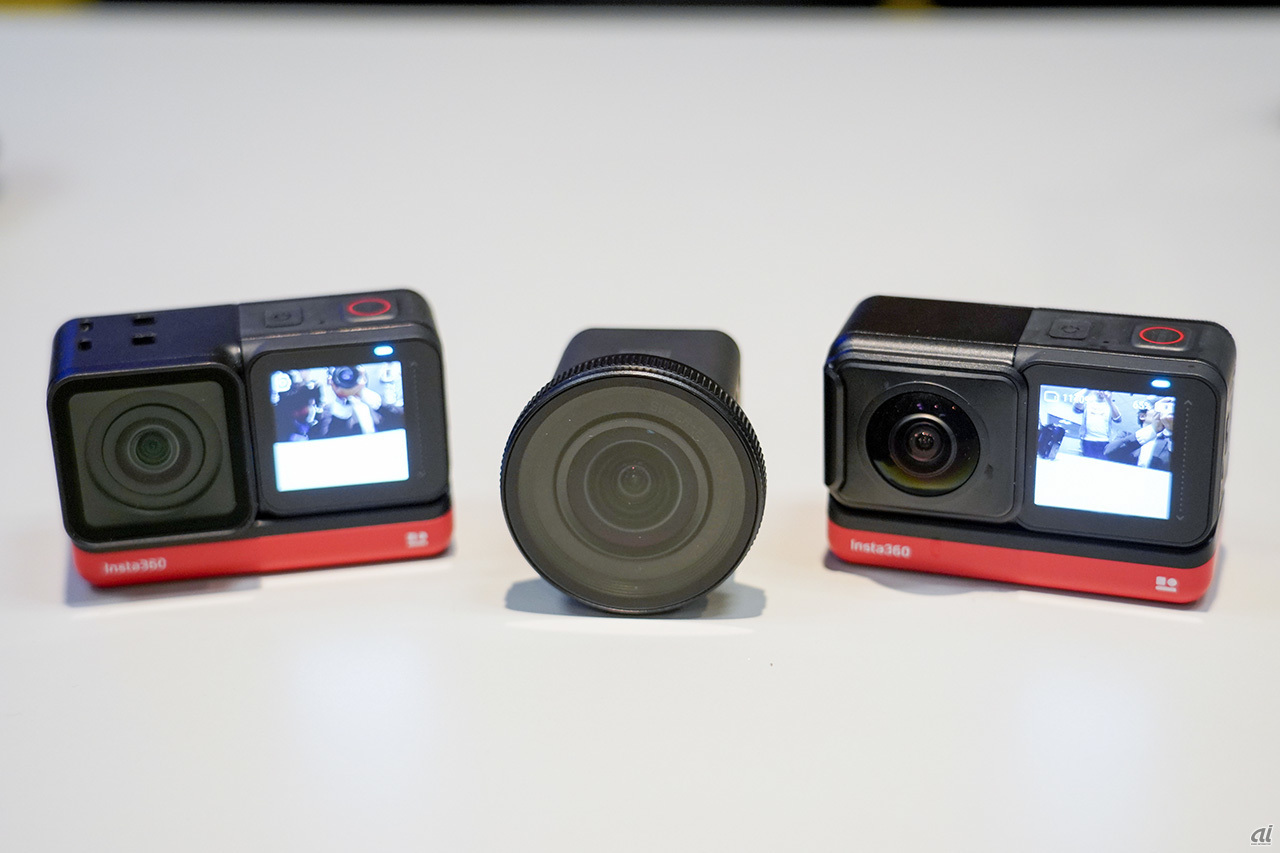 [From left] 4K wide angle module, 1 inch wide angle module, 360 degree module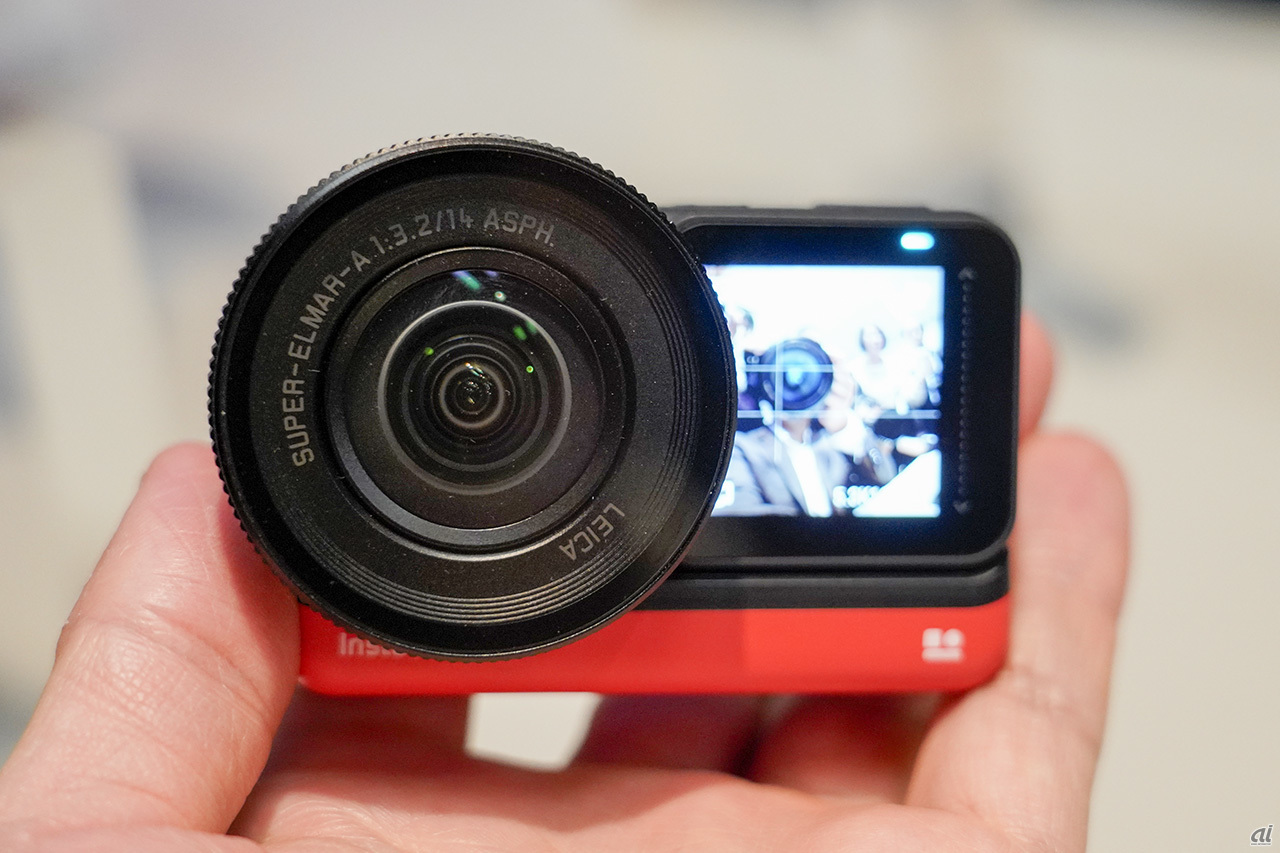 1-inch models are engraved with "SUPER-ELMAR-A"
The price is 39,600 yen including tax for the "Insta360 ONE R 4K version" that comes with only a 4K wide-angle module. Includes two modules, a 360-degree module and a 4K wide-angle module.Insta360 ONE R twin versionIs 59,400 yen including tax. Includes a 1-inch wide-angle lens jointly developed with LeicaInsta360 ONE R 1 inch version"Is 68,200 yen including tax.
"Night Shot Mode" for powerful image stabilization
と し て The image stabilization algorithm called "FlowState" has been enhanced as a camera shake correction technology required for action cams. In addition to normal shooting, even 360-degree shooting can shoot smooth images as if they were mounted on a gimbal. It also claims that the smart scene detection algorithm improves the performance of image stabilization even in dark places, and also has a "Night Shot Mode" similar to the "Night Mode" of smartphones. You can take bright photos without blur even in the dark.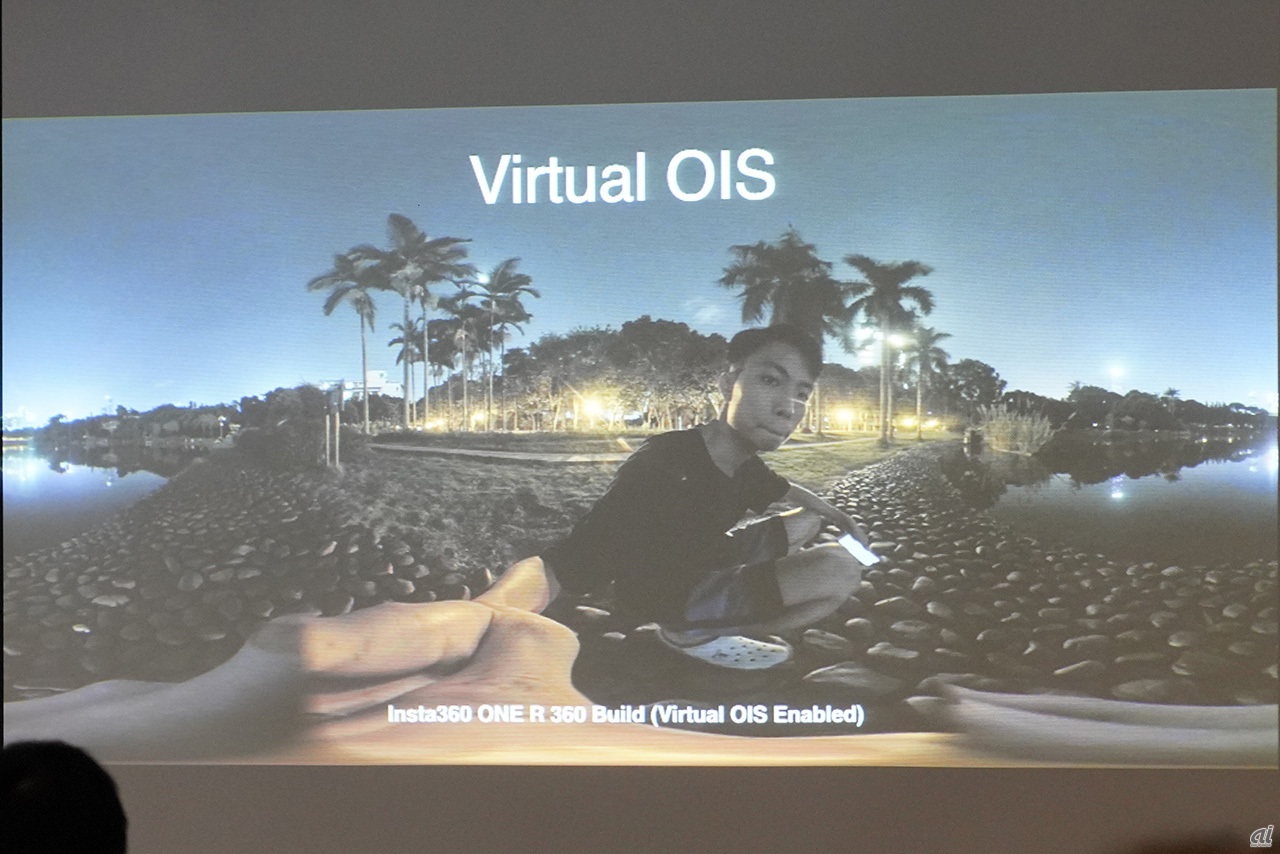 Capable of shooting bright 360-degree still images even at night
ほ か All camera modules support HDR shooting of still images and videos, and the two built-in microphones are equipped with an automatic noise canceling function. In addition, a 3.5mm microphone made by Third Patty can be attached by using an accessory shoe. In addition, it is equipped with "star lapse mode" that can shoot video with the trail of stars. You can shoot a dynamic 360-degree timelapse of the night sky just by pressing the shutter.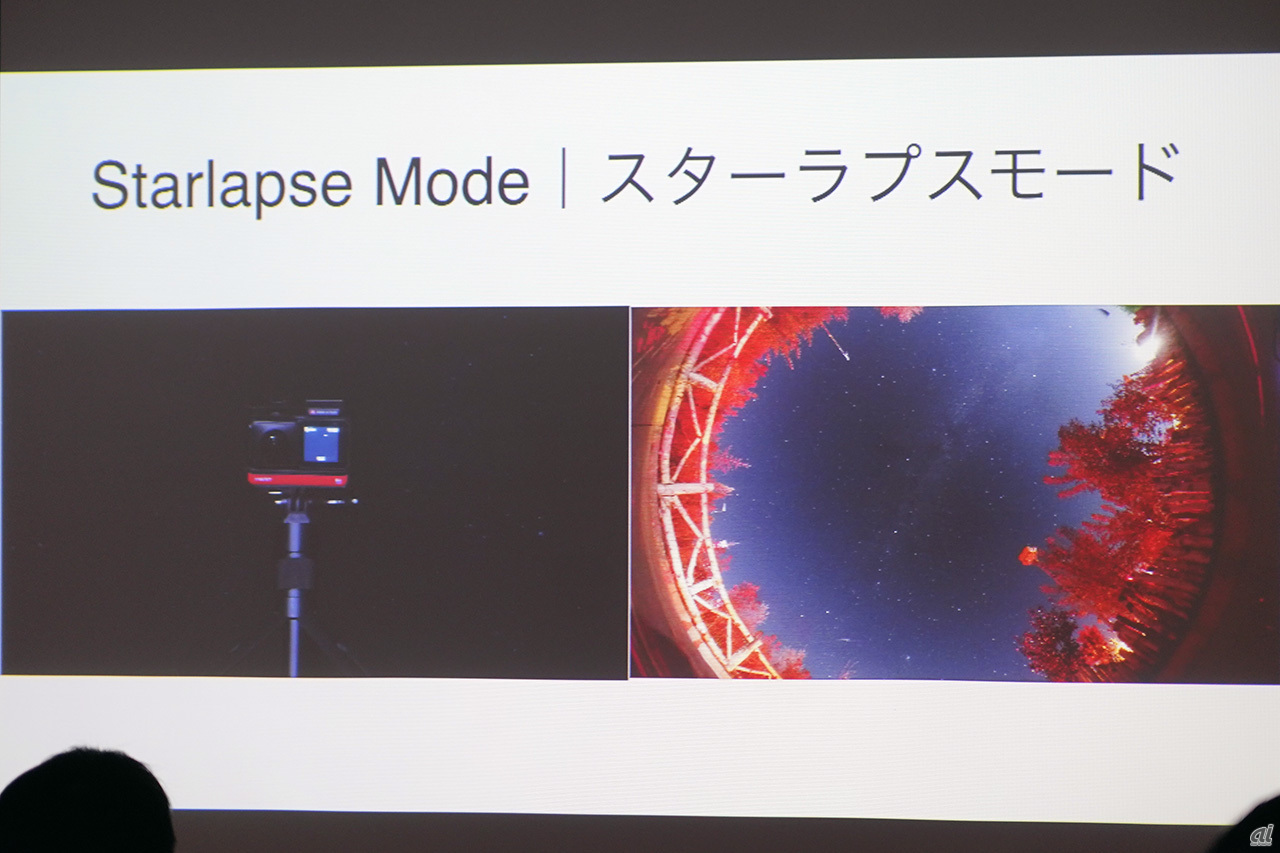 " Star lapse mode '' that can capture the time lapse of stars
Easy editing with various AI functions
The advantage of 360-degree shooting is that it covers all angles of view, but if you try to edit it, you may have trouble cutting out the scene. This ONE R has an "auto frame" function that analyzes scenes in each direction and automatically selects the most interesting moments and angles. In addition, a "Deep tracking" function that automatically locks the subject to the center of the frame by simply tapping and selecting the subject is also implemented. You can also start Deep tracking by typing "Mark that!"
サ ポ ー ト In addition, by supporting video editing in the camera, it is possible to transfer Wi-Fi to smartphones without wasting unnecessary cuts, reducing capacity and time. Editing function added to smartphone application. Equipped with time shift, editing with just a few taps, a hyperlapse effect, a "pose detection algorithm" that detects the same pose from all frames, and a "FlashCut smart edit" function that recognizes content. Select shots based on themes such as food, travel, and pets. It is said that it edits automatically according to the rhythm of music.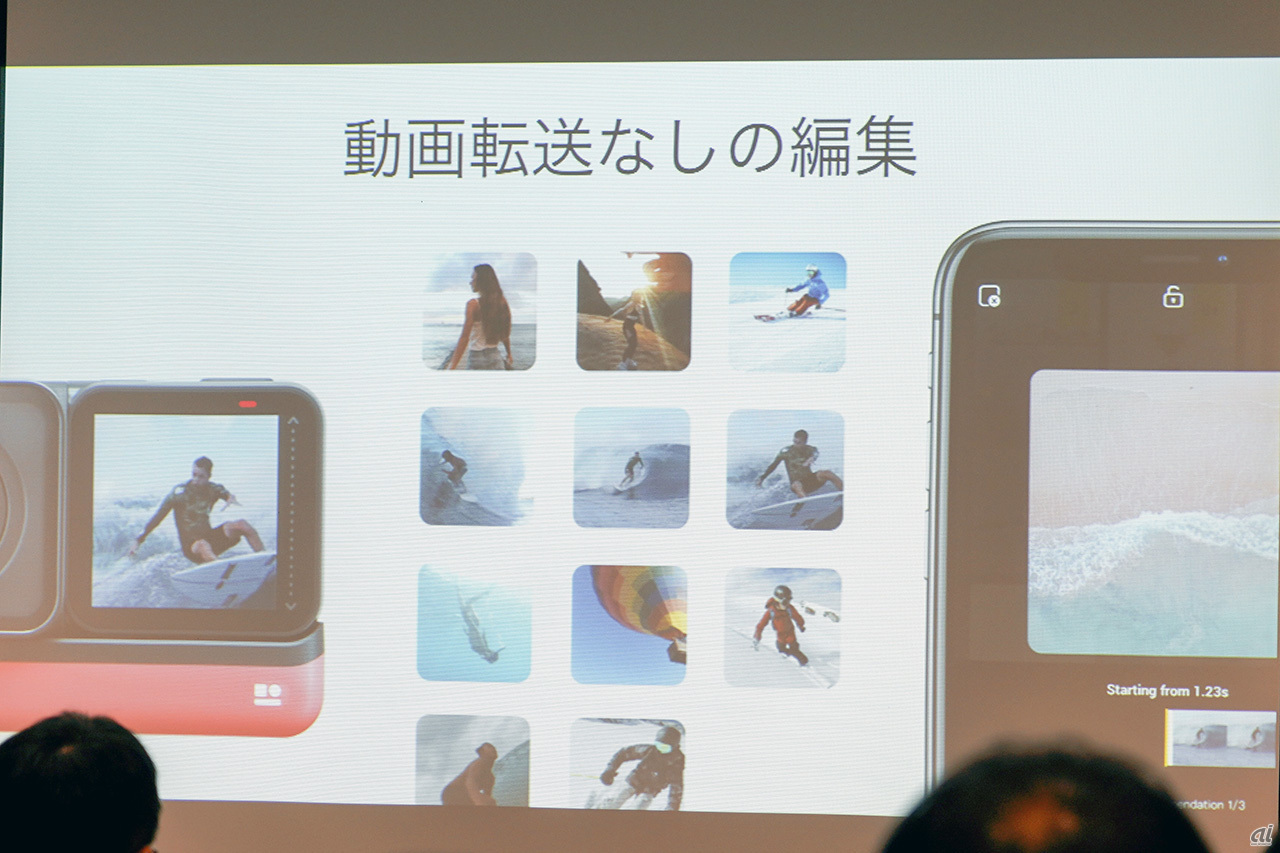 In-camera editing reduces Wi-Fi transfer time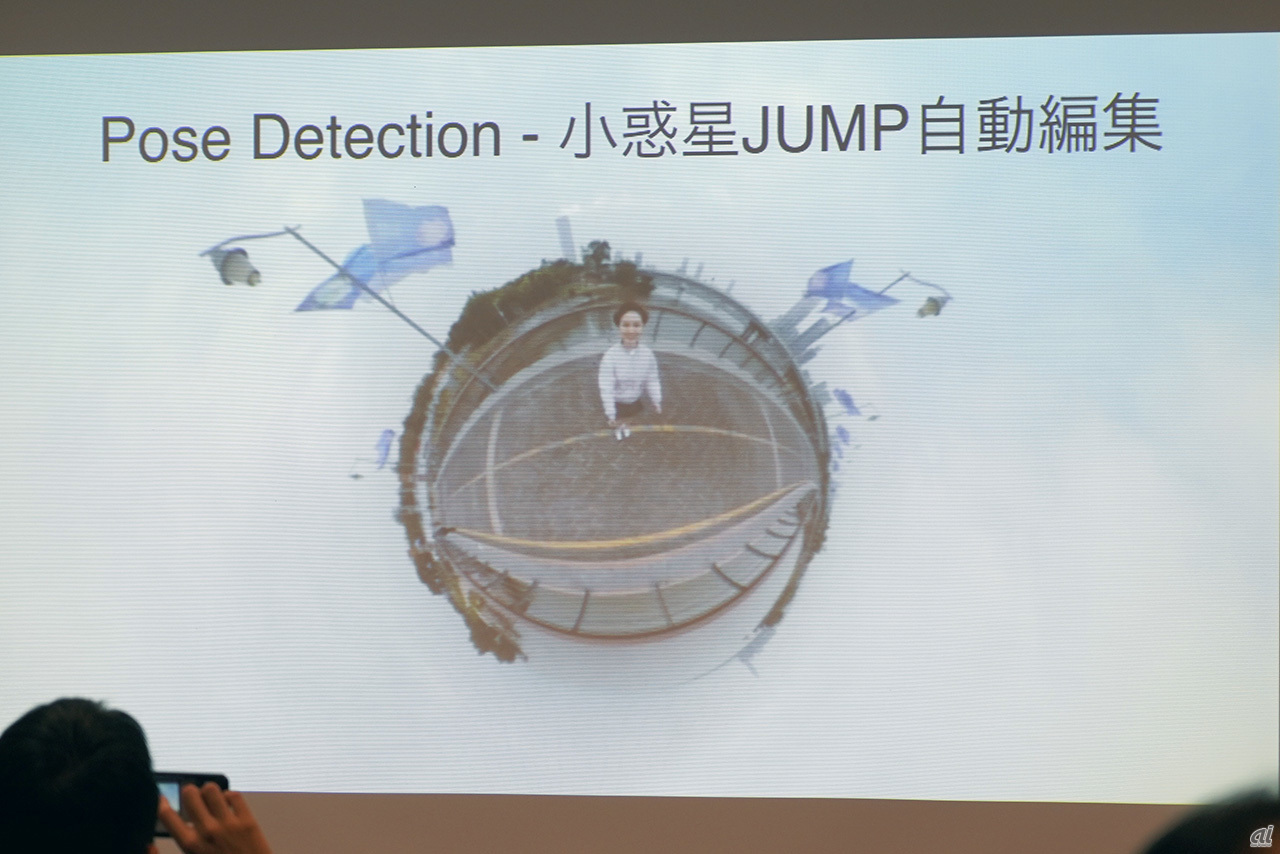 There is also a function such as "automatic asteroid JUMP editing" unique to 360 degree cameras
Three types of lens modules
ス ペ Specifications are different for each camera, and the wide-angle 4K lens supports shooting at 4K / 60fps and 1080p / 200fps [8x slow motion]. In addition, it supports still image shooting at 4000 x 3000 pixels [12 million pixels] and moving image recording at 30 fps. The lens is 16.4mm in 35mm conversion and the F-number is 2.8. In addition, it has a reversible design, and the touch screen can be mounted upside down. Furthermore, 3D shooting is possible by using two wide-angle 4K cameras.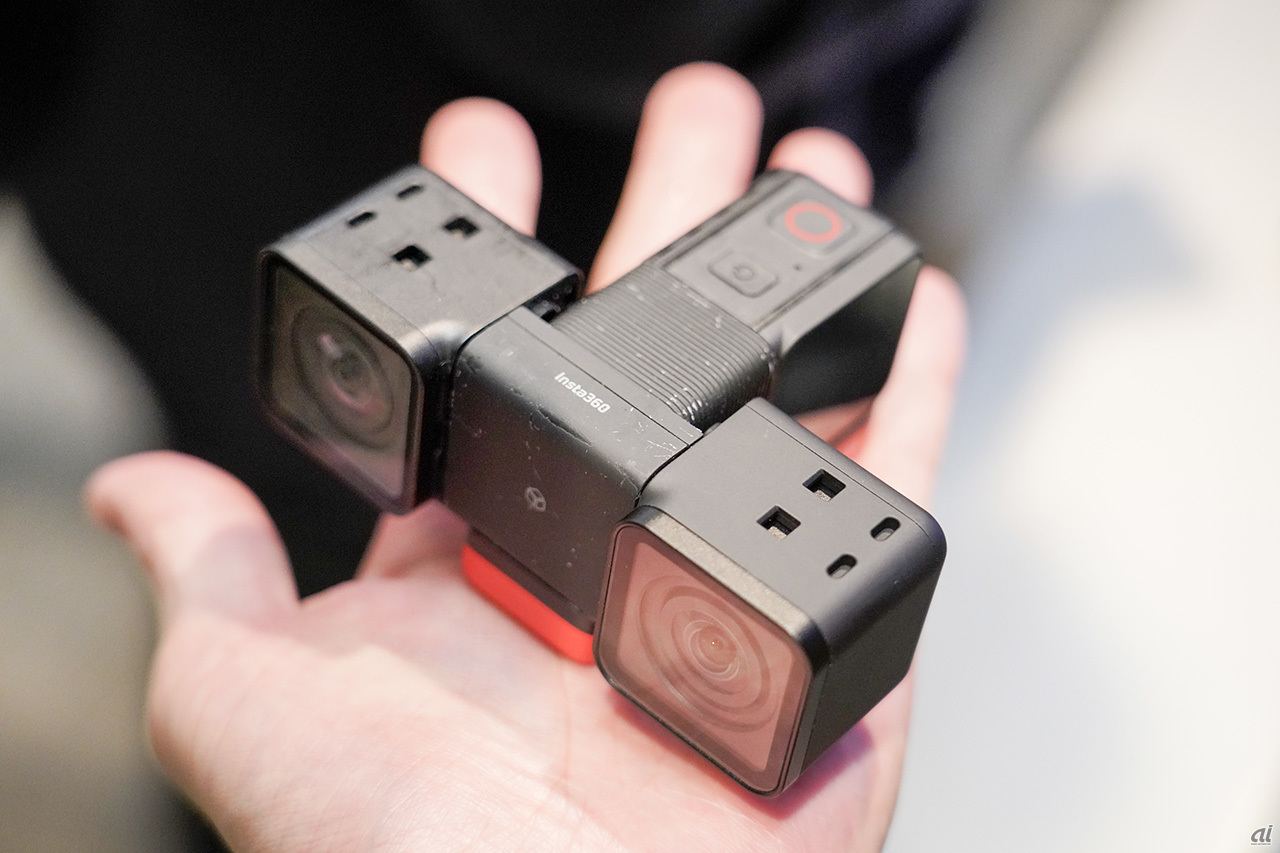 If you use an adapter that can fix two 4K wide-angle modules on the front, fix the liquid crystal unit behind and the battery unit below, it turns into a 3D camera
The 1-inch wide-angle module works closely with Leica in optical and industrial lens design to reflect the knowledge that Leica has accumulated, such as image quality and color reproduction. The lens is 14.4mm [F3.2] in 35mm conversion. In addition to shooting still images at 18.8 megapixels [RAW compatible], it also supports shooting at 5.3K / 30fps, 4K / 60fps, and 1080p / 120fps.
360 degree module supports video shooting at 5.7K / 30fps. High-speed shooting can be done at 100fps with 3008 x 1504 pixels. The lens is 35mm-equivalent 7.2mm [F2.0]. It also supports RAW still image shooting and bullet shooting. All camera modules support HDR video and LOG shooting. The video bit rate is up to 100Mbps. A live streaming function is also planned to be implemented and will be released soon.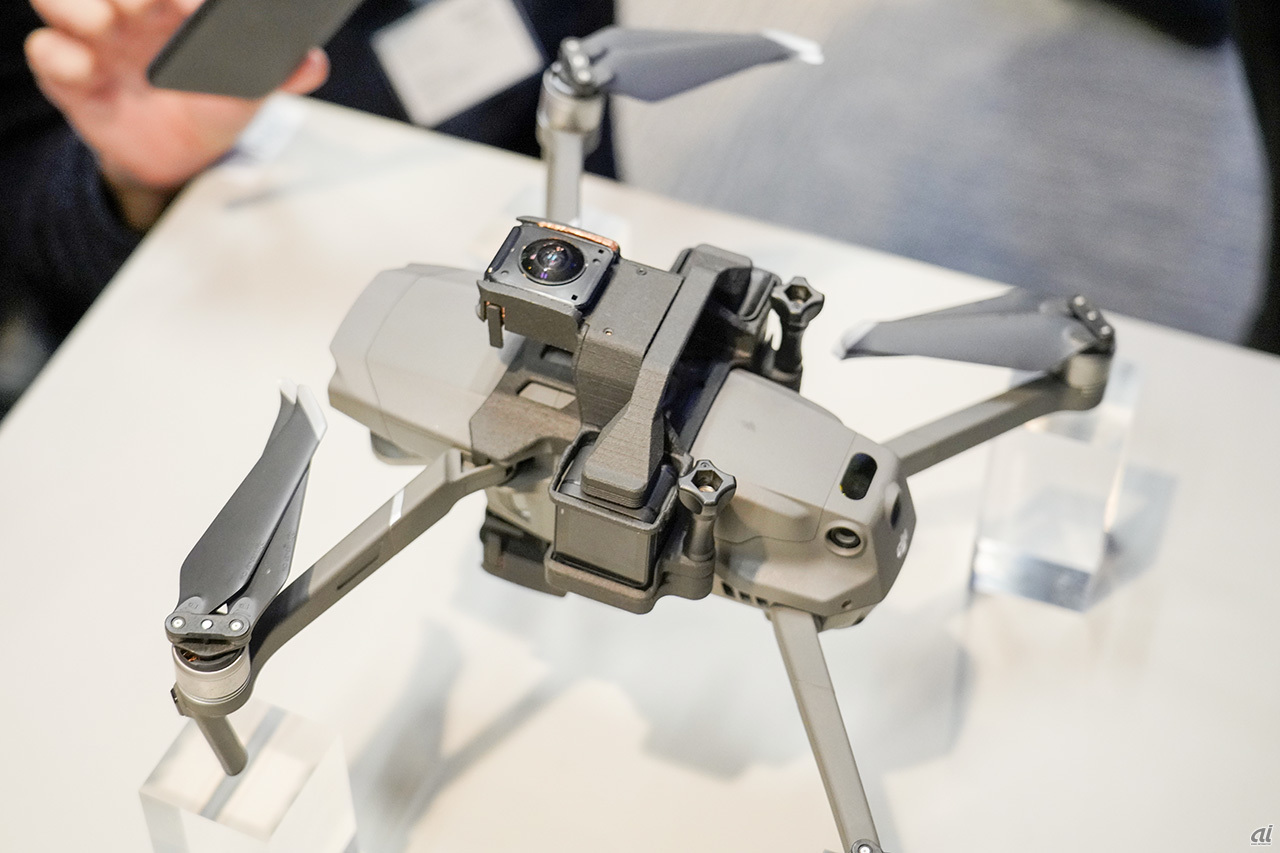 Drone module will also be provided
ス マ ー ト フ ォ ン Smartphones that can use all functions such as AI smart editing are iPhONE 8/8 Plus / X or more on iOS devices. For Android devices, Qualcomm Snapdragon 845, Exynos 9810 [mounted on Galaxy S9, etc.], Kirin 980 [mounted on Huawei Mate 20 and P30] and above. In addition, although it can be used with smartphones with lower specifications, it is said that there is a possibility that some functions such as AI functions can not be used or processing speed will be slow.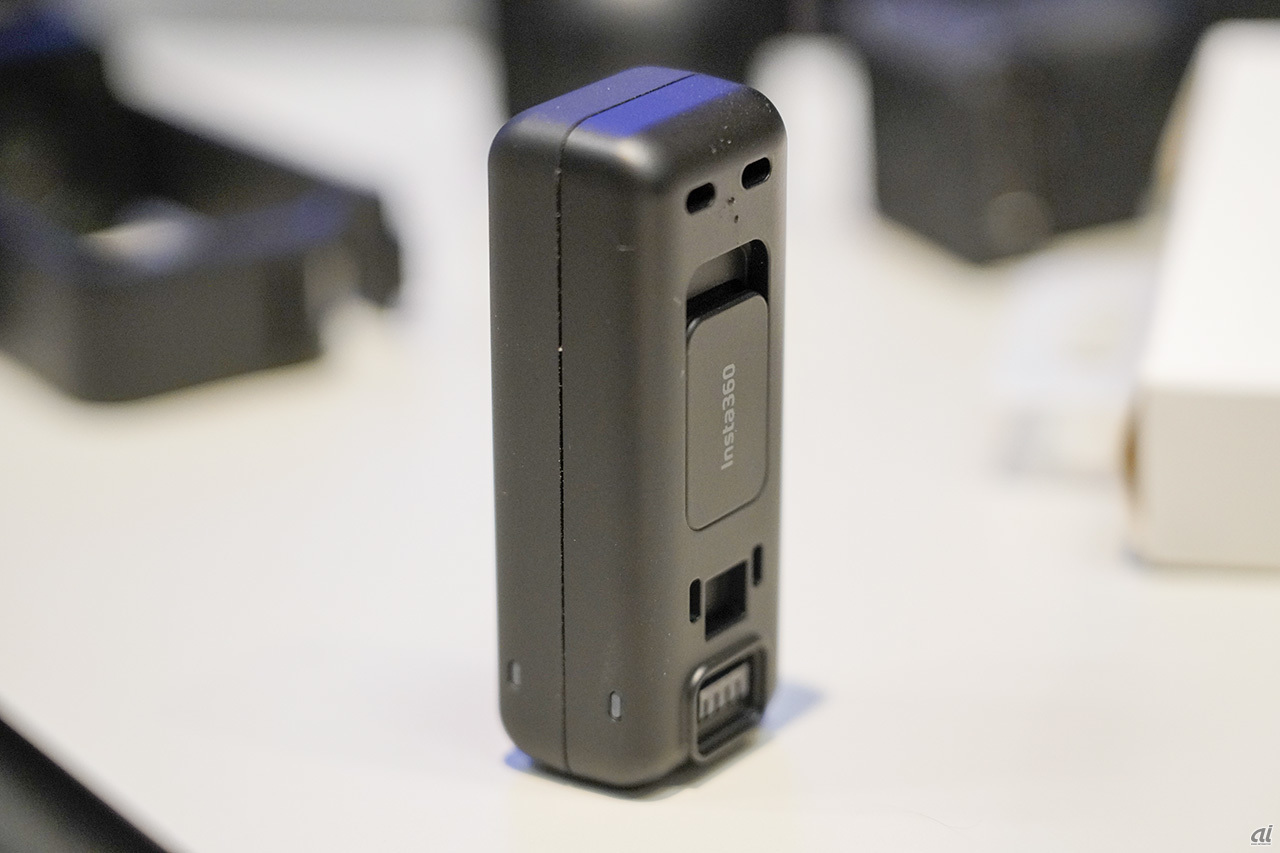 battery charger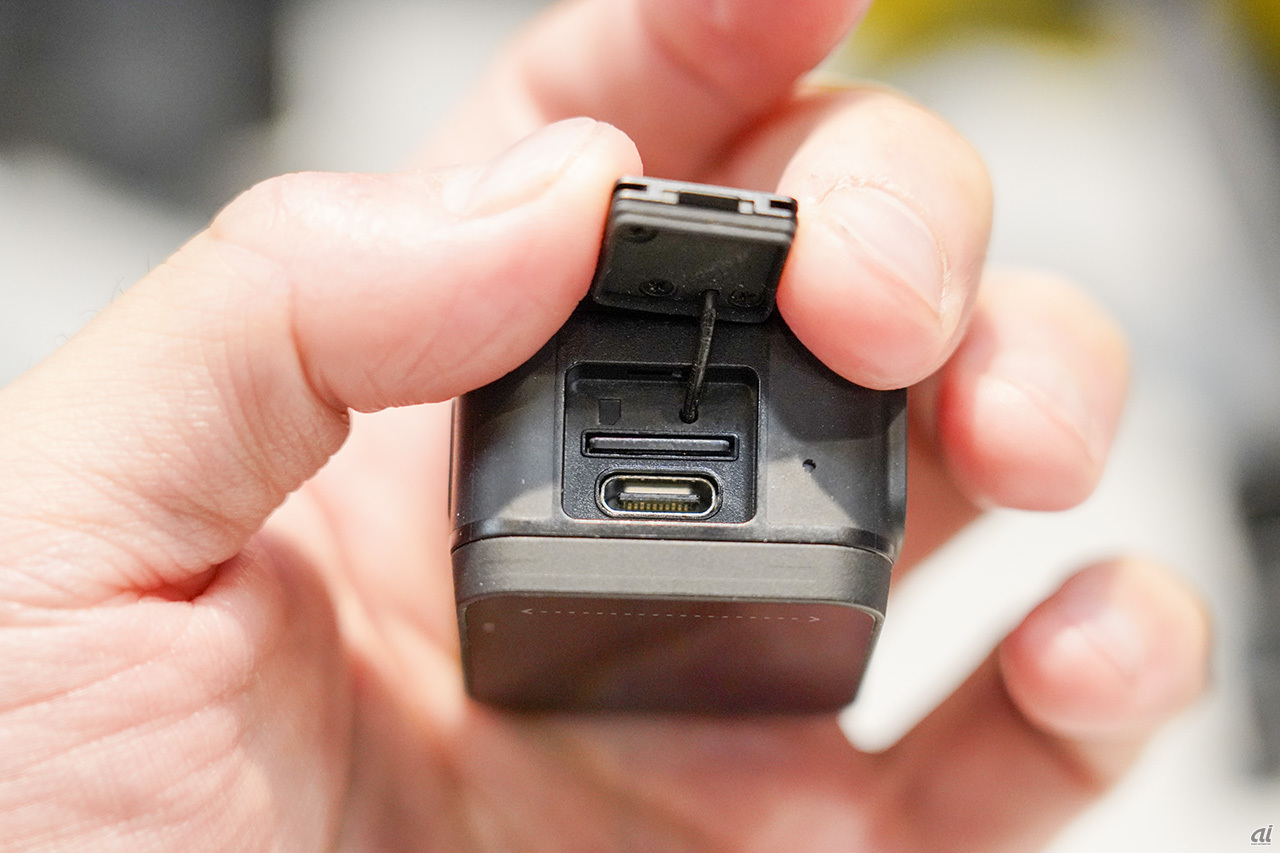 MicroSD slot for LCD module
Source link