Headline
Interview with 3 in-house entrepreneurs who leveraged their parallel career–how can we make the most of our success outside the company?
5 years ago, 90% or more companies were prohibited from doing a side job. Many companies have now been lifted, and various events related to side jobs have been held and services have been released. Meanwhile, the second generation also appeared in double jobs. They are people who work as intrepreneurs [in-house entrepreneurs] by making use of what they have gained from parallel careers.
Speakers of the online event "The 1st Parallel Planer Japan Official Event"
What kind of efforts did the second-generation double-worker of a large company do inside and outside the company to become an intrepreneur? Introducing from the online event that was held, "The 1st Parallel Planer Japan Official Event-Let's listen to the story of a large corporate intrepreneur human resource who has utilized a parallel career!"
What is a parallel planar
The 1st Parallel Planer Japan Official Event was held online on May 16th. Mr. Kota Isomura, who is also active in freelance and second business card of NPO while working for AGC, while working for Nishi Nippon Telegraph and Telephone [NTT West], is also a comprehensive entertainer and an advisor/advisor of 6 companies. Mr. Yusuke Kaneko, who works for Toyota Motor Corp. and also works for Mixap and Idea Plus, has appeared. The moderator was HARES CEO, and Soichiro Nishimura, who is active as a multidisciplinary researcher, served as the moderator.
Nowadays, the word "Fukugyo" means "a side job", which is done in the time of work for the purpose of a side income, and various projects at the same level as the main business at the same time. It has come to be categorized as "double job."
 The 3 speakers this time are taking advantage of what they have gained from parallel careers [double jobs] and are transforming their core businesses as intrepreneurs [in-house entrepreneurs]. I named these people parallel parallels.
Parallel careers freed up work styles within large companies
Mr. Isomura is currently studying cross-border learning while crossing the four sectors of "business", "social", "government", and "cademia". Its purpose is to encourage a change in the society in which everyone is excited and working every day.
At AGC, while working as an in-house consultant and facilitator for organizational development and open innovation, he is also working on organizational development PJs directly under the vice president. He said that everything was proposed and realized by himself, and that it would not have been realized without a parallel carrier.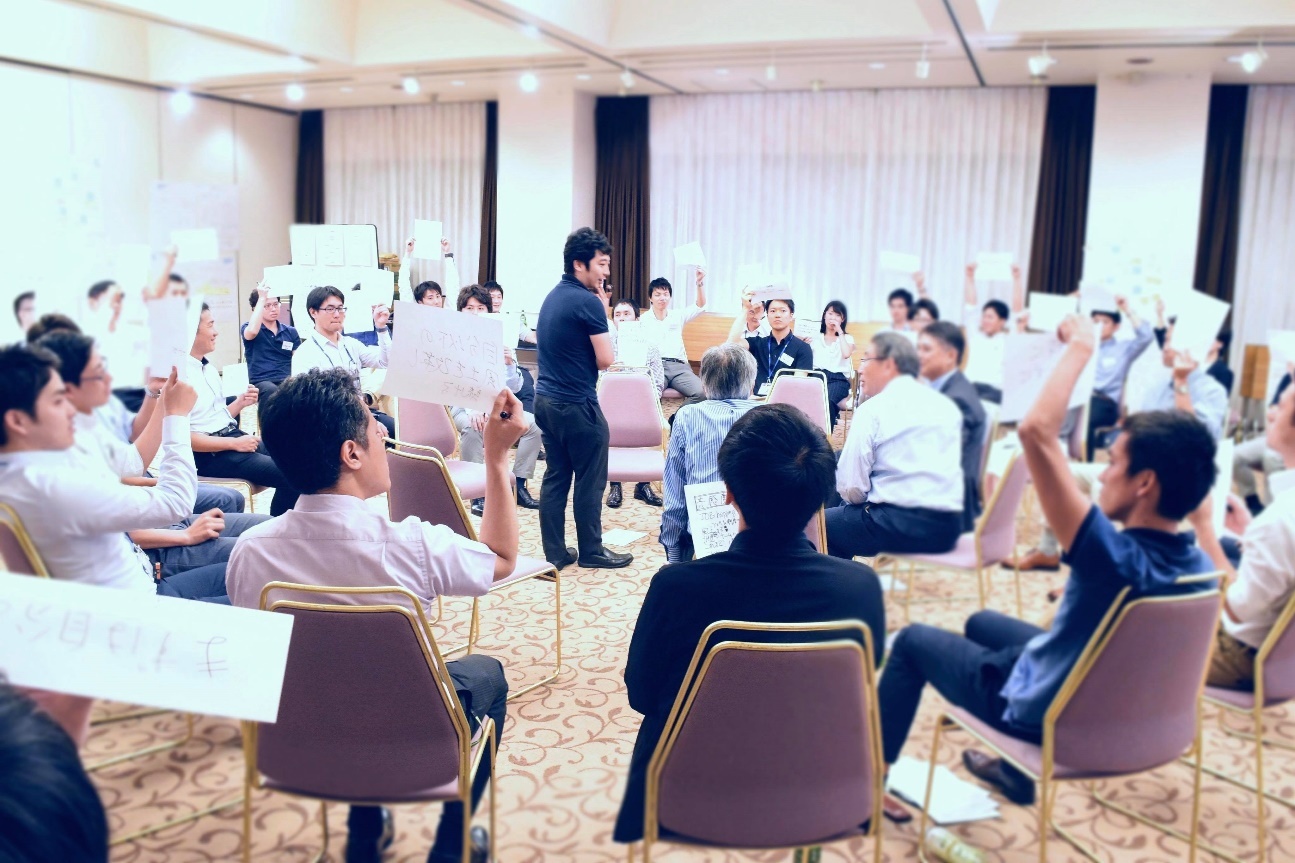 Mr. Isomura who plays an active part in the company as a facilitator
 By implementing a parallel career, the stance towards the company has changed. For example, I used to think of things from my own department's point of view, but now I can see things from the viewpoint of the entire company and society as a whole, instead of being given work, I create it myself. It was
The most important point is "transboundary learning", where you can learn from the experience of a community other than the one you normally live in. He explained that by learning in a normal community and another community and accumulating mutual knowledge, it was possible to bring in knowledge, personal connections, opportunities, and achievements, and to improve performance without spending time.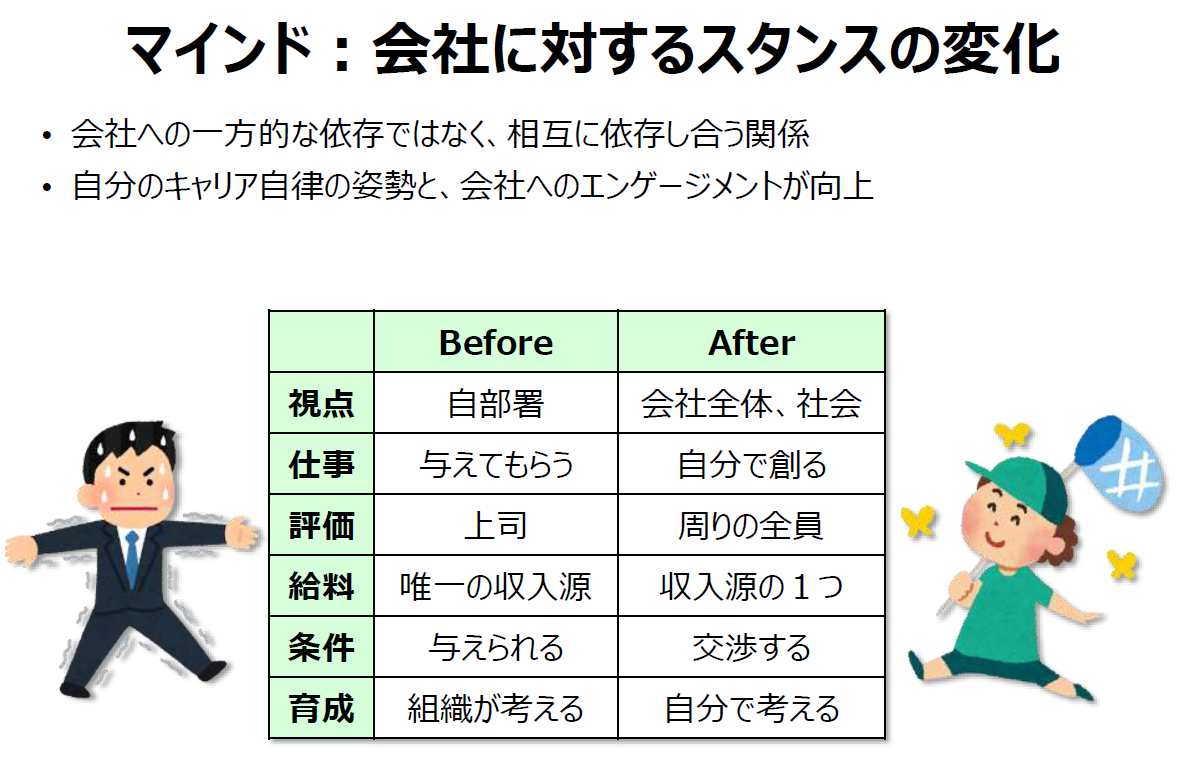 Changes in corporate stance after implementing a parallel career [Mr. Isomura]
Why big company employees are into parallel careers
Mr. Kaneko is currently applying to the internal vidicon while belonging to the Human Resources Department in her main business. In the field of double jobs, in addition to starting a mixup that combines human resource development and double job support, he is working on the COO of an advertising venture and an evangelist of a company that provides overseas internships.
There are three points that make me addicted to parallel careers: the first is that the fixed concept is soft, the second is that the quality of the output is high and overtime is reduced, and the third is that you burn yourself 120%. It was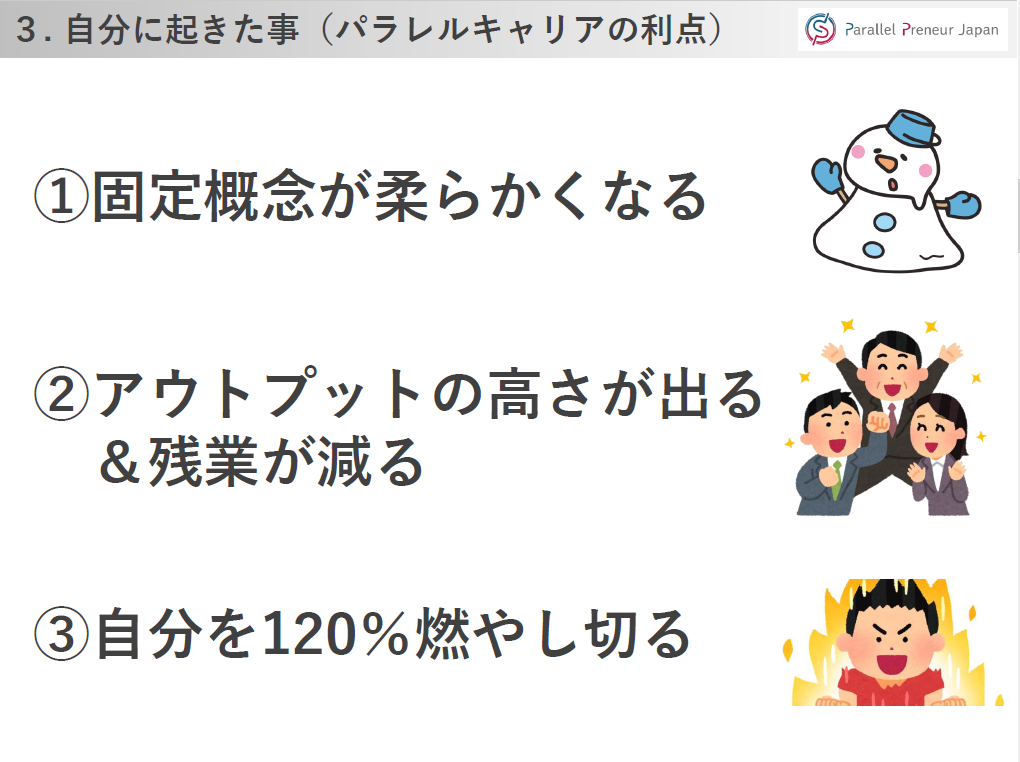 Advantages of parallel carriers [Mr. Kaneko]
 Now we regard traffic congestion during commuting as a problem, and propose a commute ride share internally as a solution. We have applied for a patent and have started a demonstration experiment. He says that this is a service that he gained by practicing a parallel career and changing himself. More than 3,000 people have participated in seminars and workshops planned to raise employee awareness, accelerating various internal changes.
 As a result of such efforts, it is said that she has become involved in new businesses even in multi-business. By utilizing the parallel carrier internally, we have created an ecosystem that makes the most of our internal experience.
Source link