iPhone
Is Safari's "web site data" accumulating?-Why can't i hear the iPhone now?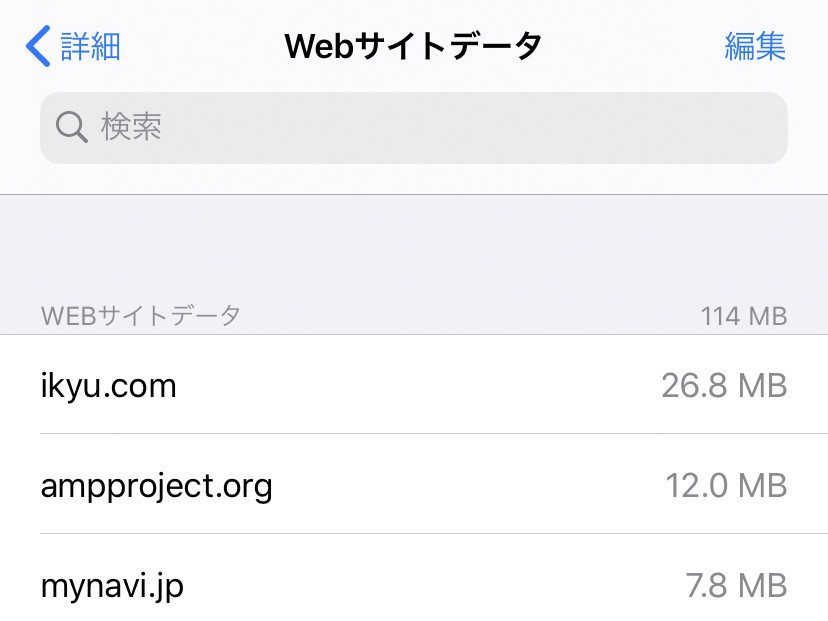 In addition to "Safari" that comes with iOS, Web browsers avoid "reading the same data multiple times" by temporarily storing text and images on the terminal at hand (cache / browser cache). Text and images are temporarily stored on the iPhone's internal storage, so when you return to the same page, you don't have to reload it over the Internet, reducing display speed and saving data costs.
You can check how much cache you have by opening the screen in the order of "Settings" → "Safari" → "Details" → "Website data". It is a simple one that only enumerates the URLs of WEB sites in order of the amount of cache, but it is obvious at a glance which site has the most cache.
The cache, but not the pool. This may temporarily overwhelm the iPhone's internal storage, but older data is invalidated / automatically deleted at appropriate times. You can delete it manually on the "Web site data" screen, but you do not need to worry unless you browse a large number of web pages every day.
Generally, the expiration date of the cache is determined by the website (the side that distributes the data). How long the cache is effective depends on the settings of the website, so there are some parts that can not be said, but it seems that many websites are 24 hours a week after loading.
If the cache of the opened WEB page is old, the text and image will be read again (update the cache). In other words, the website has a mechanism to keep the content fresh, and Safari follows it. You don't have to be so nervous.
Source link