Headline
Isetan Mitsukoshi continues to provide new services–toward new customer relationships and value creation
「Isetan Mitsukoshi was created in April 2011 by the merger of two long-established department store brands that represent Japan. With the business environment surrounding department stores increasing in recent years, with the banner of " Providing the best customer experience '', aiming to break away from the existing department store business model, cultivate a new business model utilizing digital technology from FY2018 We are focusing on. We interviewed Tatsuya Kitagawa, Head of Business Planning and Management Division, Digital Business Division, about the progress to date and future developments.
Mr. Tatsuya Kitagawa, Head of Business Planning and Management Division, Digital Division, Isetan Mitsukoshi
The company has started several new businesses in rapid succession from FY2018 to FY2019. First of all, in June 2018,ISETAN DOOR[Isetan Door] ". A regular home delivery service in partnership with Oisix La Earth, providing "Isetan Select" a wide range of ingredients [from daily goods to underground basement] in addition to the daily ingredients provided by the company. The idea is to bring the added value of department store quality to foodie consumers who want to. It is supported mainly by dual-income households raising children throughout the country, and in less than one and a half years since its launch, the number of members has risen to over 15,000.
Mr. Kitagawa says, "The number of members is expected to grow steadily in the future, and the biggest effect is that regular contact with regular members is likely to be able to have continuous customer contact three times a month on average. Expanding to service content that is not limited to the services that Isetan has [currently selling products other than ingredients, and in the future a business] will lead to the creation of loyal customers. "
In 2018, in addition to this, in collaboration with Fujitsu,CARITE[Karite] "as a trial verification in June, and decided to continue the development in November. Using the app, you can easily rent outfits for "sunny days" such as weddings and dinners.
Next, in February 2019, a cosmetics EC site "meeco[Mieko] ". With a simulation function and visual search function, it started as a cosmetics exclusive site where you can find products that match you with about 10,000 kinds of products. From November 15, about 1,300 kinds of variety [miscellaneous] cosmetics called "petit plastic" Launched a meeco variety site that focuses on, and features a unique cosmetics site where you can purchase "luxury cosmetics [meeco] and petipura cosmetics [meeco variety]" at the same time. By lowering the threshold, it is necessary to dispel the image of "department stores are high-end" and to attract customers, such as young people, who had previously had few contacts.
Then, in March 2019, Isetan Mitsukoshi launched as the first EC brandarm in armArm in Arm provides a community place for buyers and fashion enthusiasts. It may be one of the next generation of ourselves and our customers, who will connect with the development and sales of new products while maintaining user communication through SNS and real places, and build relationships with customers as "sympathies". I hope, "said Kitagawa. In September 2019, an attempt was made to release big items such as search keywords into statistics, analyze them with AI, and launch products that were planned. It is also attractive to be delivered at a reasonable price. "
サ ー ビ ス Five services have been launched so far in FY2019. What is unique among them is the online custom order service for shirts, which began at the end of October.HiTAILOR[High Tailor]. " From measuring to fabric, design selection, and ordering are completed online only, the product will be delivered in about three weeks. Adopting AI measurement technology "1 measure" developed by TOZI of China, taking two pictures of the front and side of the body with a smartphone and measuring, inputting height and weight data, Mitsukoshi Combining Isetan's last 200,000 order data and measuring data greatly improved the fitting accuracy. There are approximately 250,000 variations of combinations of about 90 types of fabrics, collar shapes, buttons, and cuff designs, and a reasonable price point for a department store with one shirt from 8900 yen [excluding tax] is also a point I have to.
他 In addition, active stylists counsel by chat and regularly deliver personalized clothes.DROBE[Drobe] "and an online gift boutique for Millennials where you can send buyer-selected gifts via SNS or email without knowing the address of the other party.MOO: D MARK BY ISETAN[Moodmark by Isetan] ", a collection of Isetan Mitsukoshi quality productsIsetan Mitsukoshi hometown tax payment", A part-time job recruitment information providing application that specializes inONEDAY WORK[One-day work] ".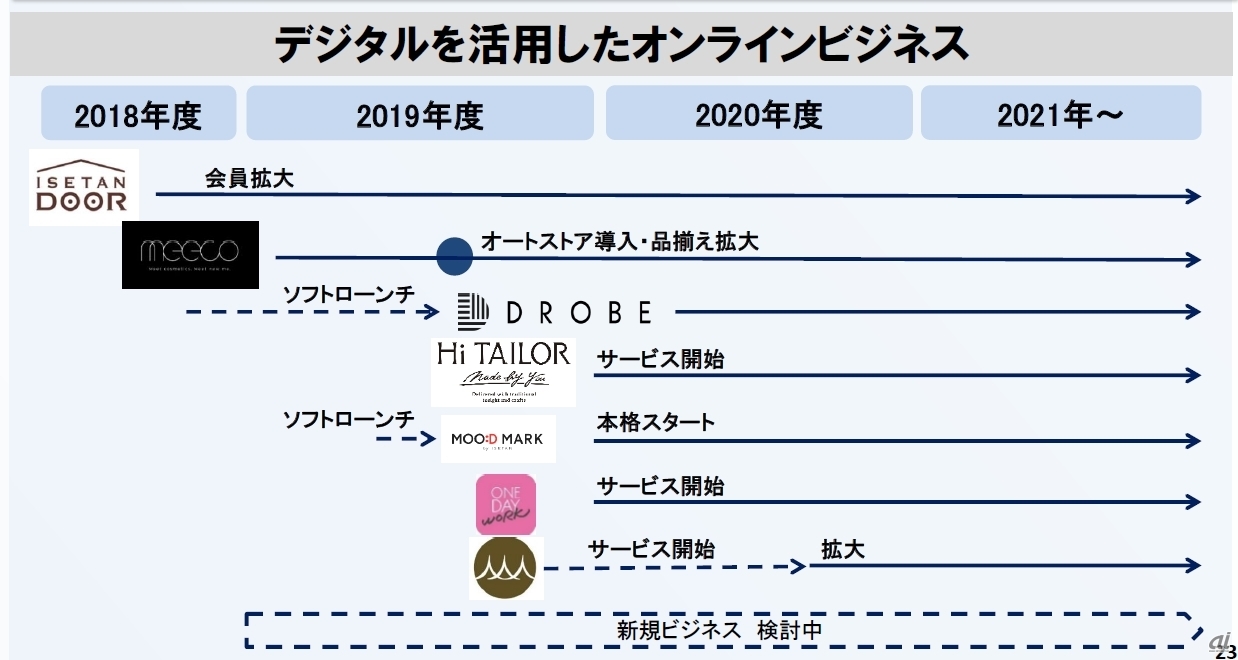 Successful launch of "Online Business" [from Isetan Mitsukoshi Group Q2 FY2019 results briefing materials]
Mr. Kitagawa explained the reason why the company is working on new businesses in the digital domain so far.
" It's a paradoxical expression, but in order to strengthen analog, which is our strength as a company, we have to break away from analog reliance, and we have made various efforts to digitize the department store business. However, if a new digital measure is forcibly inserted into the existing department store business framework and work style, it tends to end up with a one-time effort, not a permanent one. If the way of reaching customers does not exceed or complement the current department store business, it will not lead to acquiring new customers or creating new customer experiences or value. That is why the brand name of "Isetan" has not been pushed to the forefront. In over switch, increasing the contact opportunity to light, there is also aim to get rid of the wall of the image of "department store = exclusive and hand is hard out" "
か ら From fiscal 2020, efforts to seamlessly integrate actual stores and online services will finally become available to customers in earnest. The biggest initiative is the integration of Mitsukoshi and Isetan online shopping and store information sites, which are now separated. At the same time, we are renewing our apps, consolidating and disorganizing the apps that the group has created, and ultimately realizing the same shopping experience and services available in stores and websites. They are aiming for it.
Furthermore, Mr. Kitagawa is steadily moving toward the realization of a recycling-oriented society, going beyond eco-friendly and social contributions, and without doing so, the business itself will not be feasible. " . "I think there are various forms, but growing the business will eventually lead to the resolution of social issues, and the future challenge is how we can implement such a business model." I said.
Source link