IT Lifehack
It is super convenient for sudden PC work and confirmation of important data that would be troublesome if someone saw it! "CocoDesk", a private workspace in the Tokyo Metro Station premises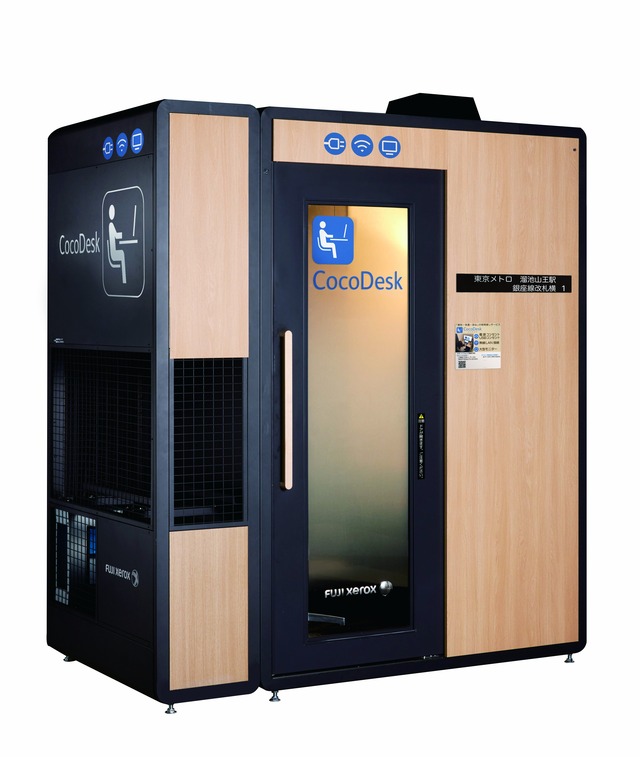 Tokyo Metro (Tokyo Metro) will provide a private workspace "CocoDesk" in collaboration with Fuji Xerox at Tokyo Metro Station premises on Thursday, February 20, 2020.

■ From proof experiment to official service start
To date, Tokyo Metro has been working with Fuji Xerox to develop a personal workspace and conduct field trials in order to meet the demand for mobile work from offices such as telework. This time, after verification in a demonstration experiment, the facility will be upgraded to a more comfortable and convenient facility, and a formal service will be launched as a private workspace "CocoDesk" in the station yard. It is easy to remember a service name that combines "(here is the work place) here" and "here (where) desk".
"CocoDesk" is based on the results of verification experiments, ensuring a comfortable space for use, and equipped with a power outlet and Wi-Fi required for mobile terminal use, and temperature control with an air conditioner is also possible. I have. It can be used to make calls and materials without worrying about the surroundings, and can also be used as a reading and learning space.
In addition to the location within the station premises, the system can be used for a short time, so that the time for clearance during movement can be effectively used.
The service will start at Tameike-Sanno Station on the Ginza and Namboku Lines and a total of 7 stations on February 20 (Thursday), and the installation will be gradually expanded to other stations.
■ Installation station (as of February 20)
・ Namboku Line ・ Ginza Line 銀 Tameike Sanno Station ・ ・ ・ ・ ・ ・ 3
・ Chiyoda Line ・ Fukutoshin Line Meiji Jingumae Station ・ ・ ・ 2
・ Yurakucho Line Ikebukuro Station ・ ・ ・ 1 unit
・ Nanboku Line Roppongi 1-chome Station ・ ・ ・ ・ ・ ・ ・ 1
7 stations in total 4 stations
■Articles related to Shanghai wholesalerI Read
・"House prepaid card" of value design that can incorporate attractive original services like a luxury shoe polish store "Brift H"
・In the Reiwa era, where there is a shortage of human resources, deploying mainly solution-type dispatch services! Adeco Group's VSN announces a new service " Modis VSN '' that captures changes in the technician labor market
・Easy on the net! " Cloud loan '', the only platform in Japan between individuals and banks that can receive low interest loans from banks even for individuals, starts
・ANA conducts verification test at Haneda Airport to commercialize large-scale autonomous driving bus-Aims for test operation within 2020 using electric bus-
・Everybody's taxi expands "Ringo Pass" demonstration test using tablet with rear seat as the first JR East partnership