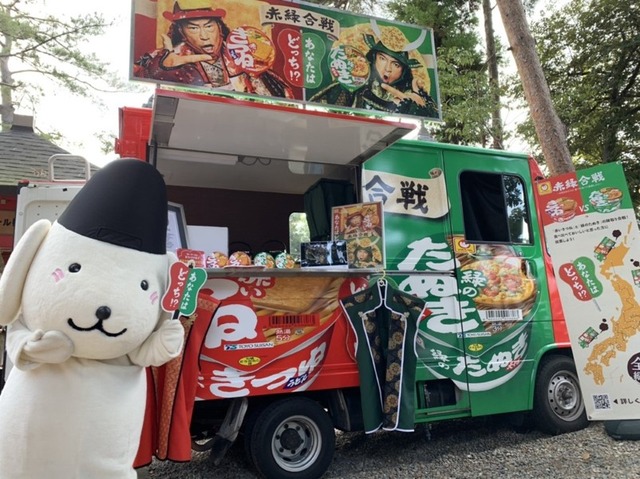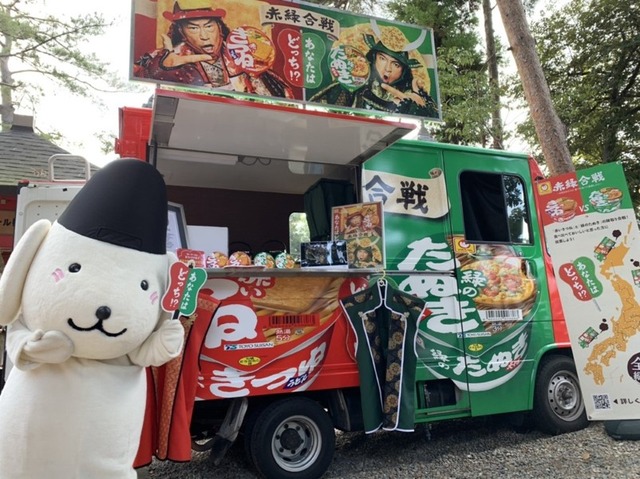 Toyo Suisan will conduct a campaign between September 26, 2019 (Thursday) and January 31, 2020 (Friday) for the "Red-Green Battle! Announced interim announcement.

■ This is a battle
This campaign, which was implemented last year, has received a favorable response from the campaign "Which is yours !?-Eat and compare!"-This year, the campaign has been changed to a 47-prefecture camp.
In the interim announcement, the target period is from September 26 (Thu) to December 23 (Mon) at 9:00 am, with the red fox army serving 43 out of 47 prefectures and the green raccoon army serving 47 prefectures. It has won four prefectures, resulting in a significant lead by the Red Fox Army. There are three types of voting: "Eating comparison event", "voting on a special website", and "Eat together! Eating comparison kit". The number of votes is 52,488.
The caravan nationwide, which started at the Hokkaido venue on September 29 (Sun), 2019, ends at the Tokyo venue on December 21 (Sat). From Hokkaido in the north to Okinawa in the south, a total travel distance of 7,810 km was spent over 87 days, returning to Tokyo, the place of departure.
The number of red foxes and green raccoons provided by the carabunker is 12,568! It was said that they were able to eat for generations from small children to the elderly. In Tottori Prefecture, Governor Hirai Shinji also said that he had a comparison of eating and showed a full-blown pun on "Sabaku soba-ku". In Kagawa Prefecture, Governor Keizo Hamada made a prediction of victory and spoke of the enthusiasm of Udon Prefecture.
In addition, the hospitality warlords who play an active part in sightseeing spots all over the country, as well as the loose characters representing the locals, also participated in the red-green battle. In addition, entitled "Okake Creators", video creators rooted in the region created a video that conveys the state of the event and the appeal of the region. There are many videos that make you want to visit.
■ "Red-Green Battle! ~ Which are you !? Eat and compare and vote! ~" Campaign Overview
Period: September 26, 2019 (Thursday) to January 31, 2020 (Friday)
Description: Eat a red fox and a green raccoon, and vote for which one you like.
Voting method: Upload the name, email address and product image from the campaign site and complete the voting
■IT life hack
■IT Life Hack Twitter
■IT Life Hack Facebook
■Articles related to cultureI Read
・During the year-end and New Year holidays, heroes and squadrons are excited! Free live broadcast of special effects such as "Kamen Rider Den-O", "Samurai Sentai Shinkenger", "Battle Fever J" at Nico Live
・Reiwa first held! " Ruby biz Grand prix 2019 '' to commend those who created new value by making good use of the Japanese programming language " Ruby ''
・Unlimited play of 500 titles! Beta version service of "GeForce NOW Powered by SoftBank" started!
・Mitsubishi Motors x Tsutaya Appliances! Propose a lifestyle "Electric CAMP" that introduces home appliances to the outdoors and enjoys luxurious camping
・The 12th experimental program of Ginza Sony Park! "# 012 Affinity in Autonomy <Robotics that live together>" opens, proposing a bright future for humans and robotics

Toyo Fisheries