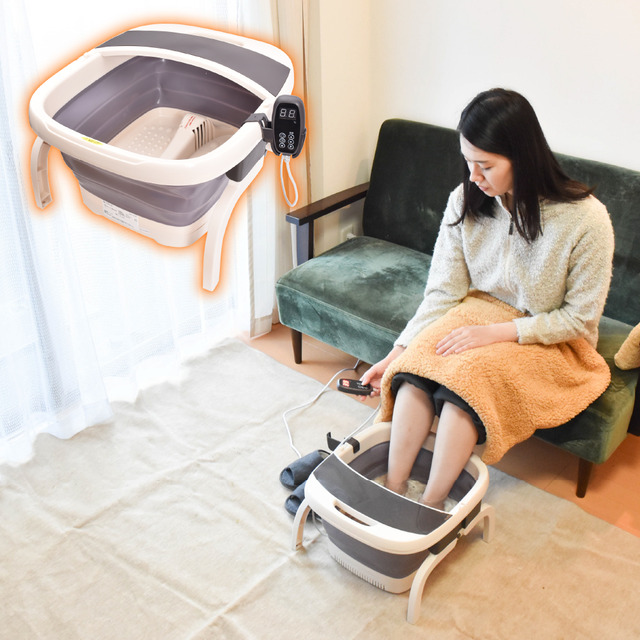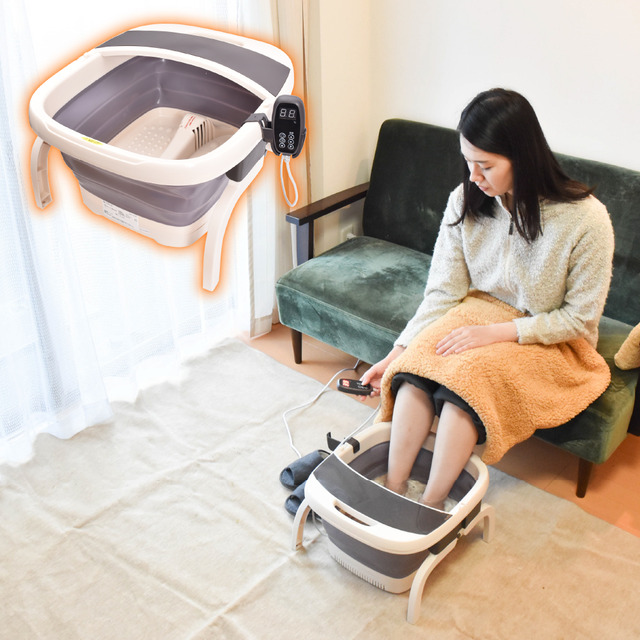 Sanko Co., Ltd. has released "Temperature Adjustable Bubble Foot Bath" Foot Pokka "". This product is a foldable foot bath that is equipped with a heater and does not cool down over time.

■ You can relax like a footbath
Put about 4-8L of water or lukewarm water in the main body, and when you turn on the power, the water flow like a jet bath and the far infrared light will operate. You can put your feet in the foot bath and relax like a footbath. It has a built-in heater and can be used by warming it up to a warm temperature even with water. You can adjust the temperature to your liking with the remote control at hand. It can be set in 1 degree increments from a maximum of 47 degrees to 35 degrees.
Equipped with a function to prevent empty heating, it automatically turns off when it detects empty heating. It can be folded when not in use. The height is about 57% (14.5 cm) smaller than when it is used, and it can be stored compactly without taking up space. Although it is foldable, it comes with a stand, so you can use it with confidence by preventing it from falling on you, accidentally stepping on it, or falling.
"I want to warm up like a footbath, but I can't feel free to go. Even if you put hot water in a bucket and take a footbath, it will cool down and it is difficult to adjust the temperature. I want to experience the comfort of a whirlpool with just my feet. For such people, we recommend the bubble foot bath "Foot Pokka", which allows you to take a footbath and adjust the temperature as long as you have a power source anytime, anywhere. 』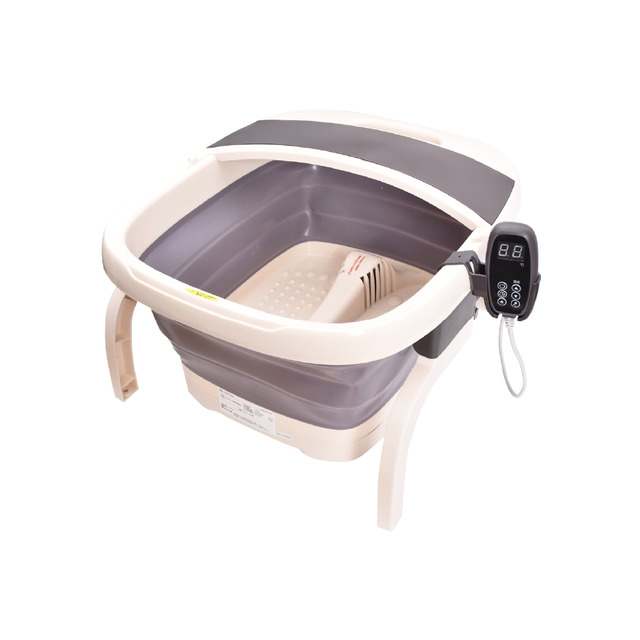 specification
・ Size / When used: Height 255 x Width 395 x Depth 440 mm
When folded: height 110 x width 395 x depth 440 mm
・ Weight / 2200g
・ Rated voltage / 100V
・ Rated frequency / 50 / 60Hz
・ Rated power consumption / 500W
・ Temperature fuse / 90 degrees
・ Capacity / 4-8L
・ Temperature adjustment / 35-47 ℃ (± 1 degree each)
・ Timer setting / 30/40/50/60 minutes
・ Power cable length / 180 cm
・ Dry-heating prevention function / Yes
・ Other / For indoor use
・ Estimated electricity bill / 13.50 yen a day (1 hour a day, calculated at 27 yen / kwh)
・ Contents / main body, remote control holder, Japanese manual
・ Warranty period / 12 months from the date of purchase
・ Release date / 2020/10/05
・ Model number / SHWFFJB2
・ JAN / 4562331785866
■Bubble foot bath "Foot Pokka" with adjustable temperature
■IT life hack
■IT life hack twitter
■IT life hack Facebook
■Articles related to digital home appliancesI Read
・Appeared on Amazon "Prime Day"! Up to 30% off various portable power supplies "PowerArQ"
・The function of splitting two screens is convenient! 13.3 inch E Ink tablet "BOOX Max Lumi"
・A collaboration between the TV anime "Kimetsu no Yaiba" and ICE-WATCH! Limited model watch starts accepting reservations
・With an aroma tray to enjoy the scent! Sanko keeps clean "UV & ultrasonic aroma humidifier"
・Buffalo inherits. It will be released in the spring of 2021! Network recorder "nasne"