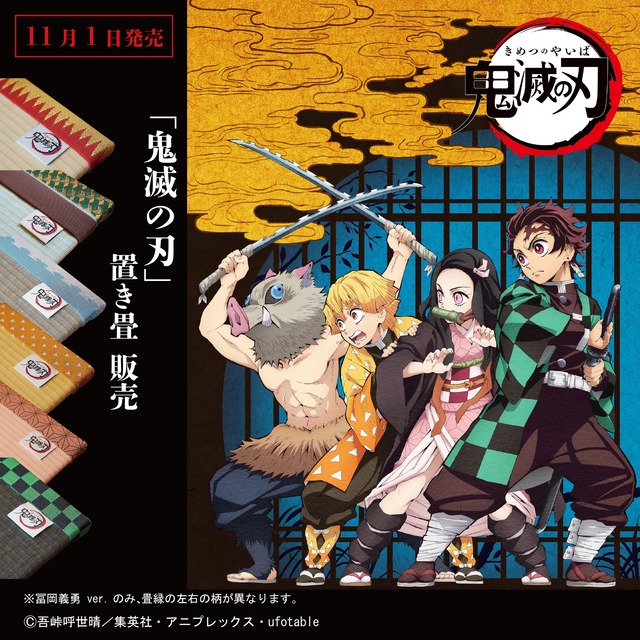 Takada Textile Co., Ltd., which has the largest share of tatami mat manufacturing, will sell "Kimetsu no Yaiba Tatami" and "Kimetsu no Yaiba Kit", which are based on the image of the TV anime "Kimetsu no Yaiba", from Sunday, November 1, 2020.

■ Devil's Blade Tatami
"Kimetsu no Yaiba Tatami" is a tatami mat of "Kimetsu no Yaiba" that uses tatami mats designed with the materials and techniques of Kimetsu no Yaiba. There are 6 designs.
With "Tatami mats", you can easily incorporate tatami spaces, and you can also create tatami spaces in one corner of the flooring. You can also freely change the living space from "tatami" to "floor" depending on the season. With cushions that won't hurt even if you sit for a long time, you can enjoy it as a relaxing space or as a kids' space by laying it down. With a non-slip sheet, it is non-slip, light and convenient to carry. Since it is half tatami size, it can be easily stored.
【Product Summary】
Devil's blade tatami mat
6 types in total
Tanjiro Kamado ver. Tanjiro Kamado ver. Yoshiyasu Gazuma ver. Inosuke Bakuhei ver. Yoshiyuki Tomioka ver. Purgatory Anjuro ver.
* The correct notation for "禰" in Sadako is "ne + 爾".
Retail price 15,000 yen (excluding tax)
■ Devil's Blade Tatami Edge Kit
A tatami mat kit of "Kimetsu no Yaiba" that uses tatami mat material and technology. There are 6 designs.
Sold as a set of two from the left. In recent years, tatami mats have been attracting attention as a handmade material, and with this kit you can make your own devilish blade goods. Also, it comes with a recipe that even those who have never touched the tatami mat can easily make it.
【Product Summary】
Devil's blade tatami mat (for handmade)
2 types set, 3 types in total, width approx. 8 cm, length approx. 1.5 m
Tatami mat kit of Sumijiro and Sadako, tatami mat kit of Zeni and Inosuke, tatami mat kit of Yoshiyuki and Anjuro
* The correct notation for "禰" in Sadako is "ne + 爾".
Retail price 970 yen (excluding tax)
© Koyoharu Gotouge / Shueisha / Aniplex / ufotable
■IT life hack
■IT life hack twitter
■IT life hack Facebook
■Articles related to cultureI Read
・"Zenryoku Rice" is now on sale at all stores! Add a little to the set meal of Tonkatsu specialty store "Katsuya"
・Introducing sweets that will liven up the Halloween mood! Halloween 2020 in Ginza Mitsukoshi to enjoy at home
・All-you-can-eat Japanese food and roasted sushi! New Hokkaido domestic beef course
・au kabu.com Securities provides free high-speed ordering environment "kabu station API" for individual investors
・A large area with the theme of Nintendo! "SUPER NINTENDO WORLD" to open in the spring of 2021