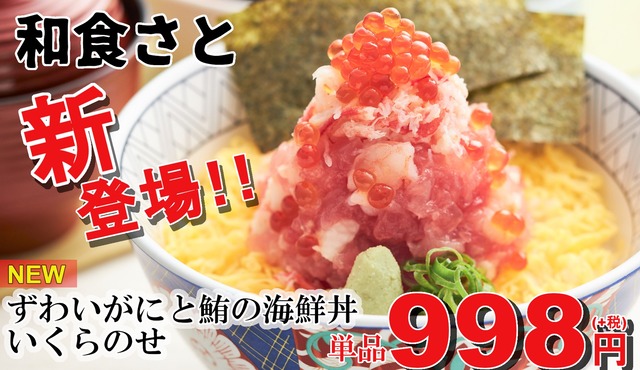 Japanese family restaurant "Washoku Sato", which has 207 stores in Japan, has started selling a new autumn / winter menu. In this new menu, we reviewed the product contents and prepared a new product with the idea of ​​"I want to deliver to customers the fun of eating out and the deliciousness of the dishes carefully prepared in the store."

■ Many products unique to family restaurants are available
"Washoku Sato" offers a large number of products that are unique to eating out and family restaurants, such as the fun of choosing your favorite menu from a wide variety of menus and the products that are delicious to look at and eat.
○ Lunch choice and Japanese set 898 yen (+ tax)
This is a recommended lunch-only product, and you can choose your favorite side dish from eight types.
Fried shrimp, hamburger steak, sashimi, fried oysters, roast beef, etc. A set of tempura, noodles, chawanmushi, etc. is a great deal for 898 yen (+ tax).
○ Duck soup soba 998 yen (+ tax)
Sato soba has become even more delicious.
It is a flavorful Nihachi soba made from buckwheat flour ground with a stone mill.
Let's eat fragrant roasted duck and onion with special soup. How free the buckwheat noodles are!
○ Hamburger steak and fried shrimp 1,298 yen (+ tax)
Sato's special hamburger steak is full of gravy and goes great with demiglace sauce.
Fried shrimp is a dish that is carefully breaded one by one in the store, and you can fully enjoy the deliciousness of the shrimp with crispy crispy.
* No lunch sale
■IT life hack
■IT life hack twitter
■IT life hack Facebook
■Articles related to cultureI Read
・"Zenryoku Rice" is now on sale at all stores! Add a little to the set meal of Tonkatsu specialty store "Katsuya"
・Introducing sweets that will liven up the Halloween mood! Halloween 2020 in Ginza Mitsukoshi to enjoy at home
・All-you-can-eat Japanese food and roasted sushi! New Hokkaido domestic beef course
・au kabu.com Securities provides free high-speed ordering environment "kabu station API" for individual investors
・A large area with the theme of Nintendo! "SUPER NINTENDO WORLD" to open in the spring of 2021