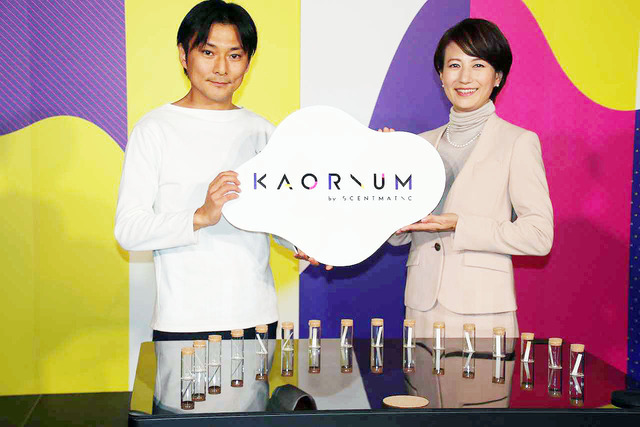 Saintmatic has developed a revolutionary self-judgment system, "KAORIUM", which allows you to determine your own state just by selecting your favorite scent. The company focuses on the new sensation of scent x UX (user experience) x IT (super sensation experience of scent) and aims to create a spiritually rich society by creating new value.
This time, as the first project, we developed the scent-to-word conversion system "KAORIUM". We invited Noriko Baba, a free announcer, to a special MC and held an "Experience KAORIUM" in Shibuya Hikarie where you can experience the concept model of "KAORIUM".

■ A fragrance business with a market size of about 6 trillion yen
Mr. Shunji Kurisu, President of St.matic, explained the company's business model and the outline of "KAORIUM".
President Kurisu stated, "We are creating a new sense of fragrance that is unprecedented with fragrance x UX x IT. We will implement this in society in cooperation with business players in various fields. "Said the company's business model.
According to Kurisu, the scent has the power to directly affect our emotions, so the business side is also very interested in the scent. It is said that not only large companies that were related to fragrance until now, but also large companies that were not related to fragrance are starting to enter the fragrance business as a new business.
■ Fragrant market growing rapidly
The fragrance market size is growing rapidly. It is said that there will be about 5 trillion yen worldwide by 2020, and it will reach about 6 trillion yen by 2025.
Although the scent is of great interest from the business side, if you look at the scent as a consumer,
・ I like and dislike
・ Good smell, smell
It is the current situation that ends with.
In the first place, the scent is invisible and vague. Because people like and dislike it, it is difficult to choose one scent even if you want to give it a scent. Perfume is especially expensive, so if you don't know what perfume your recipient is using, purchasing it is difficult.
President Kurisu said, "How can we deliver the fragrance in an easy-to-understand way? How can we enhance the sensitivity of people's fragrance? If this can be realized, we can add richness to life through fragrance and add color. St.Matic has started with that in mind. "
The fragrance is usually vague, but with the use of "KAORIUM," it is possible to convert scents into words and vice versa. In the words of President Kurisu, "you can experience the sensation of strongly linking the scent with the words (sensibility) felt by the user himself (super sensory experience)."
In other words, "experience with a super-sensation of scents" is "experiences in which scents can not be felt until now." For example, just as a sommelier has described wine in a variety of languages, "KAORIUM" expresses the fragrance of a specialty item in an easy-to-understand manner, so that they can be enjoyed and enjoyed more enriched. In the future, it will be possible to propose sake that matches the ingredients based on their aroma.
Sometimes you always prefer the same scent, and depending on your physical condition, you prefer a different scent. By examining the scent, "KAORIUM" is able to determine your state at that time.
■ The scenery that can be seen from the scent is "full-blown double cherry blossoms touching the cheeks"
At the event, guest MC free announcer Noriko Baba experienced "KAORIUM". As described above, "KAORIUM" allows you to enjoy a super-sensation experience that you could not feel before by connecting scents and words. What kind of super sensation could you experience?
■ Pick up three scents from 16 different scents
"KAORIUM" has 16 kinds of scents prepared in advance. Finally pick up three scents from among them. This is an experience of using scents as words and searching for scents based on words.
First, four different types of scents are prepared. Open the bottle and smell the actual scent to select one of your favorite scents. When you place a bottle of the selected scent on the coaster, words associated with that scent are displayed.
Noriko Baba's scent image was the word "refresh". By touching the word "refresh", several scented bottles close to the image of the word are selected. Smell those scents and select your favorite scent.
The scent chosen by Noriko Baba had an impression of "clean". This time, some bottles with a scent close to the "clean" image are selected. Smell those scents and select your favorite scent again.
Eventually, when the three scents are placed on the coaster, the AI ​​will analyze and create a sentence that turns the scent into a landscape.
Noriko Baba's favorite scent becomes a landscape, and the landscape is expressed in characters.
The scent chosen by Noriko Baba,
・ Geranium
・ Clear Green
・ Lavender
The words imagined from these scents are
·refresh
・ Relief
・ Clean
·sweet
·Brilliant
・ Charming
The scenery that can be finally seen from the scent was "full-blown double cherry blossoms touching the cheeks." This is the moment when you can see the greatness of "KAORIUM," a super-sensation experience system that allows you to understand the feelings and thoughts that you did not even realize yourself, just by selecting a scent.
■ Revealed feelings that I didn't even realize
Noriko Baba commented, "It is not a cherry blossom but a double cherry blossom, but the gentle femininity felt in the refreshing lightness is close to the Yae petals. But when cherry blossoms come out I thought that the scent I wanted was "clean," but I found that he wanted healing. " Being aware of something you don't notice is a super-sensation experience of fragrance.
To summarize "KAORIUM" again,
・ Visualize the impression of fragrance in words
・ Meet the scent following the scent
・ Feel the scent image as a scene
In these three steps, you can connect the scent with the words and experience the scent that you like.
At the moment, AI that has learned various expressions on the Internet is issuing words that express scent, but if data of people who experienced " KAORIUM '' gathered, the expression itself that makes scents words will be more It will be brushed up.
Smell is not only "like and dislike" but also leads to sensibility, and it is expected to be applied in various fields such as kansei education, eating and drinking, shopping and entertainment in the future. It was an event that made me think again about fragrance.
■IT life hack
■IT Life Hack Twitter
■IT Life Hack Facebook
■Articles related to cultureI Read
・"#Twitter Trend Awards" special program Twitter will deliver a preliminary program that looks back on 2019. Jun Tamura played with Aqours Arisa Komiya saying " I can not see my eyes ''!!
・Now it's a battle! Maru-chan "Red-Green Battle!-Which Way Are You! Eat and Compare!" Campaign
・One in four drivers are not good at driving on expressways! ? A paper driver! Nissan's #Highway nervous 2020 high-speed training event held
・PS4 version of the popular TPS "Wild Action" has been released! Download the most popular Battrois game for free
・Very active in the event of a disaster in addition to the outdoors! A compact "ZEEPIN portable power supply" with a capacity of 60,900mAh that can be purchased at the 20,000 yen level and supports 6 simultaneous charging and PD fast charging